Mercedes motorsport head Toto Wolff has sold his remaining stake in the Williams Formula One team to US shareholder and healthcare executive Brad Hollinger, both parties said on Wednesday.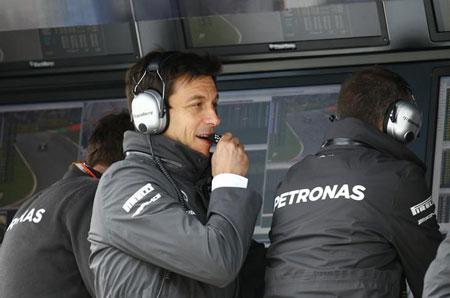 Hollinger had bought a 10 percent stake in the team from Wolff in two prior transactions, with the Austrian saying last year that his remaining shareholding accounted for "just short of 5 percent" of the former champions.
Team principal Frank Williams has a 52 percent stake and co-founder Patrick Head 10 percent.
Of the remaining shares, 20 percent are listed on the Entry Standard of the Frankfurt Stock Exchange and a further 3 percent are held by an employee trust.
Wolff had agreed to divest his holding, which he acquired in 2009 for investment purposes, when he became a managing partner at world champions Mercedes in 2013.
"I am surprised how emotional I am about this day, to be cutting my final business ties to Sir Frank (Williams) and to the team at Williams," the former Williams executive director said in a statement.
"The plan to sell my stake was a long-term one agreed with Daimler in 2013 -- but it was always important to find the right investor, who was doing it for the right reasons."
The Formula One season starts in Australia on March 20.
Image: Mercedes motorsport head Toto Wolff
Photograph: Leonhard Foeger/Reuters