India has no Formula One driver and there will be no Grand Prix here next year but Force India co-owner Vijay Mallya believes he has unearthed the country's next driving talent in a Mumbai teenager.
- Daruvala first Indian to clinch British Karting Championship
There is a clear lack of buzz around Sunday's Indian Grand Prix, which stares at an uncertain future after Sunday's race.
The gloom has only deepened by the fact that both local drivers Narain Karthikeyan and Karun Chandhok are no longer on the starting grid.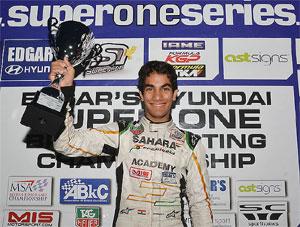 Mallya was confident British KF3 karting champion Jehan Daruvala has the potential to be the next Formula One driver from the world's second most populous nation.
"I think we have found an Indian who we can all be proud of and who certainly has all the talent and making of a top class Formula One driver in due course of time," Mallya told reporters at the Indian Grand Prix on Saturday with the 15-year-old by his side.
"Ever since I put an Indian team on the Formula One grid, I have been constantly bombarded with questions -- when we'd have an Indian driver in the cockpit of our car.
"I said three years ago that we would find a driver with potential to be a top class Formula One driver here in our country," Mallya added.
"He still has a long way to go, but he's going in the right direction. We need to nurture him along, give him more experience which we will.
"I'm not going to rush into something which would be to his detriment. Like McLaren nursed Lewis (Hamilton), we will nurse him along."
Daruvala beat around 2,000 karting enthusiasts to win Force India's "One From A Billion" competition and is being coached by former karting world champion Terry Fullerton, who once raced against Ayrton Senna.
"Without the academy or Terry, I would not be here," Daruvala, who admits to being a huge Fernando Alonso fan, said.
"Next year, I'll advance to the seniors (level), where I'll race with more experienced drivers and see how good I am. I have a long way to go."