'But I think because he's such an enthusiast, this is just what he needs. And what Ferrari needs'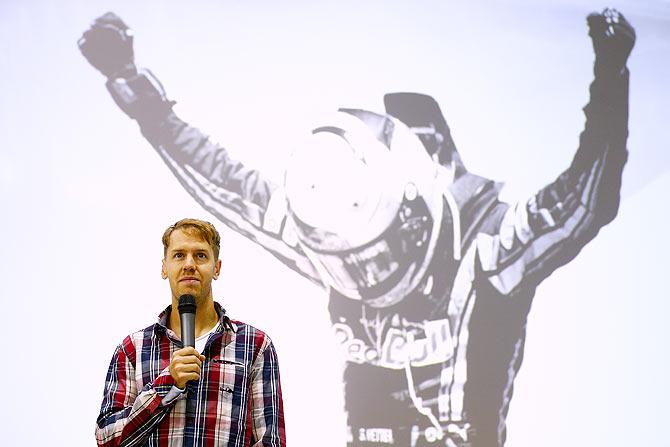 Sebastian Vettel of Germany speaks on stage during a visit to the Red Bull Racing Factory. Photograph: Dan Istitene/Getty Images
Sebastian Vettel could be just the man to revive Ferrari's Formula One fortunes because both need to recover their lost lustre after a dismal year, the team's 1964 world champion John Surtees said on Tuesday.
Quadruple world champion Vettel failed to win a race in 2014 with Red Bull and was eclipsed by Australian team mate Daniel Ricciardo.
The 27-year-old German has replaced Spain's double world champion Fernando Alonso as Kimi Raikkonen's teammate at the most successful and oldest outfit on the grid, one who also ended the season winless for the first time since 1993.
"He's very interested in the past, and the cars and the motorcycles. He's a great enthusiast, but there was something missing from him this last year," Surtees told Reuters at the regional finals of the F1 in Schools competition at Chelsea's Stamford Bridge soccer stadium.
"The sparkle wasn't there. But I think because he's such an enthusiast, this is just what he needs. And what Ferrari needs," added the 80-year-old Briton.
"Someone who says 'Lets find ourselves again' because they've both got to find themselves again. So that makes a good combination."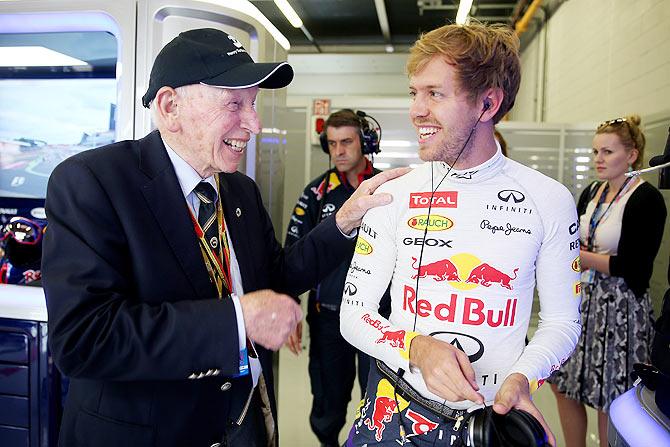 Sebastian Vettel speaks with John Surtees in the team garage. Photograph: Mark Thompson/Getty Images
Surtees, the only man to win the world championship on two wheels and four and now the oldest surviving F1 champion, took his title with the Italian team in an era when there was plenty of political in-fighting at Maranello but less money.
Under-performing Ferrari had a turbulent year off the track too, with three principals in the space of a season, and the Briton said he was surprised by developments.
He said he had expected Ferrari, one of just two constructors to make both chassis and engine, to adapt better than they had to the new turbo hybrid V6 era.
"They obviously lost their way somewhat," he said.
"I had thought they would be perhaps further ahead. Obviously something wasn't quite right. It should have been better...somewhere along the line some of the right decisions were not made.
"I was disappointed to see the firing of the first team manager. I thought he'd been a credit," he added of Stefano Domenicali, replaced by Marco Mattiacci in April last year.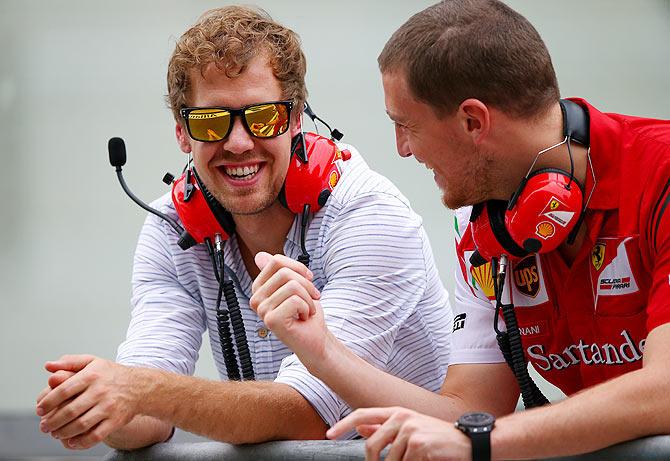 Sebastian Vettel of Germany and Infiniti Red Bull Racing smiles as he speaks with members of the Ferrari team. Photograph: Dan Istitene/Getty Images
Mattiacci, a Formula One novice, was turfed out himself in November when Maurizio Arrivabene arrived from sponsor Philip Morris.
Arrivabene, an insider with years of experience, must rebuild a team yearning for the glory years when Vettel's compatriot and seven-times champion Michael Schumacher was dominant.
"I think it's very wise what they've done with the appointment of the new man. He comes with a background in motor sport. He knows the sport but most important he knows all the personalities," said Surtees.
"Mattiacci did not have a chance. I thought that was an unwise appointment for both of them. You don't learn the ropes in the deep end.
"That was a mistake and I think they've corrected that mistake and made a very wise choice," added the Briton. "The important thing is not to panic, keep the feet on the ground and try and develop on the strengths."
Surtees was also pleased to see the engine rules changed to allow Ferrari, Renault and Honda to develop their power units in-season after a year of Mercedes domination.
"I'm pleased to see that a little commonsense has appeared and this business of not being able to put things right when you've got them wrong has been removed," he said.