Narain Karthikeyan knew that being part of a small team in the glamorous world of Formula One would mean dealing with a lot of limitations but such was the emotional appeal of racing in his home Indian Grand Prix that he readily gave up a comfortable NASCAR seat to switch back to F1.
The 34-year-old Karthikeyan, joined Spanish outfit Hispania for the 2011 season, marking his return to F1, and does not regret leaving a racing seat in NASCAR, where he could have earned money as well as establish his racing career.
"F1 is the pinnacle of motorsport and it is definitely worth the sacrifices that I've made. The fact that Indian GP was on the calendar did play a part in my decision to return to F1 despite my comfortable position in NASCAR last year. But no regrets, I didn't want to think 'what if?'," Karthikeyan said, as he prepared for the historic October 30 race in Greater Noida.
Karthikeyan drove in the first half of the season before being replaced by Daniel Ricciardo. Asked if he thought of going back to NASCAR, he shook his head, saying the promise of driving in a home race was enough encouragement and inspiration.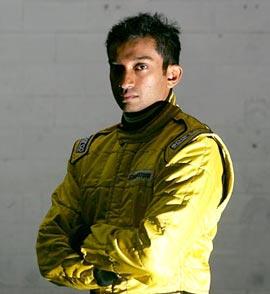 "I have been completely dedicated to F1 this year so I didn't have any thoughts of going back. The circumstances were difficult but I was assured that I'd be driving the Indian GP which was certainly encouraging. Being out of a full-time race seat is always a hard decision, so it was just one of those hurdles," he said.
Karthikeyan's team is one of the three teams, which are yet to score a point this season. But he knows the limitations and constraints of his side and refrained from making tall promises.
"Competing in my country will be an extremely proud moment for me, driving in front of the home crowd will bring a lot of motivation. Of course, being one of the new teams, it is difficult for us to fight up the grid but I will push that extra bit knowing that I have the home support and finish the race as high up as possible, being quicker than a few cars from the teams ahead would be quite satisfying," he said.
The big teams -- Red Bull, Ferrari and McLaren – have dominated in the past and the trend continues this season. In such a scenario, how a racer like Karthikeyan motivates himself to be in the competition?
"With the equipment-centric nature of Formula 1 it is a given that you can only compete within the realms of its capabilities so as a racer the motivation is always to get the best out of what is available and make good use of any opportunities, like sudden changes in atmospheric conditions etc. To ensure that we are there to capitalise when others hit trouble, like we did in Canada and Monaco earlier this year," he replied.
Karthikeyan said it would not take special preparation for the home race but extra effort this time would surely be there.
"A race is a race and physical and mental aspects are largely the same. Being a home race I think it will be slightly emotional, especially the first few laps in the free practice, seeing the Indian tricolour in the stands I'm sure would be slightly overwhelming initially," Karthikeyan Asked to evaluate his performance this season, Karthikeyan said it was satisfactory.
"Personally I feel I've driven better than ever, given the equipment and compared to experienced benchmarks in my team. It would've been great to drive the entire season but given the circumstances, I think it turned out pretty well. We closed the gap to the team immediately in front as well, and scored a couple of good finishes –- so pretty satisfactory overall."
The Indian racer also advocated the need to utilise the Buddh International Circuit by organising domestic and international championships.
"We need to get more Asian and World level championships to India, which will ensure that there is a revenue model in place and the facility is kept occupied throughout the year.
"Plus there are the national championships which are currently restricted to South India –- moving a couple of rounds up there would definitely help a lot and then there is a driving academy planned as well so in all I'm sure the circuit will see a decent amount of utilisation even after the Formula 1 round," he said.
© Copyright 2021 PTI. All rights reserved. Republication or redistribution of PTI content, including by framing or similar means, is expressly prohibited without the prior written consent.