Lewis Hamilton confirmed on Thursday that he and singer girlfriend Nicole Scherzinger had split.
"We're friends at least and we can move forward," the McLaren driver said at the inaugural Indian Formula One Grand Prix when asked whether the couple had parted on good terms.
"It's never easy going through tough times. These times are sent to try you, and it's about how you pull through them," said the 2008 world champion.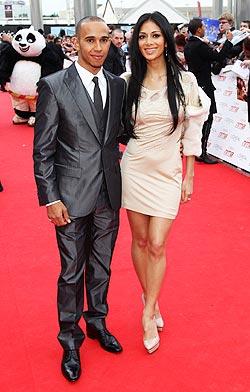 The McLaren driver had been dating the American since March last year when they reunited after a previous split.
"I've my family who are helping, so I feel pretty good," Hamilton said.
Scherzinger, former lead singer with the Pussycat Dolls, has achieved fresh celebrity with her role on the judging panel of the US television show The X Factor.
Hamilton qualified on pole in South Korea two weeks ago, and finished second behind Red Bull's champion Sebastian Vettel, but barely smiled during the weekend.
Team boss Martin Whitmarsh alluded to a personal problem when he told reporters at the time that "he's had a lot of speculation about him and his private life, which he doesn't want, and doesn't welcome, I'm sure".
Hamilton said he felt positive about the first Indian Grand Prix, the 17th round of a 19-race championship already wrapped up by Vettel.
"I'm just trying to look forward. We've three good races coming up," he said. "So I'm just trying to keep my mind focused on business."