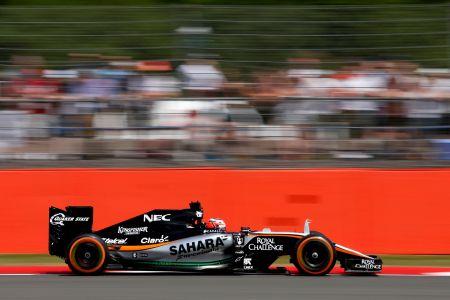 Sahara Force India enjoyed its second successive double points finish with Nico Hulkenberg finishing seventh and Sergio Perez ninth at their home race, British Grand Prix in Silverstone.
At seventh, Hulkenberg was the last driver among 13 finishers who was not lapped in the race, won by home favourite and defending champion Lewis Hamilton.
It was third double-points finish for Force India this season, the start to which was quite troublesome for the Vijay Mallya-co-owned team.
With eight points from the race -- Hulkenberg six and Perez two -- Force India have now 39 points from nine races and remain in fifth position in the constructors championship.
Coming into this race, they were leading Lotus by just two points but now they have extended their lead to 10 as both Lotus drivers -- Romain Grosjean and Pastor Maldonado -- failed to finish.
The first lap melee, when four racers were ousted following a collision caused by Grosjean, pushed Hulkenberg to fifth and Perez inside top-10.
The Mexican gradually moved his way up to eighth.
Kimi Raiokkonen was flying in his Ferrai and in no time he overtook Hulkenberg, pushing the German to sixth. Raikkonen's teammate Sebastian Vettel did the same to Perez as the Mexican slipped to ninth
Image: Nico Hulkenberg
Photograph: Charles Coates/Getty Images
© Copyright 2021 PTI. All rights reserved. Republication or redistribution of PTI content, including by framing or similar means, is expressly prohibited without the prior written consent.