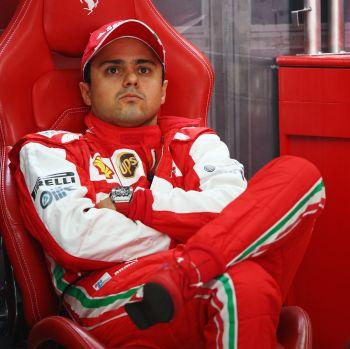 Felipe Massa said farewell to thousands of Ferrari fans in Italy on Sunday and received a trophy nearly as tall as him to celebrate his time with the Formula One team.
"I've been lucky, I have had a great career with Ferrari, longer than I had ever dreamed of at the start," the departing Brazilian told reporters after appearing at a wet Mugello track for a Ferrari event with a 15,000-strong crowd.
Massa, who still has two races in Texas and Brazil to come for the team before he is replaced by Finland's Kimi Raikkonen next year, had his first F1 test at the same track with Sauber back in 2001.
"When I began racing in go-karts as a kid, I had a red Ferrari suit and it's always been the team I supported. Even when (Ayrton) Senna was at McLaren and (Nelson) Piquet at Williams, I was cheering for Ferrari," he said.
Ferrari president Luca di Montezemolo and other senior management presented the 1.6 metre tall driver with a 1.2 metre high silver trophy engraved with the names of the 11 grands prix he won for the team.
"Felipe has been a true Ferrari man and he will always be part of our history," said Montezemolo. "I think the decision to go our separate ways is the right one, both for us and for him. It's time for a change and also to find new motivation."
Massa, 32 and championship runner-up in 2008, has yet to announce his plans for 2014 although he has said he is hopeful he can stay in Formula One.
Image: Felipe Massa
Photograph: Clive Mason/Getty Images