Ferrari moved to placate angry Indian authorities on Saturday with an assurance that a navy flag on their Formula One cars was not a political statement of support for Italian sailors detained for killing local fishermen.
-Italian marines charged with killing Indian fishermen
The Italian navy flag will, however, remain on the cars for the remainder of the Indian Grand Prix weekend.
-Alonso has a good chance of winning the title: Webber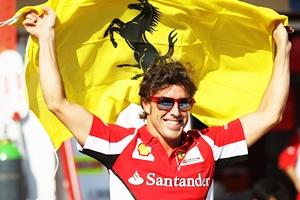 Indian motorsports federation (FMSCI) head Vicky Chandhok said he had had talks with Ferrari after the Indian Sports Ministry wrote to him and race promoters expressing concern about the Italian team's gesture.
-Vettel takes pole position at India GP
"(Ferrari) were very clear that they do not want to interfere in the Indian judicial system. They have the utmost respect for India and the Indian public and do not want to hurt any sentiments here," he said.
-'I am amazed at the rise of Formula One in India'
"They have given us a fresh statement that is very clear that it (the gesture) is not political in nature."
-India GP: Mallya questions Indian media's credibility
The two sailors were detained in February on charges of killing two Indian fishermen while protecting a cargo ship off the Indian ocean coast.
-PHOTOS: India gears up for second F1 Grand Prix
Italy says the sailors, who were released on bail in June in Kerala, mistook the men for pirates.
Ferrari issued a statement on Saturday saying they had put the flag on their cars as a tribute to "one of our country's outstanding institutions".
The declaration overwrote one published on their website earlier in the week that had also hoped the sailors' situation would be resolved.
The Sports Ministry, in their letter to Grand Prix organisers, had asked the FMSCI "to take steps to ensure that the event is not politicised in any manner and sentiments of the people of India are not hurt".
"The ministry have the view that any such action by Ferrari may also be construed as an attempt to subvert the process of justice," the letter added.
Formula One's governing body, the International Automobile Federation, has an apolitical and non-religious stance.
The FMSCI said in a statement of its own that it would "not permit any attempt to subvert the process of justice by politicising" the Grand Prix.
Photograph: Mark Thompson/Getty Images