Germany's Sebastian Vettel became Formula One's youngest double world champion at the Japanese Grand Prix on Sunday.
The following are some key facts about the Red Bull driver:
BEGINNINGS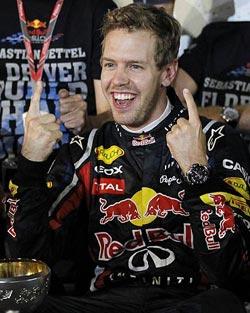 -- Vettel was born in Heppenheim, a town surrounded by vineyards between Heidelberg and Darmstadt, on July 3, 1987.
-- He started out racing karts at the age of eight and then competed in junior series, including the 2004 German Formula BMW championship where he won 18 of the 20 races. That earned him a test in a Williams-BMW F1 car.
-- The following year he was top rookie in the Formula Three Euroseries, won by Britain's Lewis Hamilton.
FORMULA ONE
-- Vettel became the youngest driver to take part in a grand prix weekend when he drove for BMW-Sauber in Friday practice in Turkey in 2006 aged 19 and 53 days.
-- He then made his Formula One race debut with BMW-Sauber at Indianapolis in 2007 when he replaced the injured Robert Kubica. He finished eighth, becoming the youngest driver to score a point aged 19 and 349 days.
-- He took part in seven races in 2007 with Toro Rosso.
-- The German was handed a full race seat with Toro Rosso for 2008 and failed to finish his first four races. He then won the Italian Grand Prix at Monza from pole position. That made him the youngest driver to start on pole (21 years and 72 days) and also the youngest ever winner (21 years and 73 days).
RED BULL
-- Vettel switched to Red Bull for 2009 after Britain's David Coulthard retired.
-- He won four races in 2009, including Red Bull's first victory at the Chinese Grand Prix where he also secured the team's first pole position and led their first one-two finish. Vettel ended up overall runner-up behind Brawn's Jenson Button.
-- In 2010, he took 10 pole positions and won five races.
CHANGE
-- This year, with four races remaining, he has been on pole 12 times and won nine times (CHECK). He has already scored more points than in all of 2010.
CHAMPION
-- Vettel became world champion for the first time at the age of 23 and 135 days. The previous youngest was McLaren's Lewis Hamilton in 2008, aged 23 and 301 days.
-- He was only Germany's second F1 world champion, after seven times champion Michael Schumacher.
-- His second title made him the youngest double champion, an accolade previously held by Spain's Fernando Alonso who was 25 when he took his 2006 crown with Renault.
PERSONAL
-- Nicknamed 'Baby Schumi' in his early days by a German media seeking a successor to Schumacher.
-- Known as a bit of a joker, with a love of British humour and the Beatles. He lives in Switzerland.