Mark Webber seized pole position for the floodlit Abu Dhabi Grand Prix on Saturday with Red Bull team-mate and quadruple World Champion Sebastian Vettel making a rare error and having to settle for second best.
The pole, with Webber approaching the end of his Formula One career this month, was the Australian's 13th in 12 years and second in three races.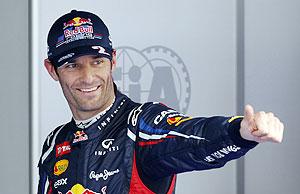 "Mark did a very good lap so congratulations to him," said Vettel, who is chasing his seventh win in a row after wrapping up a fourth successive title with victory from pole in India last weekend.
"I should have done a little bit better, but I don't know if it would have been enough. He did a great job, no mistakes," added the German, whose team also secured their fourth constructors' crown in a row in India.
"We lost it in turn one, sorry guys," the 26-year-old had said over the team radio.
Mercedes filled the second row at the Yas Marina circuit, with Germany's Nico Rosberg qualifying third and Britain's 2008 world champion Lewis Hamilton fourth despite spinning off on his final lap.
Only Vettel and Hamilton, when he was with McLaren, had previously qualified on pole in the four races to date in the Emirate.
Ferrari's Fernando Alonso, currently second overall and fighting to lift his team ahead of Mercedes and back to second in the constructors' championship, had a miserable evening and will start 11th.
It was the first time this season the Spaniard has failed to qualify in the top 10 but it came as no surprise after Ferrari appeared to be struggling in practice.
Brazilian team mate Felipe Massa, who is leaving the team at the end of the year, qualified one place ahead of the double champion.
"All weekend we haven't been so quick and in qualifying we were not so fast," Alonso told reporters. "Also my laps were not so clean and I lost a couple of tenths. Maybe it is better to start in this position tomorrow."
Kimi Raikkonen, who is third overall and 24 points behind Alonso, qualified fifth for Lotus in a race he had contemplated not coming to only days earlier.
The Ferrari-bound Finn, who told reporters on Friday that he had not been paid all season and could yet walk out of the final two races in Austin, Texas, and Brazil, will have Sauber's Nico Hulkenberg alongside.
Raikkonen's team mate Romain Grosjean qualified a disappointing seventh.
Di Resta qualifies 12th, Sutil fades to 18th
Sahara Force India endured a very competitive qualifying session for Abu Dhabi Grand Prix as Paul di Resta will start the race from 12th place while Adrian Sutil was way back in 18th position on the grid.
Sutil's fastest lap of 1:42.051 could not took him beyond Q1 as he was among the first six who were eliminated.
Force India, which took six points from the Indian Grand Prix to extend their lead to 23 over Sauber have reasons to worry as Nico Hukenberg has qualified sixth, his second-best of the season.
Image: Mark Webber
Photograph: Lee Jae-Won/Reuters