Hamilton responded to Mercedes motorsport head Toto Wolff who said that driver discord was a major weakness in the team and that they wanted 'nice guys'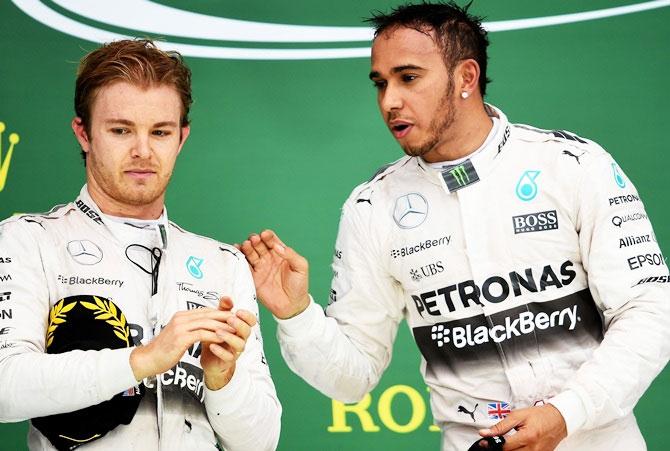 IMAGE: Mercedes GP's Lewis Hamilton on the podium with teammate Nico Rosberg. Photograph: Lars Baron/Getty Images
Lewis Hamilton wished he was on holiday once he had won a third Formula One title and the champion has also revealed he stayed up late working on music projects during race weekends.
Speaking to BBC Radio on Thursday, the Mercedes driver offered a fresh insight into his 'work hard, play hard' attitude.
"You still have to commit and work super-hard but, for sure you're kind of like 'My job's done, I wish the season was over, wish I could go on holiday'," the Briton said of his feelings after winning the title in Texas with three races to spare.
"But you still arrive at the next races, there's a lot of people in this team that continue to work so you've got to match them. It wasn't as successful as the rest of the year but still second in those races was not too bad."
Hamilton's teammate Nico Rosberg won the last three races of the year after racking up six pole positions in a row.
Hamilton responded to Mercedes motorsport head Toto Wolff who said that driver discord was a major weakness in the team and that they wanted 'nice guys'.
The Austrian had also suggested driver changes could be made if bad blood continued.
Hamilton described his Mercedes teammate as a whinger and insisted that their rivalry wasn't causing any problems to their Formula One team
"It's always blown so much out of proportion," said Hamilton.
"You know we've had like 16 one-twos (actually, 12 this season), so our relationship isn't really causing any problems. It's not like he's been distracted and not finished high up or vice-versa.
"I think we've both done a great job and not caused any problems. The energy within the team is as high as it's ever going to be and that's because we do what we do and how we do it," he said.
"We're never going to be best friends but we somehow make it work."
According to the Mirror, Hamilton also said that Rosberg complains about a lot of things, pointing that it could be because of their different backgrounds, the Mirror reported.
The Briton further said that they should not be called as teammates, insisting that one has got be tougher in order to win races and world titles.
The simmering feud between the Mercedes' drivers took a new turn when Hamilton pushed Rosberg off at the start of the US Grand Prix to lift his third title and the German responded in similar fashion in Brazil.