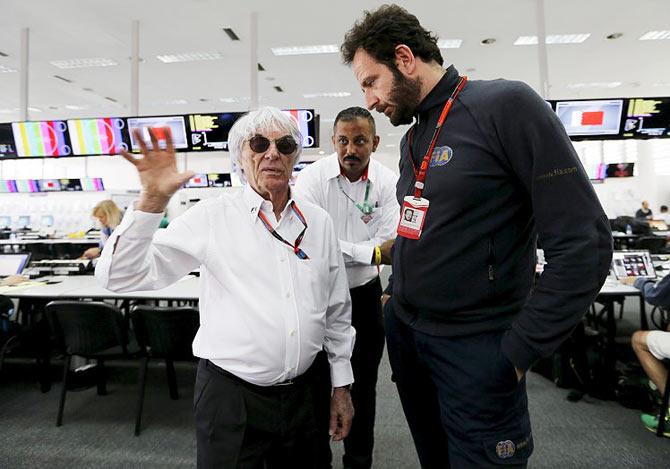 Formula One supremo Bernie Ecclestone (left) speaks to Matteo Bonciani (right), FIA media delegate. Photograph: Hamad I Mohammed/Reuters
Formula One supremo Bernie Ecclestone has taken legal action against British tax officials after facing a demand for payment of more than 1 billion pounds ($1.57 billion) in relation to a family trust.
The 84-year-old told reporters at the Monaco Grand Prix on Thursday that his lawyers had acted because the revenue and customs body (HMRC) "haven't respected an agreement they made back in 2008."
A statement issued on his behalf said a judge had recognised at a hearing in London that one of the grounds for a judicial review was arguable.
"He (Ecclestone) merely wants HMRC to act in accordance with its obligations and the law," it added.
The BBC reported that the judge had ruled however that Ecclestone's application should be stayed while his lawyers pursued alternative proceedings in the Commercial Court.
Ecclestone said he did not know why the agreement over the status of the family 'Bambino Trust' had been torn up by the tax body.
"All this is technical, so I don't know what we've done or haven't done," he added. "They (the lawyers) said the best thing to do to get this out of the way is to take the action they have taken.
"I've paid all the taxes I've ever had to pay," he added.
The authorities reopened an investigation of Liechtenstein-based Bambino after Ecclestone appeared in court in Germany last year on bribery charges.
That case in Munich was settled by Ecclestone paying a $100 million fee.
It arose after claims that a controlling stake in Formula One held by German bank BayernLB had been undervalued when sold to private equity fund CVC as a result of a "corrupt bargain" between Ecclestone and former BayernLB banker Gerhard Gribkowsky.
Gribkowsky was jailed by a Munich court in 2012 for tax evasion and corruption for taking a $44 million payment from Ecclestone and his family trust.
Ecclestone argued that the payment was unrelated to the sale and was made because Gribkowsky was threatening to make false claims about the Briton's tax affairs.
The Formula One supremo has said management of the trust funds, set up for the benefit of his ex-wife Slavica and daughters Tamara and Petra, is nothing to do with him and he is not a beneficiary.
Ecclestone said on Thursday that remained the case.