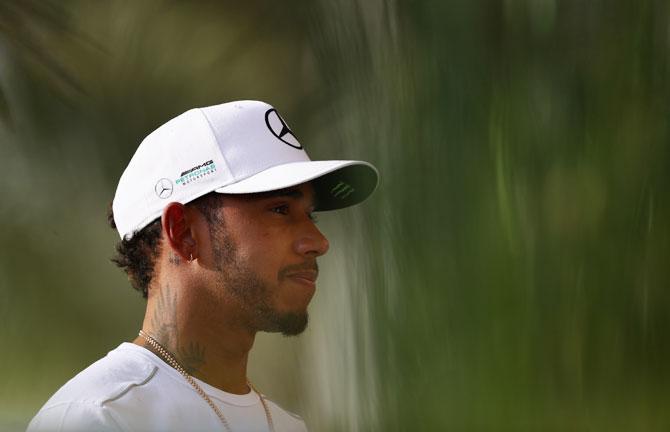 IMAGE: Lewis Hamilton took responsibility for a misjudgement with the safety car. Photograph: Clive Mason/Getty Images
Three-time world champion Lewis Hamilton, who incurred a penalty that ensured he finished second behind Ferrari's Sebastian Vettel at the Bahrain Grand Prix, has issued an apology to his Mercedes team.
Hamilton apologised to Mercedes for damaging his own chances by earning a five-second penalty for deliberately slowing Red Bull's Daniel Ricciardo as they pitted for fresh tyres under a safety car early in the race.
Vettel's winning margin was 6.6 seconds but the error cost the Brit any chance to challenge him for the win.
Mercedes driver Valtteri Bottas, who had earned his maiden pole position for the race, finished third while Ferrari's Kimi Raikkonen was fourth.
"Yeah, completely my fault with the safety car. You are supposed to have a five-second gap and I think I had a four-second gap. Just a misjudgment from myself. Apologies to the team but I tried the best I could to recover it and we still got good points for today," the Guardian quoted Hamilton as saying of his error.
"Of course the disappointment is there. Losing points for a team, particularly when you could have won the race, is definitely painful but I gave it everything I could," he added.
Meanwhile, Mercedes non-executive chairman Niki Lauda believed that Hamilton could have won the race had he not earned the penalty.
"Without the penalty he could have still won the race," Lauda said while also acknowledging the fact that Ferrari had called their strategy well.
"Ferrari had the right pit stops at the right time, did everything right and deserved to win."
Heading into this race, Vettel and Hamilton were level with a win each, but the latter's second victory of the season and 44th of his career puts him in command.