Jenson Button has ruled out retaliating against Sebastian Vettel after Red Bull's double world champion forced him onto the grass at the start of last weekend's Japanese Grand Prix.
The McLaren driver, who won at Suzuka despite being forced to back off at the first corner when Vettel squeezed him out, had suggested he might take a similarly tough approach.
The Briton asked the German before they appeared on the podium together whether that was how they were going to go racing in future but he played down that stance at the Korean Grand Prix.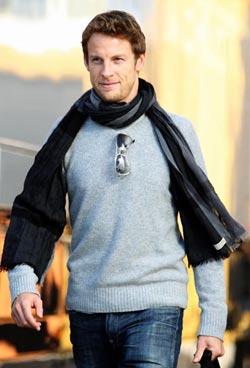 Questioned about that incident and whether it had changed his approach to racing against Vettel, the 2009 champion grinned.
"No, but it sounded good on TV," Button said.
"I don't think it changes anything. You're still going to be intelligent about the way you go racing and if you know that he's not going to back out and you're going to push him on the grass, you're not going to do it.
"If I didn't back out we would have both ended up in the inside wall. It doesn't matter that your car's only a quarter of the way up the inside, the whole car crashes when you touch."
Button suggested after the start that Vettel should get a penalty for forcing him off but he said in Korea it was just the heat of the moment.
"It's not down to me, it's down to the stewards and they've got all the angles and didn't think it was necessary to get a penalty so I agree with them.
"The funny thing was that when I spoke to Sebastian he said he didn't see me," continued Button. "And I said that on BBC and they said 'Well, watch this bit of footage.'"
Button said Vettel had his head tilted to one side, apparently looking in his mirrors all the time while he accelerated away from pole position.
"Unless he's just resting his head because he knows its going to be a tough race on his neck, or he's looking at Lewis (Hamilton)...," said Button, making quite clear that he did not believe the German's excuse.
Vettel clinched the championship with four races remaining, and Red Bull could take the constructors' title this weekend for the second year running, but Button expected McLaren to be strong contenders for race wins for the rest of the season.
"I think our car is generally competitive at high speed circuits, we are efficient now with our rear wing," said the Briton, refreshed after a few days in Japan.
"I hope that we are quick enough to challenge them (Red Bull) over the next few races."
Button expected Vettel to be racing as hard as ever, however.
"He's the world champion and if he doesn't win it's a negative isn't it, really? He's still going to be pushing very hard, I don't think he'll suddenly drive differently this race just because he's won the championship.
"He's not going to change the way he goes racing."