India's Narain Karthikeyan has told Sebastian Vettel not to act like a 'cry baby' after the Formula One champion called him a 'cucumber' for causing a collision at last weekend's Malaysian Grand Prix.
Vettel, chasing his third successive title with Red Bull this season, finished 11th and out of the points at Sepang after tangling with the HRT driver.
The 24-year-old German, now sixth overall and 17 points off the lead, directed his anger at Karthikeyan after the incident while team boss Christian Horner accused the Indian of 'brain fade'.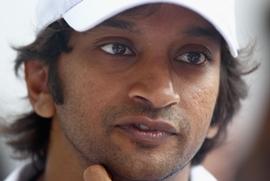 "For a world champion to say things like that is really shameful," Karthikeyan told Hindustan Times.
"It is really unprofessional.
"For a driver who has achieved so much to take out his frustrations on me just because he is having a difficult year is really sad. One does not expect a professional sportsman to be such a cry baby."
Stewards decided Karthikeyan had caused the collision and handed him a drive-through penalty after the race which meant 20 seconds added to his race time.
However the Indian complained his version of events had been ignored.
"They didn't care about what I had to say because Mr Vettel told them God knows what when he went and talked to them," he told the paper.
Photograph: Clive Mason/Getty Images