Sauber revealed their Bahrain Grand Prix mechanics had witnessed masked protestors throwing petrol bombs and Force India pulled out of second practice for safety reasons on Friday after an earlier scare.
Swiss-based Sauber said in a statement that the mechanics had seen flames in the road after they left the Sakhir circuit in a minibus on Thursday night to return to their hotel in Manama.
- Police, protesters face off as Bahrain GP begins
"At 20:50 hrs the 12 mechanics being on that bus noticed fire on the medial strip of the highway. The traffic was slow, cars had their hazard flashers on," the Formula One team said.
"On the opposite lane there was no traffic. The team members saw a few masked people running from there over to their lane where a bottle was burning as well. The minibus moved to the very right side of the highway and went past the situation."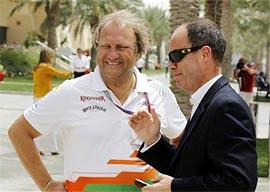 Four Force India team staff witnessed a similar fiery incident on the highway on Wednesday night.
During second practice, there was nobody on the Force India pit wall and a few mechanics were just working on the cars in the garages.
Force India's deputy principal Bob Fernley said his team would take part in Saturday's qualifying and Sunday's race as scheduled.
Asked whether the decision to miss second practice was because the team wanted to make sure their staff were away from the track before nightfall, when more anti-government demonstrations are expected, Fernley said that was not entirely the case.
"It's not necessarily a 'get home before dark' (situation)," he said. "We've had issues, as you all know, with things and we have to make sure that the crew are comfortable in the environment and that's what we're working on.
"But the crew are totally committed to delivering qualifying and the race."
Two of the team's staff, a data engineer and a radio contractor, went home to Britain after Thursday's incident. Nobody was hurt in either episode.
The Bahrain International Circuit issued a statement on Thursday referring to "an isolated incident involving a handful of illegal protesters acting violently towards police.
"During this incident a Molotov Cocktail landed in the vicinity of their vehicle. After approximately two minutes, the route was cleared and the vehicle carried on its journey."
There was tighter security at the circuit on Friday with bag checks and airport-style scanners as well as scores of police cars on the highway south from Manama.
DEMOCRACY MOVEMENT
The government hopes to use the Grand Prix as a way of showing that life is back to normal after a democracy movement launched an Arab Spring-inspired uprising last year. The protests were initially crushed, but were not stamped out; demonstrations and clashes are frequent.
Wednesday's incident was the first directly involving one of the 12 teams preparing for the fourth round of the championship that local rights activists and anti-government demonstrators want cancelled.
Asked why no other teams, including Sauber, had thought of cutting short practice, Fernley said they had not been affected in the same way as Force India.
"Some times emotions and logic don't always add up," he declared.
The race is the first in Bahrain since 2010. Last year's was cancelled after a bloody crackdown on unrest in the tiny Gulf kingdom.
Friday is the start of the weekend in Bahrain which is also often a flashpoint for protests after prayers, since Sunday is a working day. One demonstration is scheduled to take place near the circuit later on Friday.
"I don't believe there will be any issues, there will be protests and I think it was an unfortunate incident," said Fernley. "But when it is your team that it happens to, you have to deal with it in a proper manner."
Image: Force India's deputy principal Bob Fernley (left) with John Yates, former assistant commissioner of Britain's Metropolitan Police and current police advisor to Bahrain's Ministry of Interior, at the Bahrain International Circuit in Sakhir, south of Manama.
Photograph: Hamad I Mohammed/Reuters