Sahara Force Indian drivers Paul di Resta and Nico Hulkenberg will start in the eighth row on the grid in Sunday's Chinese Grand Prix Formula One race after finishing 15th and 16th in the qualifying in Shanghai on Saturday.
Di Resta clocked 1:36.317 to finish 15th in the second qualifying session (Q2), a place ahead of his team-mate Hulkenberg ( 1:36.745).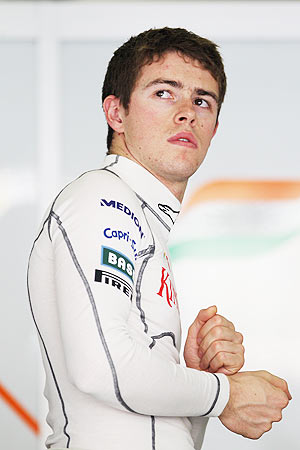 HRT's Indian driver Narain Karthikeyan finished 24th and last, clocking 1 minute 41 seconds in the Q1 qualifying session and he will start last on the grid in the 12th row on Sunday.
Di Resta rued that a gain of fraction of a second would have resulted a better position on the grid.
"It was a very close qualifying session, especially Q2 where finding a few tenths could have gained us another five places on the grid. My Q2 lap was good and I think I got the maximum from the car, but it only puts me P15, six tenths off the fastest time of the session," said the Briton.
"I'm still optimistic for the race because the car seems dialed in to the track and we looked strong during the long runs on Friday so I think we can race with the teams ahead of us," he added.
Hulkenberg said he was not feeling comfortable with the VJM05 car.
"It was quite a tough qualifying session for us, but I think the conditions had changed since free practice and I did not feel as comfortable with the car. My final lap in Q2 was a little compromised by some traffic coming out of the pits, but I guess P16 reflects the pace we have at the moment and the fact that all the teams around us are very close in terms of one-lap performance," said the German.
"We will think hard about the strategy tonight and try our best to move forward in the race. I started P16 in Malaysia and ended up in the points so I will look for a repeat performance," he said.
For Karthikeyan, the aim is a modest one -- to finish the race on Sunday.
"Tomorrow if it rains during the race that will benefit us, if not we'll have to try and do the best we can. The target once again is to achieve mileage and I'm confident that the car should be able to make it through the whole distance," he said.
"In the morning we had some trouble with the suspension but we got it fixed in time for the afternoon. In qualifying I got blocked on my first lap and didn't clock a good time on the first set of tyres. On the second set I made a flatspot, so that's the reason I didn't do so well, but nevertheless we're comfortably inside the 107 percent and that's important."
Photograph: Paul Gilham/Getty Images