Narain Karthikeyan's first weekend back in Formula One was a huge let down but the Indian is confident he will finally go racing at next month's Malaysian Grand Prix.
After five years out of the sport, the 34-year-old Chennai native returned with Formula One stragglers HRT for last weekend's season-opening Australian Grand Prix.
With no pre-season testing and virtually no time in practice, however, Karthikeyan and his Italian teammate Vitantonio Liuzzi were unable even to straggle as they failed to qualify for the race.
"At the start of the week, we thought we were going to race because we knew the new car was capable of it, but it just took so long (to put the car together)," Karthikeyan said.
"The majority of the work is done, but the fine details just go on and on and on. You needed a complete car or it doesn't make any sense to go out.
"We know it is a really bad situation but there's no point in complaining about it," he added.
In the end, Karthikeyan got out for the final practice session with absolutely no set up and understandably set a time 17 seconds behind Sebastian Vettel in the quickest car.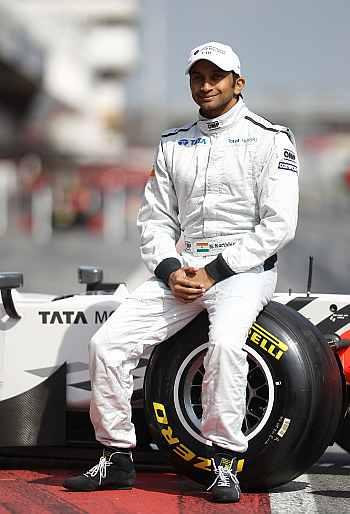 Qualifying was better but both HRT cars still failed to set a time within 107 per cent of the top time in the first qualifying session, the criteria for taking part in the race.
"For me, it was very difficult because I've driven here only once in 2005 and I had to get back into the rhythm of things," he said.
"But I never had a chance," he added.
Speaking before the race as the other teams along the paddock frantically prepared for the start, Karthikeyan said he had no problem with the 107 per cent rule.
"Basically, they don't want jokers to come in," he said.
"We respect the 107 percent rule. We are a serious team.
"When it all gets kicking off, I think we are going to surprise a few people," he added.
SEPANG FAMILIARITY
The second round of the championship takes place at Sepang in Malaysia on April 10 and with some new parts, the former Jordan driver thinks he will be able to show that he can still perform at the highest level.
"I'm pretty sure I can adapt pretty quickly," he said.
"I know the Malaysia circuit really well, I like it.
"If we get the new front wing," he added, before correcting himself.
"Not if, we are going to get it. We are reasonably confident that we will qualify and if all these things happen then we don't have any excuse not to qualify for Malaysia."
Although Karthikeyan will be focusing on Malaysia for the next couple of weeks, the inaugural Indian Grand Prix on Oct. 30 is never far from his mind.
The race at the new $350 million Hermann Tilke-designed track outside New Delhi is expected to attract up to 120,000 fans and Karthikeyan cannot wait.
"My comeback has a lot to do with that and it will be great to compete in front of my home crowd, and I will have a lot of support," he said.
"Since my debut in 2005, Formula One had got very big in India. And then there is the Force India team, and I'm the Indian driver, so we'll have a lot of people cheering for us.
"If the tickets are priced right, there will be a full house and it's going to be crazy," he added.