Karun Chandhok's dreams of racing in his country's maiden Formula One Grand Prix did not materialise as Team Lotus on Tuesday decided to go with their regular drivers for this weekend's Indian Grand Prix.
Team reserve Chandhok competed in Germany this year to kindle hopes of racing in his home grand prix as well but owner Tony Fernandes said Heikki Kovalainen and Jarno Trulli would be on Sunday duty to ensure the team consolidated their 10th position in the points table.
"While I am sure there will be fans in India who want to see Karun race for us on Sunday we had to make the best decision for the future of the team," Fernandes said in a statement.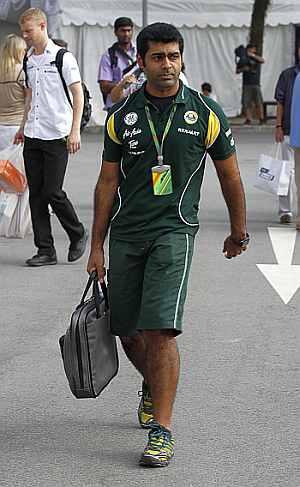 "While all the emotional reasons for him driving were right we were conscious that the limited running he has had in the car this season ... has not given him the best preparation for this race, so we have taken the very difficult decision not to run him in the race this weekend.
"It is absolutely vital that we secure tenth place in 2011 to give us the platform to keep growing.
"For that reason we had to take the pragmatic decision to put our faith in the experience and pace we have in Jarno and Heikki," he added.
Narain Karthikeyan will now be the lone Indian driver competing in Sunday's race for the struggling Spanish team HRT.
His role confined now to Friday morning practice session, 27-year-old Chandhok did not hide his feeling.
"I'm obviously disappointed that I won't be on the grid for the first Indian Grand Prix," he said.
"Everyone knows the most important and emotional race for any driver is their home race and particularly in my case, I've been involved with the project since the track was an empty piece of land.
"I'm sure it's been a tough call for Tony to make and on some level I think he's feeling some pain about it as we've always had a good personal relationship.
"The team have opted to go for experience at this time but I will go to the paddock in Delhi with my head held high because I feel I did everything possible in and out of the car especially over the last three months to show Tony that I can be in F1 in the longer term."