Former India football captain Shabbir Ali suffered a massive heart attack on Monday. Brought in in critical condition, he has been kept under "artificial machine support" at a local hospital in Kolkata.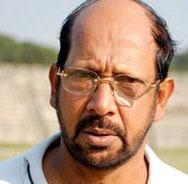 Ali, who played for India for over 50 matches between 1974 and 1984, suffered a cardiac arrest at around 1:30pm at his Allahabad Bank branch office located at Mission Row. He was rushed to the WoodlandHospital by his colleagues but suffered another heart attack -- a massive one -- while his Electro Cardiogram (ECG) was being taken.
The 56-year-old former striker is in critical condition and now being kept under observation at the ICCU of the hospital
"We rushed him to the hospital after he suffered the first stroke at the office at around 1:30pm. He suffered another stroke, a massive one, while doctors were taking ECG," one of his colleagues said.
"Doctors attending to him said after seeing the medical reports that his heart has been severely damaged. He has been kept at the ICCU under artificial machine support. Doctors said he will be kept under observation for 48 hours before deciding what to do," he said.
Ali was a regular player in the Indian squad between 1974 and 1984, and scored 35 goals. After retirement, he coached Salgaocar with distinction and served as Technical Director of the national team. He also guided Bengal to Santosh Trophy titles in 2010 and 2011.
Ali was conferred with the Dhyan Chand Award for Lifetime Achievement in 2011 by the Government of India.
Photograph: AIFF