Former British and European heavyweight boxing champion Henry Cooper, one of the most popular sportsmen, has died at the age of 76, the British Boxing Board of Control (BBBC) said Sunday.
Cooper had been ill for some time and died at his son's house in Surrey two days short of his 77th birthday.
London-born Cooper was at his peak during the 1960s and is best remembered for a defeat by Cassius Clay, later Muhammad Ali, in a non-title fight at Wembley in 1963.
He famously sent Clay to the canvas near the end of the fourth round with his trademark left hook, known as "'Enry's 'Ammer," only for the American to earn more recovery time when trainer Angelo Dundee said Clay's glove was split. The incident is still a favourite topic of discussion for boxing fans to this day.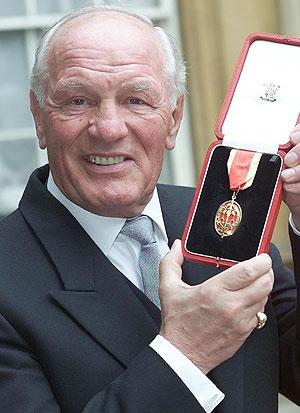 Cooper lost when the referee stopped the fight because of his cuts in the fifth round and he lost to Clay again in a world title fight at Arsenal's Highbury Stadium in London in 1966, again when cuts forced the referee to step in.
"He was one of the sporting icons, not just for the boxing public but sport in general," BBBC general secretary Robert Smith told Sky Sports News.
"Ali is possibly the greatest athlete there's ever been and Henry put up a great performance and just wasn't quite good enough on both occasions -- but he's not the only one who wasn't good enough to beat Ali.
"For such a small man, he put up some great performances in a world-class context."
"Everyone called him 'Our Enry' and he was much loved. He served boxing wonderfully."
Britain's current World Boxing Association world heavyweight champion David Haye wrote on Twitter that Cooper was "a true warrior and a great human being."
AMATEUR CAREER
After an amateur career that included an appearance in the 1952 Helsinki Olympics, Henry and his twin brother George, who died last year, both turned professional in 1954.
He lost to Sweden's former world champion Ingemar Johansson in a European title fight and many of his early defeats were brought about by his susceptibility to cuts.
His two fights against Ali raised his profile, along with another defeat by former world champion Floyd Patterson in 1966, but Cooper's position in the heart of British sports fans was out of all proportion to his success in the ring.
His 55-fight professional career featured 14 defeats, he was never a world champion and retired in 1971 after another defeat, a somewhat controversial points verdict, by fellow Briton Joe Bugner.
However, Cooper's bravery and down-to-earth, avuncular personality ensured massive popularity during his boxing career and then as a TV pundit and commentator, game show panellist, after-dinner speaker and tireless charity fundraiser.
Twice voted British sports personality of the year, he was awarded an OBE in 1969 and knighted in 2000.