Three-times Roland Garros champion Mats Wilander reflects on Day Three of the French Open for Reuters.
The Swedish former world number one is in the French capital soaking up all the action as a presenter for broadcaster Eurosport's daily flagship show 'Game, Set and Mats'.
Here the seven-time Grand Slam champion discusses the most poignant performances and memorable moments of Monday's action, and looks forward to Day Three of the claycourt Grand Slam tournament.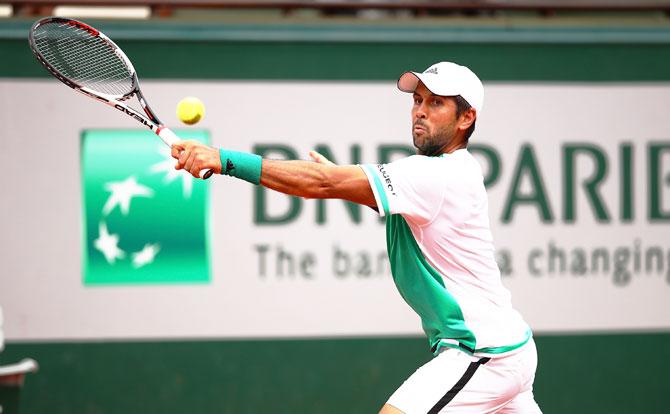 IMAGE: Fernando Verdasco hits a backhand during the first round match against Alexander Zverev. Photograph: Clive Brunskill/Getty Images
Highlight of the day:
"Has to be Fernando Verdsasco beating Zverev ... You know, I think we can say he was outfoxed by Verdasco. They should not have stopped yesterday when he had the momentum, and today he did not have that.
"We saw that emotionally he was not really there. He was playing with his head, he was not playing with his heart - when you are more effective."
Performance of the day:
"For me Andy Murray was absolutely the highlight of the day. He did not play particularly well, and he looked a little bit agitated ... but then he seemed to switch up a gear.
"He seemed to think 'hang on a second, I am three times a grand slam champion, and you are something in the 40s, I guess ... I am not going to lose to you'.
"You could see the gear switch very clearly, it was impressive."
Shock of the day:
"I guess in some ways it was Verdasco, but then again ... You know, he is great for the tournament. He can beat anybody. We all know that.
"Zverev leaving the tournament? Sure it's a disappointment, but with Verdasco, this guy could reach the semi-finals. If he is in the semis, none of us will be surprised."
One to watch tomorrow?:
"Tomorrow is a Rafael Nadal day. All day - quite simple."