Three-times Roland Garros champion Mats Wilander reflects on Day Two of the French Open for Reuters.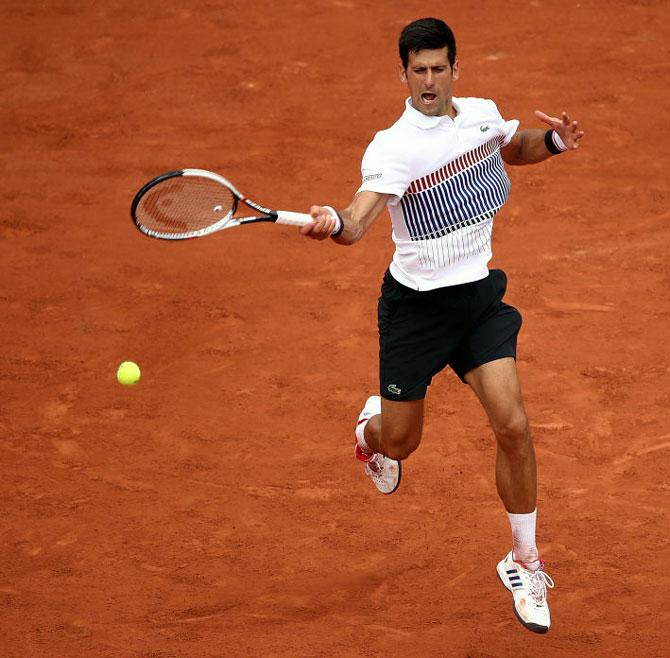 IMAGE: Novak Djokovic in action. Photograph: Julian Finney/Getty Images
The Swedish former world number one is in the French capital soaking up all the action as a commentator and pundit for broadcaster Eurosport.
Here the seven-time Grand Slam champion discusses the most poignant performances and memorable moments of Monday's action, and looks forward to Day Three of the claycourt Grand Slam tournament.
Highlight of the day: "That has to be Novak Djokovic... The stadium was full, all of the upper tier was full - and that does not often happen in the first week of the French Open. But today the fans really showed they thought he was a champion. You could really sense it, you could see he was really happy. It was a great performance - I saw a fire in him and smiles on his face but I have not seen for a while.
"Definitely the Andre Agassi effect was in play - that is for sure. And this is what the super coaches do for you. They help you with the day to day business... they give you the big picture in perspective, and help you get what you need to be."
Performance of the Day: "Definitely Novak's performance. He got back to what he does best today. He had better spin, he had better variation, he looked calm mentally, he looked fantastic... really, it was a great mental performance."
One to look out for tomorrow: "I am really looking forward to Andy Murray. I can't wait to see how he will cope, how his performance will be. He's been struggling, but this is the French Open, he is world number one, this is the stage where the best guys pull it out and perform."