'Drawing Canada is golden chance for India to get into World Group'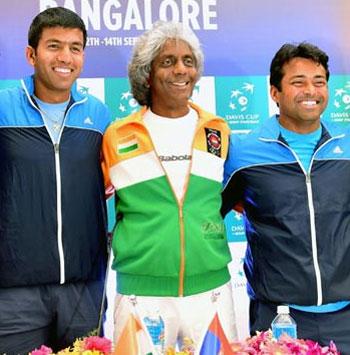 Former India Davis Cup captain Anand Amritraj believes drawing Canada in the play-offs presents India a golden chance to make it to the World Group.
The Indian team beat Uzbekistan in Asia-Ocenia zonal match in Bengaluru recently and was drawn to meet Canada for a spot in the elite group of the 2018 Davis Cup.
Speaking at the Tamil Nadu Tennis Association annual day function in Chennai on Sunday, Amritraj said Canada was the best team to draw from among the eight which had lost in the first round of this year's competition.
"This is our golden chance. If we are going to get into the World Group, this is the year we have to do it," he said.
Amritraj said if Canada didn't have its top player Milos Raonic playing, India stood a good chance of winning, the best in the last four years.
Raonic recently pulled out of the Miami Open after aggravating a right hamstring injury that sidelined him for nearly a month. He had earlier withdrawn from Canada's Davis Cup World Group tie against Britain after a nagging adductor injury flared up during his recent Australian Open run.
File photograph of Anand Amritraj (centre) with Leander Paes (right) and Rohan Bopanna