After startling claims, on Monday, by the BBC and online BuzzFeed News accusing tennis authorities of failing to deal with 16 players repeatedly flagged up to the Tennis Integrity Unit (TIU) over suspicions of matches being thrown, former British Davis Cup player Arvind Parmar and Australian teenager Thanasi Kokkinakis have revealed that they were offered money to tank games.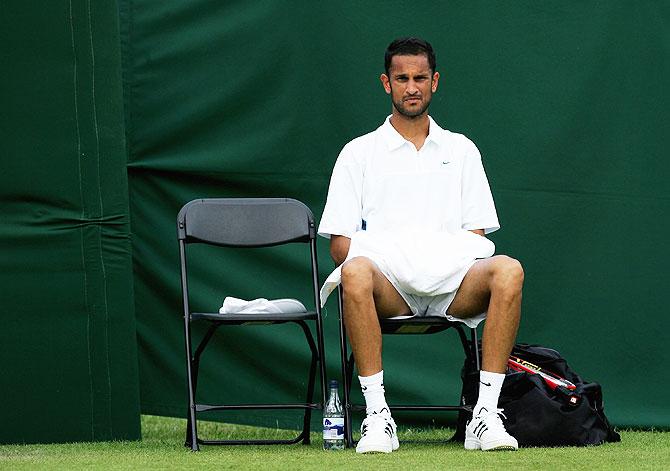 IMAGE: Arvind Parmar of Great Britain looks on. Photograph: Paul Gilham/Getty Images
Britain's former Davis Cup player Arvind Parmar revealed on Tuesday that a shifty figure once approached him with a cash-stuffed envelope.
- Federer wants names revealed as match-fixing allegations mar tennis
Parmar played for Britain in the 2006 Davis Cup, when he faced Serbia's Novak Djokovic, the current world number one.
In allegations rocking the world of tennis, BBC and BuzzFeed claimed that a "core group" of 16 players who reached the top 50 in the past decade, including Grand Slam title-winners, have repeatedly caused suspicion over match-fixing.
According to AFP, Parmar, 37, who retired in 2006, said the allegations of widespread corruption did not come as a shock as he had turned down a bung himself.
"My only surprise at the reports this week is that the fixing allegedly involved players in Grand Slams as they have more to lose, and I've only heard rumours about players at a lower level," Parmar wrote in The Times newspaper.
- Serena, Nishikori shoot down match-fixing claims
- 4 reasons why tennis is ripe for match-fixing!
Parmar, who reached a career-high world ranking of 137, said he was once approached at a tournament in Groningen in the Netherlands in 2004, on the second-tier Challenger tour.
"Players on the Challenger circuit are quite vulnerable and it's easy to see why they're approached, as most of them are doing well to break even financially," he wrote.
"Being presented with cash and no questions asked is a big carrot at that level."
Parmar said of the approach he instantly dismissed: "I was offered an envelope full of euros to lose in two sets, only an hour before I was due on court.
"I was approached by a random guy as I was coming off the practice courts. He showed me the money and said that I had to lose in two sets.
"He seemed anxious, nervous, and after a few quick words he began trying to press an envelope stuffed with euros into my hand.
"It was a substantial amount of money -- tens of thousands -- way more than I would have earned from winning the tournament and more than most players at that level would make in a year.
"But it wasn't tempting at all. It was a split-second decision for me to say, 'Absolutely not.' I didn't even consider it, and was in a state of complete shock afterwards."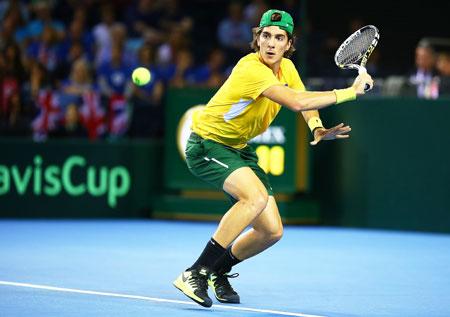 In another indication that match-fixers are preying on tennis players, Australia's Thanasi Kokkinakis said he had been targeted through social media.
Nineteen-year-old Kokkinakis, the world number 86, told Australia's 3AW that he had been approached through Facebook.
"Just these randoms (people) from nowhere saying 'I'll pay you this much money to tank a game'. I try and block it
and get rid of that stuff and focus on what you need to do," he said.
Image (bottom left): Thanasi Kokkinakis of Australia hits a return
Photograph: Jordan Mansfield/Getty Images for LTA