Former FIFA presidential candidate Mohamed Bin Hammam has won his appeal against a life ban from all soccer-related activity over bribery allegations, the Court of Arbitration for Sport said on Thursday.
CAS said in a statement that it had upheld Bin Hammam's appeal due to "insufficient evidence" in the case against the former head of the Asian Football Confederation (AFC).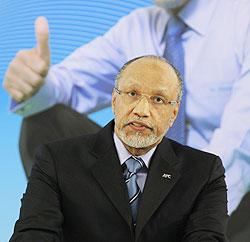 It said, however, that the ruling did not amount to an "affirmative finding of innocence" for Bin Hammam, noting that FIFA's investigation had not been thorough enough.
"The CAS has upheld Bin Hammam's appeal, annulled the decision rendered by the FIFA Appeal Committee and Lifted the life ban imposed on Mr Bin Hammam," the CAS statement read.
Bin Hammam, a former member of FIFA's executive committee, challenged Sepp Blatter for the presidency of soccer's world ruling body last year.
He withdrew his candidacy, and was then provisionally suspended, days before the June election over allegations that he had tried to buy the votes of Caribbean officials by handing them $40,000 each in brown envelopes.
Blatter was subsequently re-elected unopposed for a fourth term as FIFA president, while Bin Hammam was found guilty of breaking seven articles of FIFA's ethics code, including one on bribery.
He was banned for life and subsequently lost an appeal at FIFA. Proceedings against former CONCACAF president Jack Warner, also present, were dropped after he resigned his post.
CAS said the three-man panel voted 2-1 in Bin Hammam's favour but added that his behaviour was "not of the highest ethical standard."
"In this way, his conduct, in collaboration with and most likely induced by Mr Warner, may not have complied with the highest ethical standards that should govern the world of football and other sports," said CAS.
"This is all the more so at the elevated levels of football governance at which individuals such as Mr Bin Hammam and Mr. Warner have operated in the past.
"The Panel therefore wishes to make clear that in applying the law, as it is required to do under the CAS Code, it is not making any sort of affirmative finding of innocence in relation to Mr Bin Hammam.
"It is a situation of 'case not proven', coupled with concern on the part of the Panel that the FIFA investigation was not complete or comprehensive enough to fill the gaps in the record."
FIFA said in a statement that it noted that decision "with concern." It added that Bin Hammam remained suspended by the AFC.
The Asian confederation opened a disciplinary case against their former boss over alleged financial wrongdoing earlier this week, banning him for 30 days.