Claude Arpi captures the fan's passion for football in an ongoing e-mail exchange with Ivan Crasto, Rediff.com's Sports Editor.
Read Claude's first e-mail here
You can find his second e-mail here
And his third here
And his fourth here
And his 5th: Revolution is a French sport
And his 6th: World Cup balls
And his 7th: Why is refreeing so poor in the World Cup?
And the one yesterday: The sinking of Old Europe
Dear Ivan,
Voila! We have reached the half-time of the competition.
We have survived so far the late night matches, though in today's newspapers there was a piece of bad news: a research conducted by the Medical Research Council in UK shows that every hour spent in front of television increases the risk of dying from heart disease by 7 percent and those watching for four hours a day face a 28 percent higher risk.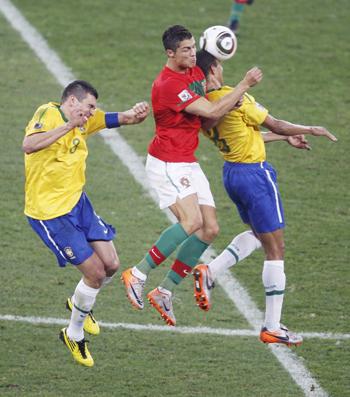 Roughly calculated, it means two matches. But, as my wife says, never listen to these scientific studies, some tell you to drink whiskey, others wine (red, white or ros' according to the sponsor); last week there was a similar study advocating three cups of tea and a couple of coffees a day.
The French believe that apart from the one on wine, all others are rubbish.
Anyway, it is a bit sad for the fans and even for the 'common watchers' like me that 15 teams will have to pack their bags (if they have not already done so). I am saying 15, because nobody regrets the French team, everyone is just relieved.
A special thought for the North Koreans. They did not play badly against Cote d'Ivoire, they have some good passing and were valiant. What fate is the Dear Leader keeping in stock for them?
Another thought for those who did not make it to South Africa. Hundreds of millions of Chinese bloggers are upset. 'Small neighbours' like North Korea, South Korea or Japan came to South Africa (the last two will even participate to the pre-quarter finals). So, why is such a 'powerful' rising country (a member of the G2) not here?
A blogger on Forbes website site wrote: 'Forbes has written about why Chinese soccer teams stink [because of arranged matches and gambling]. Still, why couldn't China, with a population of 1.3 billion and the financial, engineering and technological resources to make the 2008 Olympics 'happen'? Why couldn't the world's third-largest economy [who] was the winner of 51 Olympic gold medals at the Beijing Olympics (second-place US had 36 gold medals) field just 11 quick-on-their-feet men to win a series of qualifying matches over the likes of Qatar or Indonesia?.
Bloggers have offered some reasons, but all of them are lame (kids did have not enough money to buy balls, genetically Chinese are too short to strike properly, football clubs; managers are very corrupt, the Federation is too much linked to the Party, etc.). One blogger is more to the point when he says 'training, training, training is the key'. This is valid for India and all the countries. Did not Pele and many others play and played in the favelas for years with a sock stuffed with newspaper before becoming Pele?
Yesterday's matches: such a bore. Portugal-Brazil was dull, both teams being already qualified (Cote d'Ivoire needed to score an unbelievable number of goals and Portugal to lose, for the Elephants to go through). The players were mainly interested to evade yellow cards which could bar them for future matches and most importantly avoid injury.
The Swiss as usual, are unable to play constructive football. At the end of the game, they could only draw against Honduras. The only action worth mentioning is a great save by Swiss goalie Diego Benaglio when he faced Alvarez at the 70 minute alone.
Have you seen the most ridiculous goal of the competition? Claudio Bravo, the Chilean keeper runs out far outside his penalty area to stop Torres, he slides and manages to divert the ball away to David Vila, who from more than 40 meters is happy to send the ball in the net.
So long as Swiss did not take a lead, both teams were qualified, reducing much of the stake.
Have a nice week-end. Don't watch for more than 4 hours!!! And not too many coffees!
What the Western scientists do not know is that the most important factor is samatha. The concept is explained thus: the first two syllables, shama, refer to peace or pacification, while tha signifies to abide or remain. In other words, keep cool.
With sattvic vuvuzelas
Claude
PS: I had forgotten that Wimbledon was going on.
Image: Ronaldo goes for an aerial ball with Lucio and Gilberto Silva during the Brazil-Portugal match.