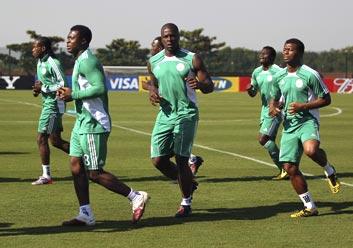 Nigeria  President Goodluck Jonathan has suspended the national soccer team from international competition for the next two years following their poor performance in the World Cup, a senior adviser said on Wednesday.
"Mr President has directed that Nigeria will withdraw from all international football competition for the next two years to enable Nigeria to reorganise its football," Ima Niboro, a special adviser to Goodluck Jonathan, told reporters.
"This directive became necessary following Nigeria's poor performance in the ongoing FIFA World Cup."
Nigeria were knocked out in the first round.