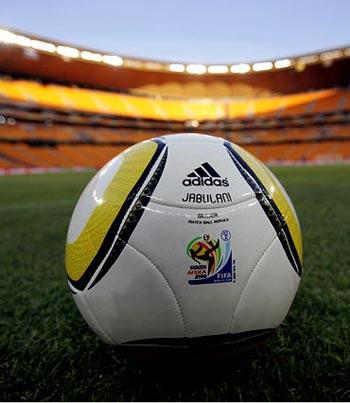 Jabulani, the ball for 2010 FIFA World Cup has landed its makers, Britain's Loughborough University, in trouble after one of the dullest and lowest scoring starts to the tournament in living memory.
Scientists from Loughborough University had boasted that Jabulani's hi-tech design would ensure exceptionally stable flight and make the ball more accurate than ever before.
But after seven days of no-shows in the field, the ball, which represented Loughborough's cutting edge technology, has apparently backfired.
Initial criticisms came forward from goalkeepers who struggled to follow the flight.
And now attacking players have said that it is very difficult to curve the ball around defensive walls and inside the posts due to its smooth surface.
Fabio Capello, the England team's manager, lashed at the university by describing the Adidas-manufactured Jabulani as "the worst ball that I have seen in my life".
Former British footballer Matthew Le Tissier accused the developers of the ball for a slow start in to the World Cup.
"I'm surprised that they have spent so much time and money developing this ball but don't appear to have tested it thoroughly. The changes have been too drastic," the Telegraph quoted him as saying.
"There has been a reluctance to shoot from open play from any kind of distance; the players don't seem to have the confidence to keep the ball under the bar. It's a shame because people want to see exciting goals," he added.
Doctor Andy Harland from Loughborough University's Sports Technology Institute, which spent four years researching the ball for Adidas, assured that the ball was the most stable and precise ever manufactured because of pioneering 'aero grooves' built into its surface.