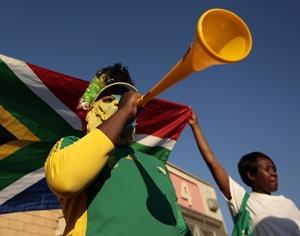 If there's anything more annoying than sibling skirmish over the ownership of a remote control, or a lengthy power cut, during a crucial football match, it is the South African trumpet Vuvuzela, say football freaks on social networking sites.
The squeaky horn that sounds like a swarm bees has raised quite a furore among football fanatics.
Opinion though on suggestions to ban it is divided.
The creators of the 'Ban Vuvuzela page' on Facebook are inundated with public response. Over a 100,000 people have signed up for the 'Ban Vuvuzela' plea on the social networking engine. And, needless to say, the voter count is steeping increasingly at www.banvuvuzela.com.
Celebrities like Nikhil Chinappa have blatantly criticized the instrument on Twitter, saying it should be banned for the welfare of millions of football viewers --how can one possibly hear a thing amidst the swarm of bees.
Intellectualizing the Vuvuzela controversy, Akshay Krishnan, a resident of Gurgaon says, "Football fiesta happens once in four years where one amply anticipates seeing the players perform at the pinnacle of their talent. Now, one cacophonic instrument blows away the fun by disturbing both players and viewers".
Netherlands coach Bert van Marwijk is said to have complained about the Vuvuzela wrecking the concentration of the players.
"It is not possible for the players to put earplugs on as they won't be able to hear each other," he said
The number of Vuvuzela supporters may be categorically low, but they have a meaningful say.
"Apart from holding cultural significance, Vuvuzelas add spark to the football festivity. Even Indians had the thematic horn to rouse the audience during the IPL tournament," explains 30-year-old Manish Khuranna
The legend of the Vuvuzela is said to have been birthed during the apartheid struggle. The use of these horns was excessively popular to generate patriotism among masses and elevate spirit. It is now a cultural symbol and a vital element of their identity.
Ban or no ban, the horn has created substantial buzz among the football fraternity, viewers and media.
As a student blogger Krishna puts it, "The noise about Vuvuzela is more than the Vuvuzela itself!"