'I said it's a disgrace and it's only because I am black and driving a nice car that you are pulling me over'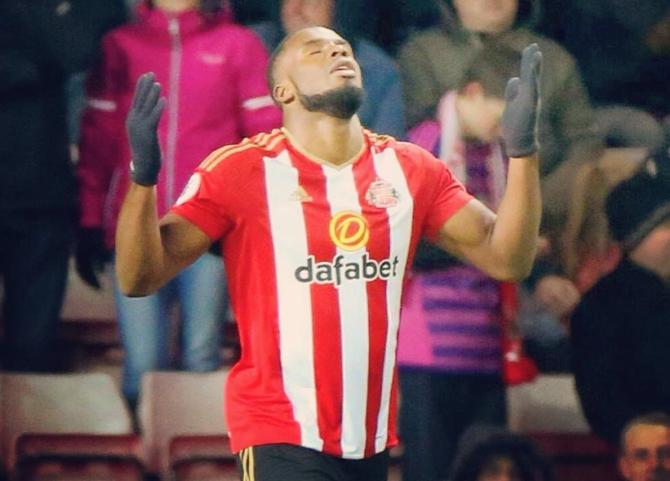 Former Everton striker Victor Anichebe says he has grown weary of being racially discriminated against after being stopped by police while driving his car last week.
Anichebe, 32, said he was pulled over by police officers after leaving a petrol station on Merseyside in England, an incident he labelled a "joke".
"A lot of the times, I am a lot more level-headed but because of everything that's going on I am just tired," Anichebe, who also played for West Bromwich Albion and Sunderland, told Sky Sports.
"They ... followed me for a good five minutes. They pulled me over and said I drove over a kerb."
"I said it's a disgrace and it's only because I am black and driving a nice car that you are pulling me over. They just kept saying ... this is routine and I shouldn't be angry. But we are, we are all angry. We are tired of the things going on."
Merseyside police said in a statement to Sky Sports it was their duty to stop people when there was a concern with the standard of driving to ensure protection of all involved. In the Anichebe incident, the driver was "allowed to carry on without any penalty", according to the statement.
The Nigerian striker, who has previously faced racist abuse while playing for Everton in a Europa League game, stressed on the importance of education to help spark change.
"I just feel people are not going to stop until change happens. I do feel like a lot of people want change. I think that a conversation needs to happen," he said.
Anichebe has signalled his interest in buying a soccer club to try and improve ethnic minority representation in positions of power within the sport, a problem that has come to light through the Black Lives Matter movement in recent months.
"I would like to go down that route of owning a team. I do have a group of people that are quite wealthy and together we could come together ... Instead of wanting change, we can be the change ourselves," he said.
Coutinho could play for club next season if head coach wants: Barca president
Barcelona president Josep Maria Bartomeu believes that midfielder Philippe Coutinho could play for the club next season if the Blaugrana's new head coach wants.
After a season on loan with Bayern Munich, Coutinho was tipped to be sold to the Premier League, with his agent Kia Joorabchian claiming his client is keen on a return to England.
"The head coach will make the decision. If he wants him to continue, next year he will play with us," Goal.com quoted Bartomeu as saying when asked on Coutinho's future.
Bartomeu has confirmed that Ronald Koeman will be announced as the club's new head coach. Koeman will be replacing Quique Setien who was sacked three days after the club's 8-2 loss against Bayern Munich in the quarter-finals of the Champions League.
Coutinho scored two goals against Barcelona in Champions League quarter-final clash.
"Barca has money. The problem is the salary mass. We have salary limits based on income. Therefore, we must reduce the salary mass that the club has to be able to bring in new players," Bartomeu said.
Bartomeu hinted that there would be a possible clear-out of some big names at the club to make room for fresh faces.
"I do not want to speak ill of anyone and I want to praise the team, they have been winning titles for 12 years without pause. It is time to start saying goodbye with all honors to some players," Bartomeu said.
Man Utd, Man City exempt from first weekend of Premier League
Manchester United and Manchester City will not be required to compete in the opening weekend of the 2020-21 Premier League campaign following their European commitments this past season, the Times newspaper has said.
Man City's season came to an end on Aug. 15 with a 3-1 defeat by Olympique Lyonnais in the Champions League quarter-finals, while Man United's season concluded following their Europa League semi-final loss to Sevilla a day later.
The Premier League season is set to begin on Sept. 12 and with teams requiring at least a 30-day break before their first match, City and United will likely play their opening game the following week, the Times said.
However, Wolverhampton Wanderers, who were knocked out of the Europa League by Sevilla on Aug. 11 -- 32 days before the start of the new season -- will be required to play on the opening weekend.
City ended the 2019-20 season in second place, 15 points ahead of third-placed United.
ISL: Jackichand Singh joins Jamshedpur FC on three-year deal
Ahead of the Indian Super League (ISL) upcoming season, Jamshedpur FC have signed Indian midfielder Jackichand Singh on a three-year deal.
Jacki is the top-rated Indian winger having scored five goals and three assists having clocked more than 1300 minutes of playing time en route to the ISL playoffs.
"Playing for Jamshedpur FC is a fantastic opportunity for me. Jamshedpur is one club in India that has everything a player needs, and the entire country knows how passionate and vocal the people of Jharkhand are for football," Jacki said in a statement.
"I am convinced with the philosophy and the path Jamshedpur FC are following and hope to contribute with my heart and soul to help the club achieve much-deserved success. Of course, I look forward to achieving this under the robust leadership of Owen Coyle," he added.
The 28-year-old winger has had consistent performance over the past three seasons. He is known for his quick pace and ball control as he takes on defenders while being a constant threat in front of goal with his quality finishing.
"Mesmerizing - one word to perfectly describe Jacki. He is a highly rated and talented winger who was wanted by many teams in the ISL. Signing a top-class winger has been one of our key objectives, and I'm delighted he's joining. He will add pace, power, and creativity, with the aim of bringing more goals to our team," Owen Coyle, Head Coach Jamshedpur FC said.
Jacki began his career with Royal Wahingdoh in 2009 when he was only 17-years old. He helped the club clinch promotion to the I-League in 2014 by winning the 2nd Division I-League.
He had a stellar campaign in the I-League 2014-15, which saw him rise to prominence as his performances enthralled everyone watching. Jacki's performances with Wahingdoh earned him a call to the Indian national football team too.
The midfielder went on to represent FC Pune City, Salgaocar, Mumbai City, East Bengal, Kerala Blasters, and FC Goa before joining Jamshedpur FC.
Jacki will be handed the squad number 12 for the upcoming ISL 2020-21 season.
ISL 2020: Odisha FC to play all 'home' games at GMC Athletic Stadium in Bambolim
Odisha FC announced that the club will be playing all the 'home' games of the Indian Super League (ISL) 2020-21 season at the GMC Athletic Stadium in Bambolim, Goa.
The upcoming 2020-21 edition of the ISL will be staged completely in Goa due to the coronavirus pandemic.
The 2020-21 season will start from November and it will be played behind closed doors at three venues - Jawaharlal Nehru Stadium, Fatorda; GMC Athletic Stadium, Bambolim; and Tilak Maidan Stadium, Vasco.
"The #KalingaWarriors will be playing all the 'home' games in the upcoming @IndSuperLeague season at the GMC Athletic Stadium in Bambolim, Goa," Odisha FC tweeted.
Football Sports Development Limited (FSDL) will be working closely with the Sports Authority Of Goa, Goa Football Association, and the State administration to ensure a safe and secure season.
FSDL recently concluded a recce of the available infrastructure in Goa and has drawn up an extensive plan to undertake up-gradation from pitch and drainage refurbishment/maintenance, floodlights, and competition area uplift including players dressing rooms at each of the three stadiums.
The FSDL wishes to provide an individual training pitch to each of the clubs. Ten such training pitches have been identified in Goa, which will see upgrades over the next month before handing it over to the respective clubs.
ISL 2020-21 promises to be one of the most intriguing seasons headlined by the introduction of Kolkata powerhouse ATK Mohun Bagan FC along with a rejuvenated City Football Group-led Mumbai City FC.