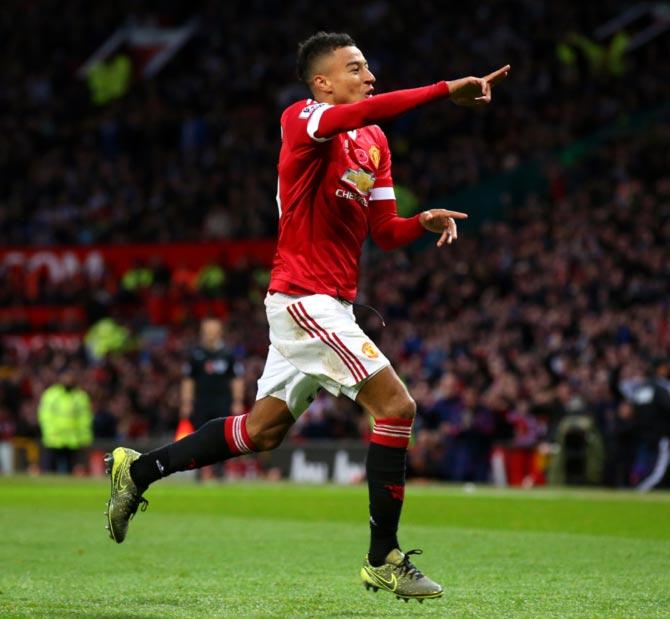 Manchester United midfielder Jesse Lingard has opened up about his personal struggles in a heartfelt message on social media, saying he was "lost as a player and person" during the 2019-20 campaign.
Lingard's goal in the closing stages of a 2-0 win at Leicester City on Sunday -- which secured Champions League qualification for third-placed United - was his first Premier League strike in 18 months.
The 27-year-old has lost his regular first-team spot under United boss Ole Gunnar Solskjaer and was limited to nine league starts in the 2019-20 season.
"This season has been difficult for so many reasons," Lingard said in an Instagram post on Tuesday.
"I lost who I was as a player and person, but I never wanted to give up, I knew who I really was on and off the pitch and knew that having been there before I could get there again.
"This meant working harder than I'd ever done before and trusting in those around me that they knew how to best help me achieve that."
In an interview with the Daily Mail last December, Lingard said he took on greater responsibility for his younger siblings after his mother became unwell earlier in the season.
Lingard also said he had feared for his United future after posting a bizarre video on social media with team mate Marcus Rashford before the start of the last campaign.
"I know the fans have been frustrated but in all this time my love for this club and everyone connected to it has never left me," Lingard, a United academy graduate, said.
"This team, this club is my family and I will continue to keep working harder than ever to help this team achieve its goals."
Lingard has been linked in the media with a move away from United in the current transfer window, having less than a year remaining on his contract.
Community Shield to take place on August 29 at Wembley
The Community Shield, the traditional curtain-raiser to the Premier League season, will take place at Wembley on August 29, England's Football Association (FA) said on Wednesday.
Premier League champions Liverpool will face either Arsenal or Chelsea, who meet in the FA Cup final on Saturday.
British media reported that fans could be allowed to attend the game, which will be played a fortnight before the new league season kicks off on September 12.
Manchester City won last season's Community Shield by defeating Liverpool 5-4 on penalties.
Inter Milan defeat Napoli by 2-0
Inter Milan secured a 2-0 win over Napoli in the ongoing Serie A in Milan on Tuesday.
The three points brought Inter Milan back to second place, with a total of 79 points on the Serie A table.
Danilo D'Ambrosio struck the opening goal of the match in the 11th minute, putting Inter Milan ahead. Inter Milan played well and maintained their lead throughout the first half before taking a two-goal lead in the second half.
It was Lautaro Martinez's stunning strike which doubled Inter Milan's advantage over Napoli. Napoli failed to even open their account as the hosts successfully managed to keep a clean sheet.
Napoli is placed seventh on the table, however, their Coppa Italia win has already assured them of a Europa League place in 2020-21.
Inter Milan will now face Atalanta, who are just a point behind the Antonio Conte-led side, on August 2.