News of all that's transpired on and off the football field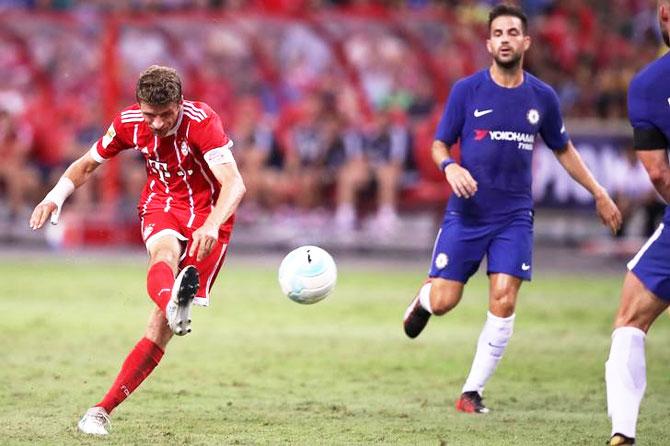 IMAGE: Bayern Munich's Thomas Muller scores the third goal against Chelsea during their International Champions Cup in Singapore on Tuesday. Photograph: Yong Tech Lim/Reuters
German winger Thomas Muller scored two sublime goals as Bayern Munich capitalised on a fast start to edge Chelsea 3-2 in the opening match of the International Champions Cup Singapore friendly tournament on Tuesday.
Bayern manager Carlo Ancelotti had implored his side to show improvement following a 4-0 drubbing by AC Milan in Shenzhen last week and his players answered the call with a scintillating opening spell as they raced to a 3-0 lead in 26 minutes.
Chelsea adopted the 3-4-3 formation that had served them well on their way to the Premier League title in May but new Bayern signing James Rodriguez, Muller and Franck Ribery were able to unlock the English champions' defence with alarming regularity.
After a fairly pedestrian opening, Bayern full back Rafinha struck for the German champions in the sixth minute, cutting in from the right wing and drilling home a low drive into the opposite corner past a sprawling Thibaut Courtois.
Bayern were looking irresistible and doubled the lead six minutes later when Ribery skipped past Cesar Azpilicueta on the left side of the penalty area, then dinked over an inviting cross for Muller to volley home his first goal from close range.
Rodriguez appeared comfortable in a roaming role behind striker Robert Lewandowski and although the Colombian spurned several chances to extend Bayern's lead, Ancelotti would have been pleased with what he saw of his new recruit.
Muller then made it 3-0 with a spectacular long-range effort after 26 minutes when the German international strolled forward from halfway towards a passive Chelsea defence and unleashed a curling shot past Courtois from 25 metres.
Chelsea had been completely outclassed but managed to haul themselves back into the contest on the stroke of halftime when left back Marcos Alonso latched on to Victor Moses' low cross from the right and beat Tom Starke with a low, crisp shot.
Both sides made regular substitutions in the second half with Chelsea replacement David Luiz going closest after the break with a deflected long-range shot that hit the base of the post in the 72nd minute.
Michy Batshuayi then stabbed home from close range following a corner in the 86th minute to set up an exciting finale but Bayern held on for victory in front of 48,500 fans packed into the Singapore National Stadium.
Inter Milan are the other team involved in the tournament and they will play Bayern on Thursday before rounding out the competition against Chelsea on Saturday.
AFC approves ISL, terms it 'temporary solution'
The Asian Football Confederation (AFC) on Tuesday approved the Indian Super League to be played alongside the I-League in 2017 and 2018, terming it a "temporary short-term bridging solution".
Following a recommendation from All Indian Football Federation (AIFF), the sport's Asian governing body gave the green light to the ISL.
AIFF's recommendation to the AFC was that the ISL will replace the Federation Cup, whose winner is currently allocated an AFC Cup preliminary stage place.
Therefore, the AFC Committee approved that the I-League champions will play in the AFC Champions League Play-off round and the ISL Champions will play in the AFC Cup preliminary stage – as long as all clubs adhere to the AFC rules and regulations, particularly club licensing, from 2018.
The situation will be reviewed on a yearly basis with conditions which, in addition to adherence to club licensing regulations, include promotion, production, a player allocation system and the following of the road map agreed between the AFC and Indian football stakeholders at a meeting in Kuala Lumpur on June 7.
Maradona backs use of video technology to prevent another 'Hand of God'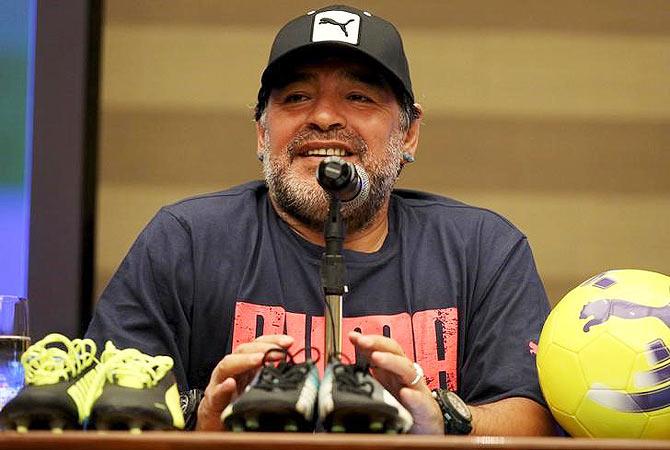 IMAGE: Argentina's former soccer player Diego Maradona. Photograph: John Vizcaino/Reuters
Diego Maradona has backed the use of video assistant referees (VARs) in soccer even though he is aware that his infamous 'Hand of God' goal would not have stood if the technology had existed during his heyday.
The goal during the 1986 World Cup quarter-final between Argentina and England is one of the most talked about in the history of football, alongside his brilliant solo run past five defenders in the same game that gave his side a 2-1 victory.
The diminutive Argentine, who tapped the ball over the head of onrushing goalkeeper Peter Shilton with his fist to score his country's first goal, gained even more notoriety when he claimed afterwards it had been scored by the 'Hand of God'.
"Obviously I think about it whenever I show my support for the use of technology," Maradona said in an interview posted on global soccer's governing body FIFA's website (www.fifa.com) on Tuesday.
"I thought about it and, sure, that goal wouldn't have stood if technology had been around. And I'll tell you something else: at the 1990 World Cup I used my hand to clear the ball off the line against the Soviet Union.
"We were lucky because the referee didn't see it. You couldn't use technology back then, but it's a different story today."
FIFA has tested VAR technology at several tournaments ahead of next year's World Cup in Russia, including at last month's Confederations Cup, and its head of refereeing Massimo Busacca said afterwards that the technology should be refined.
The governing body has already said it would like to use VAR at the 2018 World Cup, and soccer's law-making body IFAB is expected to decide next March whether to allow them to become part of the game on a permanent basis.
VAR involves two video assistant referees who monitor the action on screens and draw the match referee's attention to possible officiating mistakes.
But criticisms include the time taken to make decisions and the referees' criteria in deciding when to use the system, with some close calls being made without consulting the VARs.
Maradona cited Frank Lampard's disallowed goal for England against Germany at the 2010 World Cup and Geoff Hurst's goal that won England the Jules Rimet Trophy in 1966, which modern replays later showed did not fully cross the line, as instances where technology could have made a difference.
"People used to say that we'd waste a lot of time, that it would cause a lot of annoyance. But that's not the case," he said.
"Football can't fall behind. Given the rate at which technology is advancing and the fact that every sport uses it, how can we not think about using it in football?"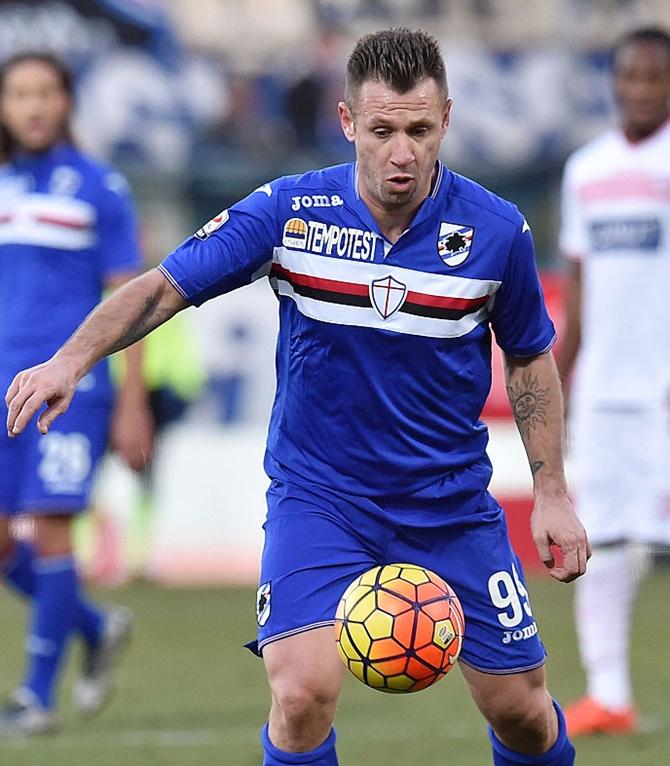 IMAGE: Antonio Cassano of UC Sampdoria in action. Photograph: Giuseppe Bellini/Getty Images
Antonio Cassano, one of Italy's most skilful, colourful and controversial players, announced his retirement on Monday for the second time in less than a week.
The 35-year-old, whose career was held back by a history of disciplinary and weight problems, joined newly-promoted Verona two weeks ago, then said last Tuesday that he would end his career, only to back-track a few hours later.
On Monday, he once again said he was quitting, announcing the decision on the Twitter feed of his wife Carolina Marcialis (@chriscarol99).
"Antonio Cassano will not play football any more," said the statement.
"I apologise to the city of Verona, to all the fans, to president Maurizio Setti, to sporting director Filippo Fusco, to the coach Fabio Pecchia, to my team mates and to the medical and technical staff."
"At the moment, I feel that my priority is to be close to my children and wife."
Cassano was previously at Sampdoria, where he agreed to terminate his contract last January after being frozen out of the squad.
Blessed with rare skill on the ball, a light touch and an uncanny ability to lose his marker, Cassano's talent has never been questioned, though he was burdened by unrealistic expectations as a teenager.
Born in the southern Italian city of Bari, his career has taken him to AS Roma, Real Madrid, AC Milan, Inter Milan and Parma and has been marked by tantrums and personality clashes.
He boasted about his sexual exploits in his autobiography and embarrassed Italy during Euro 2012 when he said he hoped there were no homosexuals in the squad. Cassano later apologised for the remark.
His love of food is also well documented and he has been dogged by weight problems throughout his career.
When he was at Real Madrid, head coach Fabio Capello coined the term "Cassanata" (literally Cassanoism) for any act of indiscipline.
Cassano won 39 caps for Italy, playing at Euro 2004 and 2012 where he helped Italy reach the final after forming an unlikely partnership with Mario Balotelli, another maverick.
Cassano also underwent minor heart surgery in 2011 after falling ill after a game.
Giroud ready to fight for his place at Arsenal, says Wenger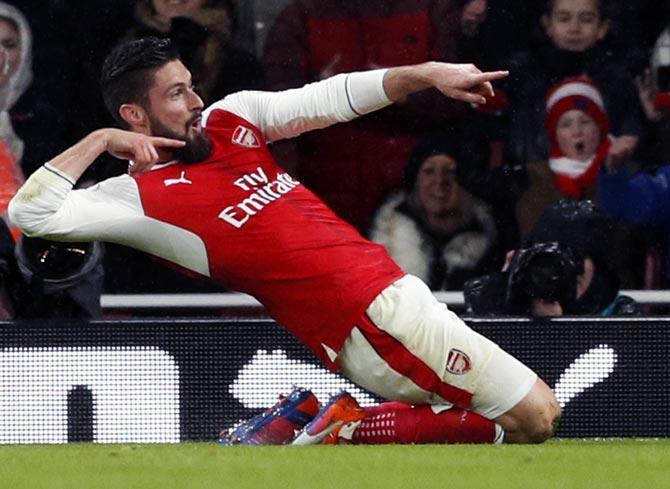 IMAGE: Olivier Giroud celebrates. Photograph: John Sibley/Reuters
Arsenal striker Olivier Giroud wants to stay at the club and fight for his place despite the arrival of Alexandre Lacazette, manager Arsene Wenger has said.
Giroud struggled for opportunities at Arsenal last season, starting 11 league games after losing his spot to Alexis Sanchez in the lineup.
The 30-year-old France international could be further bumped down the pecking order by compatriot Lacazette, who arrived at the Emirates Stadium from Olympique Lyonnais for a reported to 46.5 million pounds ($60.57 million).
"Giroud fancies the competition," Wenger told reporters. "As a manager, you have him on your back, wanting to play.
"He fights hard, you know. I like the way he responds to what's happening. He is focused and determined and showed that on the (pre-season) tour."
Moneybags Man City bank on their expensive wide boys
Nothing reflects the evolution of football's modern full back more than Manchester City's decision to spend around 120 million pounds ($156.35 million) on buying three in 10 days -- with a fourth possibly on the way.
Benjamin Mendy became the latest to arrive at the Etihad Stadium on Monday for a reported 49 million pounds, joining Danilo, signed from Real Madrid for 26 million pounds on Sunday, and Kyle Walker, a 45 million pound buy from Tottenham Hotspur earlier this month.
In making these signings, City's manager Pep Guardiola has both reshaped his defence and provided an exciting new range of options out wide.
Where once the full back's job was to nullify the opposition winger, now he is a focal point of attack too, with Guardiola banking on this trio's ability to deliver chances for his equally expensive strikers.
For Monaco, French international Mendy completed five assists in Ligue 1 and three in the Champions League last season, figures that suggest more goals should now flow from Guardiola's problem left side.
Perhaps only City would pay such a fee -- four times the amount Monaco paid Marseille for the 23-year-old just 12 months ago -- but Mendy's pace, technique and intelligence were major factors in the French side's success last season.
Guardiola, who witnessed Mendy's worth close up in Monaco's Champions League knockout win over City last season, has persuaded his paymasters to fork out serious money for a player who could make his debut against Real Madrid in Los Angeles on Wednesday
City are almost certain to rotate their full backs, with Danilo, who can play on both sides, acting as a cover for Mendy and Walker. Guardiola is also reported to be in the market for another right back to complete a very expensive set.
Last season City's full back problems frustrated Guardiola, who cited his lack of options as the excuse for City's inability to break down neighbours United in April's goalless Manchester derby.
On that occasion Guardiola named 32-year-old Pablo Zabaleta and Aleksandar Kolarov, 31, with Bacary Sagna, 34, and Gael Clichy, 31, on the bench -- a quartet with a combined age of 128.
Klopp confirms Markovic set to leave Liverpool
Liverpool manager Juergen Klopp has said the Premier League club intend to sell winger Lazar Markovic during the current transfer window.
The Serbia international, who spent the last season out on loan at Sporting Lisbon and Hull City, featured in Liverpool's first pre-season friendly against Tranmere Rovers but was left out of the squad for the tour to Hong Kong.
"With Lazar, it's no secret that if he finds a club then we will negotiate," Klopp told Liverpool Echo.
"He's a really good player. I like him as a person. He's now fit and another one who is in the best shape since I've known him.
"Before he had problems with his groin but now he's good. There will be a club out there who needs him."
Markovic, 23, arrived at Anfield from Benfica three years ago and has made 34 appearances for the club in all competitions.
Juventus sign Fiorentina striker Bernardeschi for 40 million euros
Juventus have signed promising Fiorentina forward Federico Bernardeschi on a five-year deal for 40 million euros (35.73 million pounds), the Italian champions announced on Monday.
The 23-year-old joins Juventus having spent three years in Florence, scoring 11 goals in the last Serie A season, the youngest player to do so, and collecting nine caps for Italy.
Bernardeschi, a versatile forward, was described by Juventus on their website (www.juventus.com) as one of Europe's "most promising attacking talents".
"A new era is about to begin in Turin and Federico Bernardeschi is set to be a key part of it," the statement said.
He is the most expensive transfer for Massimiliano Allegri's side in the close season transfer window, as they look to build a side capable of winning a record seventh successive league title.