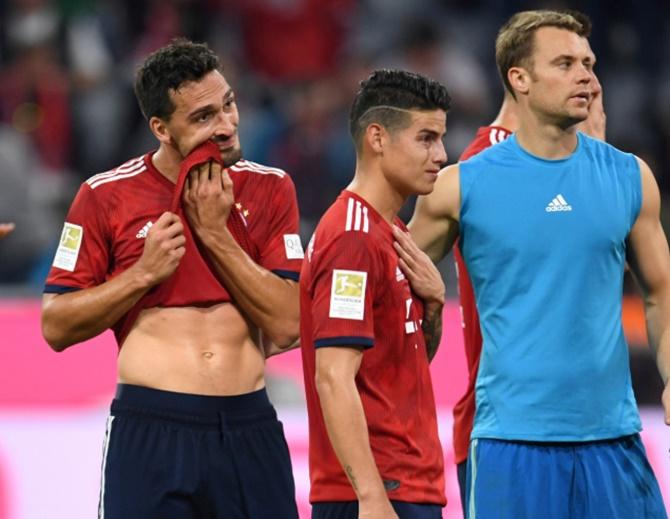 Bayern Munich bosses on Friday threw their support behind coach Niko Kovac and his players despite a four-game winless streak in all competitions, accusing the media of 'disrespectful' reporting.
The German champions, who have won the last six league titles but are sixth in the standings, travel to VfL Wolfsburg on Saturday, knowing any result other than victory would sink them deeper into crisis.
But club president Uli Hoeness and CEO Karl-Heinz Rummenigge accused the media of "outrageous, disrespectful and polemical" reporting and warned them of possible legal action.
"When I read about Manuel Neuer then I just have no words. I would like to remind you that Manuel was world goalkeeper of the year four times," Rummenigge told reporters. "Same goes for Jerome Boateng and Mats Hummels."
Speaking at a news conference scheduled at short notice, the club bosses said reporters should now expect "mail from our media lawyer" for any false or inaccurate reports.
"I don't know if there are special laws for the media but we will not accept this kind of reporting any longer," Rummenigge said
"Today is an important day as we inform you that we will no longer tolerate this derogatory and derisive reporting. We will protect our coach, players and club. It is outrageous, disrespectful and polemical."
Kovac earlier on Friday said all Bayern needed was a bit of luck to turn things around.
"Not everything is as grim as it is presented and I also said after our good start this season that not everything was rosy," Kovac, in his first season at Bayern, said.
"Changing everything now would just be doing it for the sake of change and that never works," said Kovac. "You have to stick to your plan.
"Throwing everything overboard and inventing something on the spot does not make sense. You will never get that from me."
Bayern, pre-season favourites for a seventh straight league title, have lost two of their last three Bundesliga games to drop to sixth place on 13 points, four behind leaders Borussia Dortmund.
"We cannot be negative, we want to be positive," said Kovac, whose team face AEK Athens in the Champions League next week.
"But we need that bit of luck. You need it in life and you need it in sport. If we get that, because we have been creating the chances in every game, then it will work for us again."
The Croat said Colombian James Rodriguez, who returned from international duty late on Thursday evening, should also be fresh for Saturday's league game.
Russian soccer players' arrests help divert attention from Putin's problems
Two soccer players arrested over violent attacks in Moscow are not the first rich and famous Russians to get into trouble after mixing alcohol and strippers.
But their harsh treatment and public shaming after an outcry over the attacks is highly unusual and some critics of the Kremlin say it is using the case of Alexander Kokorin and Pavel Mamayev to deflect attention from bigger problems.
With the glow of President Vladimir Putin's March re-election win gone, his ratings hit by an unpopular pension reform and the buzz of hosting the soccer World Cup over, the Kremlin has the difficult task of trying to distract and appease what polls show is an increasingly disgruntled populace.
Kokorin and Mamayev, who both play in Russia's top league, will be held in custody for two months over the attacks and both could face lengthy jail terms.
CCTV footage circulated by Russian police shows a man being kicked and punched by a group of people and another incident in which two civil servants appear to be assaulted in a cafe.
The two players were present at both incidents after celebrating a decade of friendship in a Moscow strip club where they said they had been drinking beer.
Mamayev has admitted committing assault, but denied the more serious charge of hooliganism. "As regards the assault I apologise and ask the forgiveness of the victims," Mamayev told a judge on Friday.
Kokorin has also apologised. His lawyer has not challenged the assault charge but is contesting the more serious charge of hooliganism.