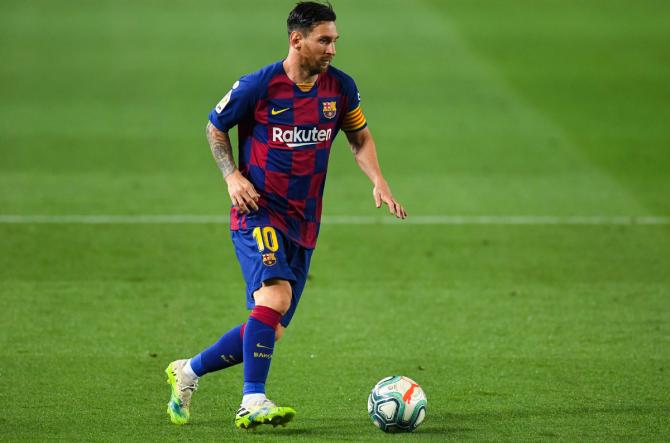 Barcelona's Lionel Messi has explained how tough it has been to play without fans in the last year due to the novel coronavirus pandemic, likening the experience to a training session.
"It's horrible to play without fans, it's a very ugly sensation," Barcelona captain Messi told newspaper Marca on Monday after receiving the 'Pichichi' award for the top scorer in La Liga last season.
"Seeing no-one in the stadium is like a training session and it is very tough to really get going at the start of a game."
The new normal of football in empty stadiums has certainly taken its toll on Messi and Barca.
The Catalans were top of La Liga with 11 games to go when last season was disrupted by the pandemic but they surrendered the title to Real Madrid when play resumed in empty stadiums.
They then suffered a humiliating 8-2 defeat by Bayern Munich in the Champions League in an empty Estadio da Luz in Lisbon in August.
This season they have made their worst start in 33 years and are currently fifth in La Liga, way off the pace of leaders Atletico Madrid, while they failed to finish top in their Champions League group for the first time since 2006.
The 33-year-old Messi meanwhile is having his worst individual season since the 2007/08 campaign, scoring only nine goals in all competitions, five of which have been penalties.
"The truth is it's very ugly and that's why we are seeing such evenly matched games. It's very difficult to win, regardless of who you are playing against," Messi added.
"The pandemic has caused football to change a lot, and for the worse. You can see it in the matches, and I hope this all ends soon and we can get fans back into the stadiums and return to normality."
Supporters have been absent from Spanish top-flight games since March but are set to return from April once a large section of the population has received vaccines to protect against the virus.
According to Spanish media, the first game with fans will be last season's postponed Copa del Rey final between Real Sociedad and Athletic Bilbao, due to take place on April 4.
Man Utd's Solskjaer 'desperate' to lift first trophy
Manchester United boss Ole Gunnar Solskjaer says that he hopes to get his hands on the League Cup so that it will serve as a stepping stone to winning more trophies in the future as his team prepare for their quarter-final match against Everton.
United last won the League Cup in 2017 under former manager Jose Mourinho while Solskjaer's side were knocked out in the semi-finals last year by derby rivals and eventual winners Manchester City.
"We are desperate to get our hands on a trophy, these players are desperate to learn how to win," Solskjaer told reporters ahead of Wednesday's match at Goodison Park.
"We want to improve every season and to improve on last year is to get to the final and, of course, when you get to the final there's only one thing that matters and that's to lift the trophy."
Solskjaer has yet to win any silverware since taking charge at Old Trafford and recalled how some of the club's recent greats found success after first lifting the League Cup in 2006.
"I remember winning my first trophy. Even towards the end of my career, I think it was Patrice Evra and Nemanja Vidic's first trophy in the Carling Cup," Solskjaer added.
"I think that was their first trophy and it does give something to a team."
Solskjaer said midfielder Jesse Lingard will return to the squad for the first time since September.
The 28-year-old has only featured in the League Cup this season, missing other games as he was forced to self-isolate after coming in close contact with those who tested positive for COVID-19.
"He's been working hard in training. He's been unfortunate with having to isolate a few times, been in contact, or close contact with COVID, not even having it himself," Solskjaer said.
"He's been very unlucky being away from the training ground a few times. He works really hard and he'll be involved in the squad, definitely, on Wednesday."
Seven positive in latest round of Premier League COVID-19 tests
Seven individuals tested positive for COVID-19 in the last round of tests conducted between Dec. 14-20 on 1,569 Premier League players and staff, the league said on Monday.
The league did not name the people who tested positive or their clubs but said they will self-isolate for 10 days.
Since the new season kicked off, more than 100 individuals in the English top flight have tested positive for the novel coronavirus in 16 rounds of testing.
Newcastle United had an outbreak in their squad and staff earlier this month which forced the club to close their training ground and postpone their match against Aston Villa.
Manager Steve Bruce said last week that two players had still not shaken off the effects of the virus, with British media reporting on Monday that captain Jamaal Lascelles and winger Allan Saint-Maximin were the players suffering.
Some clubs were allowed to reopen stadiums for a maximum of 2,000 fans but most have gone back to playing behind closed doors, including those based in London after the government tightened restrictions in the city last week.
The United Kingdom has recorded over two million confirmed COVID-19 cases and more than 67,000 deaths.
Countries across the globe shut their borders to Britain on Monday due to fears about a highly infectious new coronavirus strain.