Valencia's Garay first La Liga player to get coronavirus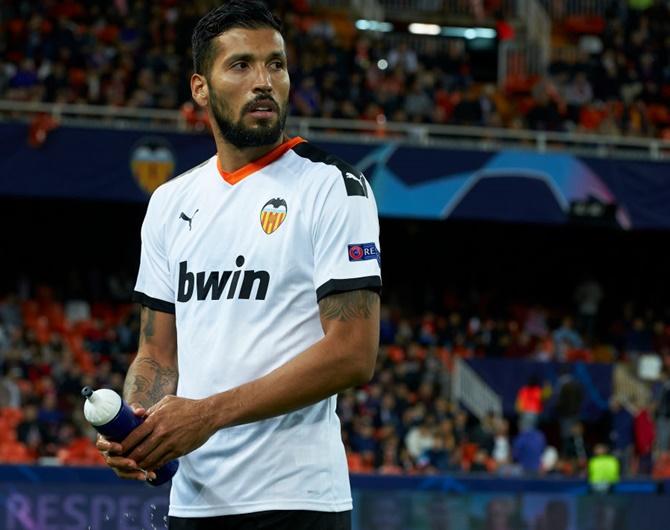 Valencia and Argentina defender Ezequiel Garay said on Sunday that he has tested positive for the coronavirus, becoming the first La Liga player to confirm he has the virus that has wreaked havoc on global sport.
"It's clear that I have got off to the wrong start in 2020. I've tested positive for the coronavirus, I feel very good and now I just have to listen to the health authorities and for now remain isolated," Garay wrote on his official Instagram account.
The 33-year-old was already ruled out for the remainder of the season after suffering a knee injury in February.
In line with most major sports worldwide, all organised football in Spain has been postponed for at least two weeks in a bid to prevent further spread of the virus. Spain is the second worst-affected country in Europe after Italy.
Since Saturday, Spain has been in partial lockdown as part of a 15-day state of emergency to combat the epidemic.
Spain has so far suffered 196 coronavirus deaths and recorded almost 6,400 cases.
Sampdoria's Depaoli, two more Fiorentina players test positive for coronavirus
Two more Fiorentina players and another at Sampdoria have tested positive for the coronavirus, bringing the number of infected Serie A players to 10 on Saturday.
Fiorentina's Argentine international defender German Pezzella and on-loan forward Patrick Cutrone along with Sampdoria midfielder Fabio Depaoli are the latest to return positive tests for the virus.
Sports daily La Gazzetta dello Sport, however, reported on Saturday that Sampdoria, who already had five players infected, had been hit by two more cases.
The Genoa-based club said they would not comment on cases at the club anymore.
Fiorentina said that Pezzella, 28, and Cutrone, 22, were both tested after showing "some symptoms" of the illness along with physiotherapist Stefano Dainelli, who also tested positive.
"They are all in a good state of health in their homes in Florence," said the club in a statement. Their team mate Dusan Vlahovic tested positive on Friday.
Pezzella is in his third season at Fiorentina and has made 94 appearances. Cutrone was signed on loan from English Premier League club Wolverhampton Wanderers in January.
Fiorentina's most recent opponents were Udinese, who have suspended training and said that their squad will remain in self-isolation until March 22.
Serie A has been suspended until at least April 3 amid a general ban on sporting events in the country which has been the worst-affected in Europe by the coronavirus.
Later on Saturday, Depaoli said on his Instagram account that he had also contracted the coronavirus.
"Unfortunately I tested positive for COVID-19. I want to reassure you that I'm fine," the 22-year-old Depaoli wrote.
One player at Juventus has also tested positive.