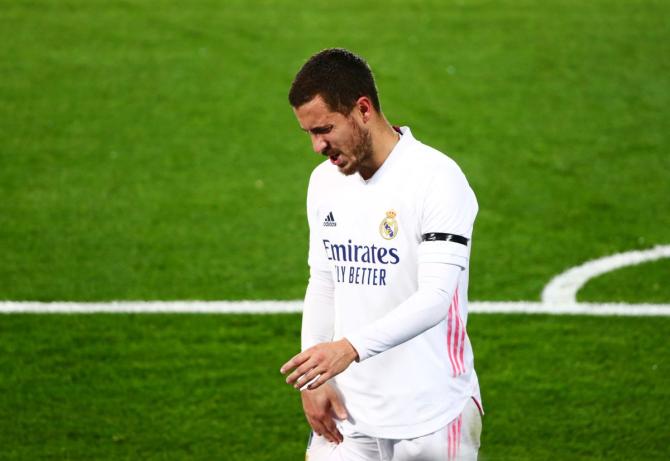 Real Madrid have confirmed that their Belgium forward Eden Hazard has suffered a thigh injury, with local media reporting that the problem will keep him out for at least three weeks.
Hazard had to be replaced in the 28th minute of Saturday's shock home defeat by Alaves and has endured a torrid time with injuries since joining the club in 2019.
"Following tests carried out today on our player, Eden Hazard, by Real Madrid Medical Services, he has been diagnosed with an injury in the rectus femoris muscle of his right leg. His recovery will continue to be assessed," said a club statement on Monday.
The 29-year-old Hazard has missed 36 games through injury for Real with a number of different issues and only made his first appearance of the season at the end of October due to an ankle issue. He then tested positive for COVID-19 this month.
He will likely miss next month's Liga matches with Sevilla and Atletico Madrid, as well as the Champions League games with Shakhtar Donetsk on Tuesday and Borussia Moenchengladbach.
Real will reach the knockout stage if they beat Shakhtar.
Loew to remain Germany coach through Euros in 2021
Joachim Loew will remain as Germany coach through next year's Euros after the country's soccer federation said on Monday that a 6-0 loss to Spain this month was not held against him.
Germany suffered their worst defeat in a competitive game as Spain ran riot in their Nations League clash in Seville.
A stunned Loew was at a loss to explain the capitulation, which scuppered qualification for the semi-finals.
Germany's team director Oliver Bierhoff said at the time that one game would not change their minds about Loew's credentials and that sentiment was echoed by the members of the Presidential Committee who met Loew on Monday.
"The Executive Committee agreed that what counts is the high-quality work of the coaching staff, the intact relationship between the team and the coach and a clear concept for the previous and future procedures," the DFB said in a statement.
"The defeat of the national team against Spain was also discussed in the conversation with the national coach and in the following telephone conference of the DFB presidium.
"A single game cannot and must not be a yardstick for the general performance of the national team and national coach."
The DFB added that Loew had met its goals of qualifying for the Euros, maintaining Germany's status in League A of the Nations League and ensuring the national team would be in the first pot for the World Cup 2022 qualifying draw.
Wolves striker Jimenez 'comfortable' after surgery on fractured skull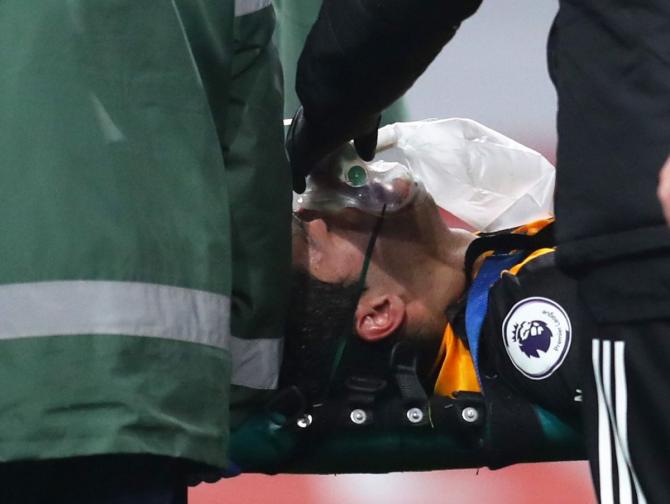 Wolverhampton Wanderers striker Raul Jimenez had an operation on his fractured skull following a clash of heads with Arsenal defender David Luiz during Sunday's game, the Premier League club said on Monday.
The Mexican forward needed oxygen on the pitch before being taken off on a stretcher and rushed to hospital.
"Raul is comfortable following an operation last night, which he underwent in a London hospital," Wolves said in a statement https://www.wolves.co.uk/news/club/20201130-update-on-raul-jimenez
"He has since seen his partner Daniela and is now resting. He will remain under observation for a few days while he begins his recovery.
"The club would like to thank the medical staff at Arsenal, the NHS paramedics, hospital staff and surgeons who, through their skill and early response, were of such help."
Arsenal were, however, questioned for allowing Luiz to play on with his head bandaged before he was taken off at halftime because he was uncomfortable heading the ball.
Manager Mikel Arteta said they had followed concussion protocols to make sure the Brazilian could continue and that he had "responded really well" to all the on-field tests.
Manchester City boss Pep Guardiola believes the protocols needed to be made clearer to teams.
"With concussion in the head you have to be careful," Guardiola said. "I don't know the protocols. Some of them say you have to be immediately out, some of them say no. It should be clear because in the head it's always so dangerous."
Luiz's return to the pitch after the collision also renewed calls for concussion substitutes to be introduced in football.
"Only last week we strongly criticised the International Football Association Board (IFAB) for its continued procrastination in introducing concussion substitutes into the sport," Luke Griggs, deputy chief executive at brain injury association Headway, said.
"Too often in football, we see players returning to the pitch having undergone a concussion assessment -- only to be withdrawn a few minutes later when it is clear that they are not fit to continue."
Spanish woman player gets death threats over Maradona protest
Spanish soccer player Paula Dapena said on Monday she got death threats after she refused to take part in a minute's silence for Diego Maradona as a protest against domestic violence.
The Viajes Interrias FF midfielder sat down and faced away when her teammates and opponents, Deportivo Abanca, paid their respects to the Argentina star on Saturday, three days after Maradona's death.
The 24-year-old told the A Diario radio show she had no regrets and would do it again. "I'm not willing to give a domestic abuser a minute's silence and not the victims," she said.
Maradona faced accusations of domestic violence after he was caught on video in 2014 arguing with his then girlfriend and appearing to hit her.
He denied the accusations, saying: "I grabbed the phone but I swear to God that I have never hit a woman."
No charges were brought.
Dapena said she had received lots of expressions of support "but I've also received death threats -- and so have some of my teammates".
"We were giving a minute's silence to someone who committed domestic violence," she said.
"For me, that's something that my feminist ideals can't allow: a tribute to Maradona ... For me he was an incredible player, but as a person he left a lot to be desired."
Maradona, widely regarded as one of the greatest soccer players of all time before drug and alcohol addiction marred his career, died on Wednesday -- the same day as the International Day for the Elimination of Violence against Women.