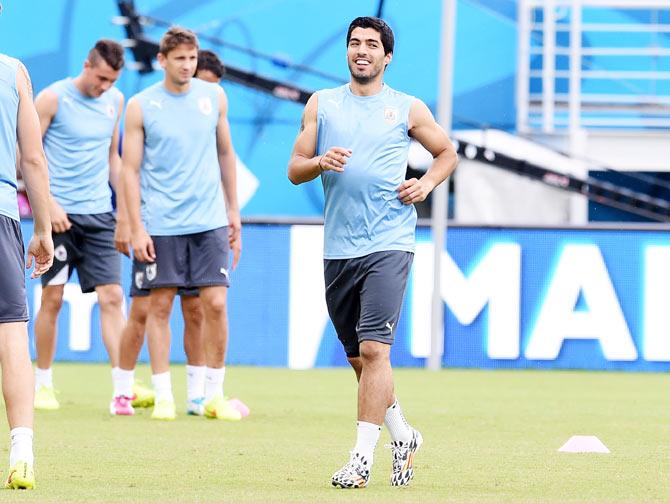 Uruguay's Luis Suarez. Photograph: Claudio Villa/Getty Images
Luis Suarez returned for Uruguay for the first time since his infamous World Cup biting incident and scored in a 1-1 friendly draw against Saudi Arabia.
The 27-year-old Barcelona star's shot from an angle on 47 minutes in Jeddah came back off the far post before hitting Hassan Muath Fallatah for an own goal.
Suarez was replaced with 20 minutes to go but his hopes of a winning international return were ruined by Naif Hazazi's last-minute equaliser for the former Asian champions.
Although still serving a nine-match competitive international ban for sinking his teeth into Italy's Giorgio Chiellini at the World Cup in Brazil, Suarez is allowed to play in friendlies.
Suarez, whose club ban ends in two weeks when Barcelona face bitter rivals Real Madrid in the El Classico, could have scored just before coming off when he pounced on a dreadful back pass.
But with only goalkeeper Waleed Abdullah to beat, he tried to dribble past the shot-stopper and was tackled.
"Happy to wear this shirt again, gives me so much joy. Love the shirt. Uruguay!!," tweeted Suarez after the match.
Donovan bows out for United States in draw with Ecuador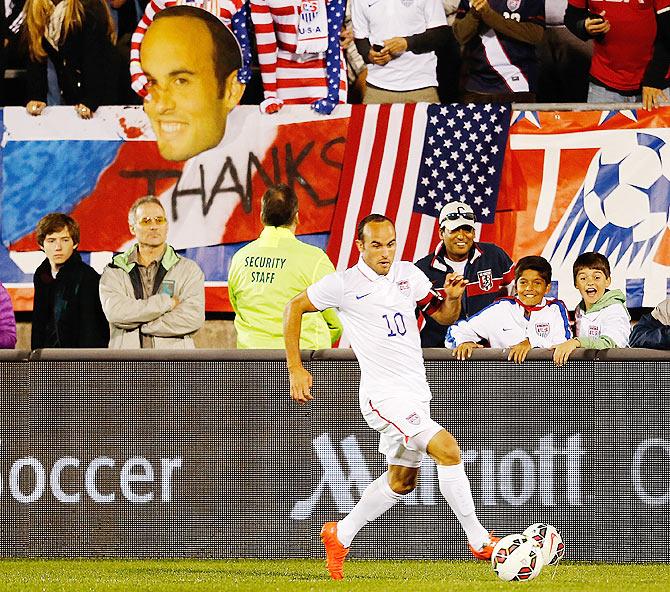 Landon Donovan #10 of the United States dribbles the ball down field in the first half in their match against Ecuador during an international friendly at Rentschler Field in East Hartford, Connecticut, on Friday. Photograph: Jim Rogash/Getty Images
Landon Donovan bid an emotional farewell to the United States national team in a 1-1 friendly draw against Ecuador in Hartford, Connecticut on Friday.
Donovan was unable to add to his record 57 goals in his 157th and final appearance for his country before being replaced in the 41st minute of the game.
The 32-year-old came close, though, striking the post in the 25th minute after being set up by Jozy Altidore.
Mix Diskerud had given the United States the lead in the fifth minute with a confident finish at the end of a move that was started by a Donovan burst down the left and cross to the back post.
Juergen Klinsmann's team were denied a victory by a superb 88th minute goal from Enner Valencia, the striker beating Brad Guzan with a dipping, swerving drive from 25 metres out.
But the game itself, featuring a young American team without most of Donovan's long-term teammates such as Clint Dempsey and Tim Howard, took second billing to what was in effect a testimonial game for the LA Galaxy forward.
For 14 years Donovan has been the face of the US team and Major League Soccer and in many ways he has been the first real domestic soccer star the country has produced.
Before the game Donovan was presented with a gift of a patchwork shirt made up of all the national team jerseys he had worn and after the game he stood in the centre of the field watching a video of his career, wiping tears from his eyes.
'I don't want to get pushed out when I can't play anymore'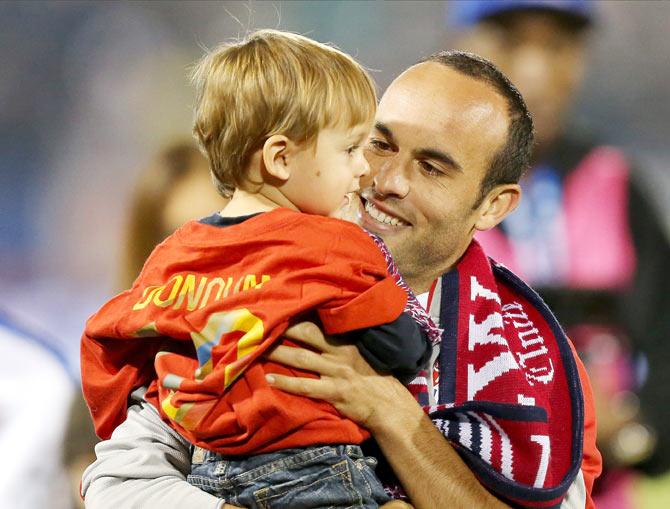 Landon Donovan shares a quiet moment with his son after his final international match of his career on Friday. Photograph: Mike Lawrie/Getty Images
After embracing his family at the side of the field, Donovan then headed into the stands to lead a chant with the organised fan group, 'The American Outlaws'.
Donovan's first-half substitution had been agreed beforehand - he has a Major League Soccer game to play with the Galaxy on Sunday - but did present the expected awkward moment when he was greeted by Klinsmann on the touchline.
Klinsmann's decision to leave Donovan out of the World Cup squad for Brazil in June - which would have been the striker's fourth finals - caused controversy in the American soccer world and clearly left a bitter aftertaste for Donovan.
Asked before the game in a television interview what the state of his relationship with Klinsmann was, Donovan had replied bluntly: "At this point we don't really have a relationship."
That was evident in the rather hesitant handshake and hug between the two on the touchline but for the fans who turned out the spirit of the night was captured in a series of banners declaring "Thank You Landon".
In an interview with ESPN after the game, Donovan said despite his relatively young age he felt it was the right time to depart.
"Mentally and physically, I am just there, I am ready. It has been a long haul and you know when you get to the end you have that feeling that enough has been enough, I feel that way," he said.
"I want to go out when I can still run and still enjoy playing. I don't want to get pushed out when I can't play anymore. I think now is the time," he said.
Cahill-less Socceroos held in Abu Dhabi
Australia's troubling inability to get the ball into the back of the net without Tim Cahill on the pitch was again exposed when they were held to a 0-0 draw by the United Arab Emirates in Abu Dhabi on Friday night.
Just three months before their hosting of the Asian Cup begins with a group match against Kuwait in Melbourne on January 9, the Socceroos kept their all time leading goalscorer on the bench until 13 minutes from time.
Australia's attack did improve after Cahill came on as a substitute but the 34-year-old forward was unable to add to his tally of 35 international goals in his brief cameo.
"It was a tough game obviously with conditions, I thought for the most part we controlled the game okay but we didn't really have a threat up front," coach Ange Postecoglou told a post-match news conference in the Emirati capital.
"We didn't look very threatening up front until the last 10 minutes," he added.
"I would have liked us to be more cutting edge but we had a pretty young team out there and I think they acquitted themselves pretty well."
Australia have scored 11 goals in 10 matches since Postecoglou took over last year with Cahill contributing seven of them.
Skipper Mile Jedinak has chipped in with three of the others - two from the penalty spot - while the final score came courtesy of another defensive player, center back Bradley Wright.
On Friday, Postecoglou experimented with a new forward line in the experienced Bayer Leverkusen forward Robbie Kruse, who missed the World Cup because of a cruciate ligament injury, and debutant Nigerian-born striker Bernie Ibini-Isei.
"Tim's played a lot of football recently and for us, it's important we learn to play without him so we want to give some of the other players an opportunity tonight," he said.
"We know what Tim can do, he's still world class, but we want to protect him too, we don't want to play him all the time.
"We've just got to be smart about how we use him between now and the Asian Cup and it gives other players the opportunity."
Postecoglou was not overly perturbed that his team failed to get on the scoresheet for the third time in their last four matches.
"It was Robbie Kruse's first game in more than a year ... and Bernie's first game, so it's not surprising we looked a bit disjointed up front," he said.
"Hopefully that experience will mean they'll get stronger from it. We've got some work to do but we haven't had too many problems scoring goals so we know we have that there."
Australia play Qatar in a friendly in Doha on Tuesday.
Wasteful Japan beat Jamaica
Wasteful Japan needed an own goal from Jamaica's Nyron Nosworthy to win their friendly 1-0 and give Javier Aguirre his first win as coach on Friday.
Aguirre replaced Alberto Zaccheroni in July but only took charge of the Asian champions for the first time last month in a disappointing 2-0 home loss to Uruguay, which was followed by a 2-2 draw with Venezuela.
Both Keisuke Honda and Shinji Kagawa were guilty of wasting chances as Japan failed to add to Nosworthy's 16th minute own goal at Niigata.
Japan will travel to Singapore on Saturday where they play Brazil in a friendly at the city-state's $1 billion Sports Hub.
"I'm as relaxed as I always am," Aguirre was quoted as saying by the Kyodo news agency. "We had five or six more chances to score and that really pleases me.
"We are not going to have as many opportunities (against Brazil) as we did today and we will have to take the chances that come our way."
China beat depleted Thais in friendly
Asian Cup finalists China racked up a 3-0 win over a depleted Thailand on Friday, with the Southeast Asians only bringing 15 players and temporary head coach for the friendly in Wuhan that they didn't want to play in.
Thailand had beaten China 5-1 away in June last year but without the bulk of their squad and head coach Kiatisak Senamuang, who is on a break after helping the Thais to fourth place at the Asian Games, a repeat win was always unlikely.
Assistant coach Choktawee Promrat stepped up to lead the side in China after his requests for the game to be cancelled were ignored, Thai media said.
Still, the visitors kept Alain Perrin's China at bay for over an hour before a terrible error by Thai goalkeeper Sinthaweechai Hathairattanakool gifted the hosts the lead.
The experienced stopper, who had offered to play as an emergency striker for the short-staffed team, deflected Zhang Chengdong's cross from the right into his own net after being distracted by Wu Xi's failed attempt to head home.
China doubled their lead in the 83rd minute when Sinthaweechai failed to keep out Sun Ke's powerful right-foot shot after the midfielder reacted quickest to a clever knock down from a corner.
The hosts then made it three when they took advantage of some more careless defending by the deflated visitors, who allowed striker Yang Xu to race through and bury another just before the final whistle.
China, who host Paraguay in another friendly on Tuesday, have been drawn in Group B of January's Asian Cup in Australia alongside Uzbekistan, Saudi Arabia and North Korea.