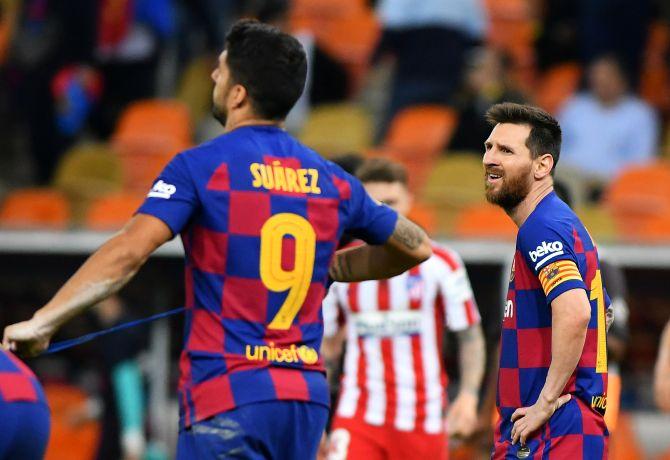 After falling short in the semi-final of Supercopa tournament against Atletico Madrid, Barcelona's striker Lionel Messi said that the result hurts the team and expressed his displeasure with the number of errors committed by the Spanish side.
Atletico Madrid defeated Barcelona to 3-2 to advance into the finals of the tournament.
"It is a shame, we played a great game. After so long we felt good again. We were in control, dominated and attacked all the time. We let it slip through certain mistakes when Atletico was already almost dead, in less than 10 minutes they turned round a game that we should have seen out," goal.com quoted Messi as saying.
"It hurts because it is a title and we wanted to be in the final and win it. We showed a different side to what we have been showing recently against Espanyol and at the end of last year, we played a good game but sadly we couldn't get the victory," he said.
Messi and Antonie Greizmann scored for Barcelona, but Atletico managed to spring a surprise on the Catalans. Barcelona also had to see their goals disallowed after VAR's intervention.
"We have taken a step forward today despite the defeat but we are aware that we have not been doing things the way we want, we do not want to make these childish mistakes again," Messi said.
The final of the Supercopa will be played between Real Madrid and Atletico Madrid on Sunday.
Kane ruled out for 3 months with hamstring injury
England club Tottenham Hotspur has been given a severe blow as the side's star forward Harry Kane has been ruled out for three months with a hamstring injury.
Tottenham lost their last Premier League match against Southampton where Kane limped off the field after suffering an injury to his hamstring.
Now the player would be undergoing surgery to repair his ruptured tendon in his left hamstring.
"The decision to undergo surgery is not expected to impact the time frame that the England captain will be sidelined, with the expectation that he will return to training in April," Tottenham said in an official statement.
"Following ongoing assessment by our medical staff over the past week, we can confirm that Harry Kane will undergo surgery to repair a ruptured tendon in his left hamstring," it added.
The length of Kane's absence means that the player will have to prove his fitness for this year's Euro Cup.
Tottenham is currently placed at the sixth spot in the Premier League standings with 30 points from 21 matches.
The side will next take on Liverpool on Saturday, January 11.
Five-year EU stadium ban for Verona fan over racial abuse of Balotelli
A 38-year-old Italian man has been handed a five-year stadium ban after being found guilty of directing racial abuse at Italian striker Mario Balotelli in November, the ANSA news agency said on Thursday.
Balotelli, playing for Brescia, threatened to walk off the pitch after hearing monkey chants from the stands during the second half of his side's 2-1 defeat, leading to Verona being handed a suspended one-match partial stadium closure.
The man accused of initiating the racist chants, which led to a visibly angry Balotelli kicking the ball into the crowd, was identified by Verona police after they reviewed CCTV footage and eyewitness accounts.
The Europe-wide ban will bar him from attending sporting events in the European Union until 2025 and also visiting areas where fans frequently gather on match days.
Balotelli again faced racial insults this month, from Lazio fans, in a 2-1 home defeat and the Serie A club was fined 20,000 euros ($22,206). Police are in the process of identifying those responsible for the abuse.
Balotelli, 29, has suffered racist abuse throughout his career. When he played for Inter Milan, rival fans taunted him with shouts of "There are no black Italians," and he suffered more insults playing for AC Milan against AS Roma in 2013.
Former Hammer Cole could return as part of Moyes' coaching staff
West Ham United manager David Moyes has confirmed former England international Joe Cole is being considered for a return to the club in a coaching role.
Cole came through West Ham's academy before moving on to Chelsea, where he won three Premier League titles and two FA Cups.
"We're looking at the team we're bringing in. Joe Cole is one of a lot of people who we've talked about and who we're considering," Moyes told a news conference on Thursday.
"I don't think we will have it (the backroom team) all together just now, it might be the summertime before I get my staff together."
Moyes confirmed he has failed to bring Stuart Pearce, who was on his coaching team during his previous spell at London Stadium, back to the club.
"Stuart Pearce did a great job here with me and I was pleased to have him. He was a big addition to the staff but Stuart's got quite a few things on in his own business," the Scot added.
"In the end, we've just chosen and decided that it will be better if we do something else."
West Ham are set to re-sign goalkeeper Darren Randolph from Middlesbrough, and are also monitoring Benfica midfielder Gedson Fernandes.
Moyes said Randolph's move has been delayed due to an injury concern.
"Darren's a goalkeeper we've identified we'd like to bring and at the moment he's just carrying a bit of an injury which he's had for several weeks," the manager added.
"We have to make sure that injury's completely healed, so that's where the delay is coming from at the moment. But I am very hopeful it will happen."
Meanwhile, Sky Sports reported West Ham have agreed a deal in principle to sign Fernandes on an 18-month loan without an option to buy.
When asked about the 21-year-old ahead of West Ham's league trip to Sheffield United on Friday, Moyes said: "We won't be bringing in a bundle of players, but obviously we'd like to add to the squad if we can. He's one name which we're talking about."
"Maybe something has been done but I can't confirm that at the moment."
"He's a young player with potential, probably more so for the future. He's got good pedigree and I'd like to bring in young players in for the future, who we can look to build upon and get a nice strong young team."
Since Moyes replaced Manuel Pellegrini as manager at the end of last month, West Ham have recorded back-to-back victories over Bournemouth and Gillingham.
Arsenal's Arteta 'not expecting big things' in transfer window
Arsenal manager Mikel Arteta does not expect the club to make any major signings in the January transfer window but said he is hopeful captain Pierre-Emerick Aubameyang will sign a contract extension.
After investing heavily in the close-season to secure the likes of Nicolas Pepe, Kieran Tierney, David Luiz and Gabriel Martinelli, British media reported Arsenal are working with a modest transfer budget this month.
"I'm not expecting big things," Arteta told a news conference ahead of Arsenal's Premier League trip to Crystal Palace on Saturday.
"I'm expecting big things from the players I have at the moment, the players that are recovering from injuries.
"If we can find something to help us go through the season in a more balanced way in certain areas, and is helpful, we'll look at the options."
An injury to Calum Chambers, who is expected to be out for six to nine months after rupturing the anterior cruciate ligament of his left knee, means Arsenal are looking for defensive reinforcements.
Bayern Munich's Jerome Boateng has been linked with Arsenal in recent weeks, with Sky Sports reporting the German champions would be ready to let him leave for around 15 million euros ($16.65 million).
"We have some bad injuries to players who are going to be out for a long time and we have to see if we can find options there," Arteta added.
Earlier this week, Aubameyang said he remains committed to Arsenal and wants to help them challenge for major honours again.
Arteta has said keeping Aubameyang, who has 18 months left on his current deal, at the Emirates Stadium is a major priority for him and the club.
However, Arteta confirmed the club were yet to open talks with the striker over a new contract.
"We haven't discussed that," the Spaniard said. "But I'm confident that he's very happy here because that's what he said in the media.
"He knows exactly what I think about him and obviously he's a massive player for us. But at the moment we're in the middle of the season and we haven't discussed anything further on that at the club."