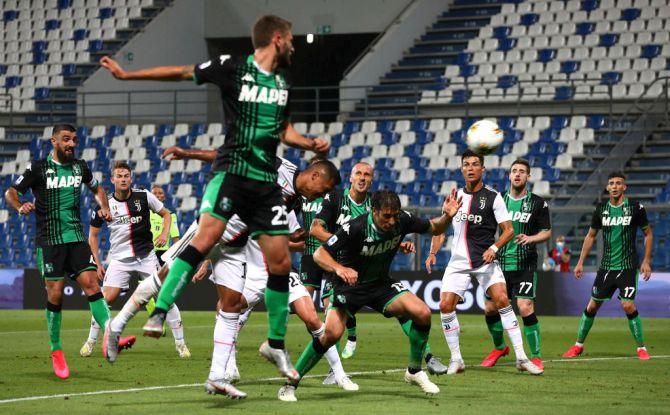 Juventus coach Maurizio Sarri says he is "perplexed" by his team's ups and downs after the Serie A leaders gave him another rollercoaster ride in a 3-3 draw against Sassuolo.
The Turin side, seven points clear with five games left, are still on course for an unprecedented ninth successive title but that is as much down to Inter Milan's inconsistent form and Lazio's recent collapse as their own results.
"At times we give the impression of having very high potential and at other times the team leave me perplexed because they allow the opponents to get to our area easily," said Sarri.
Juventus won their previous five titles under Massimiliano Allegri, whose team were efficient but often lacked sparkle. Sarri was hired to make them more entertaining, which he has done, but not quite in the way Juventus had bargained for.
In their last three matches Juve have scored seven goals, conceded nine and taken two points. They have twice squandered two-goal leads in the process.
"After we went 2-0 ahead, we should have kept Sassuolo in their half of the pitch by holding possession," said Sarri.
"But we tore forward, trying to goals score with two passes and leaving a gap of 30 to 40 metres (in midfield) which leads to an end-to-end game.
"It's a waste of energy -- we need to dribble more, to keep the opponents in their own half."
Cristiano Ronaldo was not his usual self, with Gazzetta dello Sport awarding the five-times World Player of the Year 'five out of 10' -- the lowest on the Juve team.
"He missed an empty goal (albeit from a distance), wasted an assist from Danilo and one by Federico Bernardeschi, and had one shot, which was saved," it said.
Juve's lead could be cut to six points if Inter Milan win at bottom side SPAL later on Thursday.
Public have the wrong idea of footballers, says FIFPRO
The perception that footballers do not live up to their social responsibilities has been debunked by their "incredible initiatives" during the COVID-19 pandemic, the global players' union FIFPRO said in a report published Thursday.
The report, which highlights contributions made by professional footballers in fighting the effects of the pandemic, said that a large number of players have been "generous and creative" during the crisis.
Among other things, they have created dedicated funds, set up charities to donate to food banks and to fund medical equipment in hospitals, and taken part in campaigns to raise awareness and protect people from catching the virus, the report says.
"Professional football players and athletes across sports have developed incredible initiatives around the world to help their communities, their clubs and teams and often their team mates," said FIFPRO general secretary Jonas Baer-Hoffmann.
"The public perception of athletes not living up to their social responsibility could not be more wrong."
Examples listed include AS Monaco forward Keita Balde, who helped 200 Senegalese workers based in Spain after they lost their jobs, and Manchester United's Marcus Rashford who helped persuade the British government to extend a school meals scheme.
It also said that players had helped each other. In one case, a group of senior Irish international players contributed to an emergency fund to help footballers in the country's domestic league who were in financial difficulties.
The players' union in Botswana distributed food to players at seven clubs, plus 50 female players as well, it said.
The report also pointed out that life for a majority of footballers outside the elite is "frequently uncertain and highly competitive."
It said that in men's football, more than 45% of players earn less than $1,000 a month, 41% receive late pay and in most cases have short contracts. In women's football, the majority of players earn less than $600 a month.
"The belief that footballers live carefree and wealthy lives has led supporters and the general public to have high expectations when it comes to players' shared responsibility towards fighting the virus," it said.
"But many players during this time have even relied on food parcels and financial support packages to survive."
Spanish soccer fans unlikely to return in September - health minister
Spain's health minister has expressed doubt about the prospect of spectators returning to soccer matches in September due to the threat of a resurgence in COVID-19 infections.
The government's department for sport and organising body La Liga had hoped to let fans back into stadiums at a reduced capacity when the new season starts in September, increasing to 50% in November before full capacity returned in January.
Yet a spike in infections since Spain lifted a national state of emergency in June has led some regions to impose localised lockdowns and limit activities, threatening the return to normality.
"To be honest, I don't see it, given the reality we are in," health minister Santiago Illa told radio station Cadena Ser on Thursday.
"We have seen some clusters of infections and although we have fortunately been able to control them, I still don't see (fans returning).
"We're going to take our time and provide information so the sports department can make the decision when necessary. We have to step carefully with the virus, and concentrating large numbers of people at this time is not advisable at all."
Illa also criticised large-scale celebrations in Vitoria to mark Baskonia winning the basketball championship and after Cadiz won promotion, urging Real Madrid fans to show restraint if they win the La Liga title on Thursday.
"I understand what it means to win a title or win promotion but the situation we have in Spain is of a controlled epidemic but with a virus that is still circulating," he added.
"In the last few days we've seen images that put people's health at risk. We are advising people to celebrate sporting triumphs at home and in no circumstances to go out to the streets and concentrate in large numbers."
Australia suspends use of VAR ahead of A-League restart
Australia's soccer top flight is suspending the use of the Video Assistant Referee (VAR) when the season resumes on Friday after a four-month break due to the COVID-19 pandemic, Football Federation Australia (FFA) said.
FFA's Head of Leagues Greg O'Rourke said on Thursday teams would also be allowed to make five substitutions during matches, in line with guidelines issued by the global governing body FIFA and rule-making organisation IFAB.
"The VAR decision was made after considering a number of factors. Our aim has always been to improve decision making accuracy and work ... to improve fan engagement by allowing referee audio broadcast," O'Rourke said in a statement.
"It's still our ambition to pioneer the broadcast of referee communications ... but is still in development mode for the global game. We will revisit the use of the VAR for the A-League 2020 Finals Series at a later date."
O'Rourke said there would be changes to matchday protocols during the remainder of the season including the suspension of team handshakes and the coin toss.
"Instead the coin toss will be conducted 60 minutes before kickoff and the teams and match officials will enter the field of play from separate tunnels or at staggered times," he added.
The A-League's regular season will finish on Aug. 19 with the semi-finals scheduled to start three days later and the Grand Final on Aug. 30.
Sydney FC kick off the restart against New Zealand side Wellington Phoenix at Jubilee Stadium in western Sydney.
England to host Wales in Wembley international
England will host Wales in a home nations international on October 8 -- their first meeting at Wembley for nine years.
The Football Association of Wales (FAW) said the fixture would be one of two additional international matches scheduled as triple headers in October and November.
Current government guidelines mean the game is likely to be played without fans.
The most recent meeting between the nations was at the Euro 2016 tournament when England won 2-1 in Lens.
England are scheduled to face Iceland away in the Nations League on Sept. 5 before a trip to Denmark three days later.
The Wales game would be three days before they are due to host Belgium in the Nations League and will be their first home fixture in 11 months.
Wales are scheduled to begin their Nations League fixtures away to Finland on September 3.