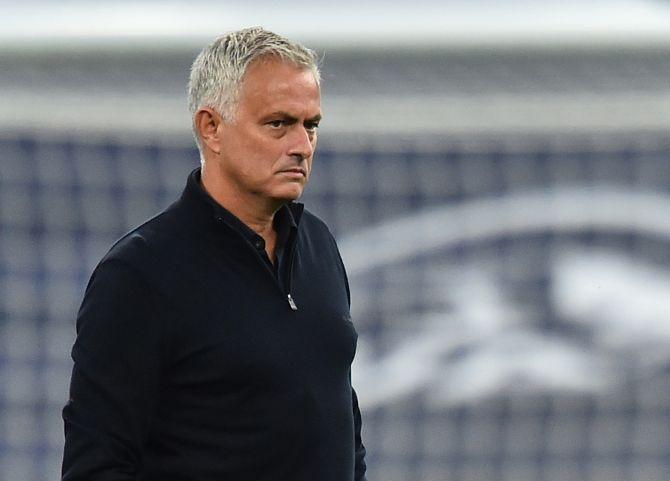 Tottenham Hotspur manager Jose Mourinho says he is unhappy with the long break between matches his team have had since the Premier League resumed following the COVID-19 shutdown.
Spurs play Sheffield United later on Thursday, nine days after their last match, a 2-0 victory over West Ham United on June 23.
"I am not happy to be waiting for this match for so long," the Portuguese said in a pre-match news conference.
"The perfect time in between matches I would always say is three days, especially in this moment when you are chasing your best form, your best intensity."
Mourinho also said record signing Tanguy Ndombele could turn things around. Ndombele was hauled off at halftime and singled out for criticism in Spurs' last match before the league was suspended in mid-March and has not played since.
"I believe Ndombele can turn it around," Mourinho said.
"Football is full of players who have made difficult starts and then ended well. When the talent is there many things can happen with adaptation.
"In many other clubs it looks like it's normal to have great players on the bench: Manchester United, Liverpool, Real Madrid, Barcelona, Bayern Munich.
"At Tottenham I feel is every time a top player is on the bench, it's a drama. The players and everybody else have to understand it's not a drama."
Spurs are eighth in the league on 45 points with seven games left to play.
Manchester City must rebuild for title challenge: Guardiola
Manchester City must rebuild if they are to challenge Liverpool for the Premier League title next season, manager Pep Guardiola has said.
City's reign as champions ended after last week's defeat by Chelsea left Liverpool with an insurmountable lead.
Guardiola, whose team will give Liverpool a guard of honour when they meet at the Etihad Stadium later on Thursday, said the need to rebuild was one all clubs faced.
"We have to rebuild. It happens at clubs around the world," he said. "We have to accept it and take the right decisions to try to maintain the level that we have.
"We have exceptional players but after the season finishes we will reflect."
City have already conceded 10 more goals in the league than they did in the whole of last season's title-winning campaign, and still have seven games left.
Midfielder Fernandinho, 35, and striker Sergio Aguero, 32, are out of contract at the end of next season while David Silva, City's 34-year-old captain, will leave at the end of the current campaign.
"Fernandinho and Sergio have one year left," Guardiola said. "I don't know if they will extend or not. Some players have to be replaced, but it's not a disaster or a bad thing, it's part of football."
Guardiola also defended the decision to sell winger Leroy Sane to Bayern Munich, saying, "If guys don't want to stay, they have to leave.
"We are not getting the best of these players if in their mind they are not happy here."
Six FC Dallas players test positive for COVID
Six FC Dallas players have tested positive for COVID-19, Major League Soccer (MLS) said on Wednesday, a week ahead of the kickoff of the MLS is Back Tournament in Orlando, Florida.
Two of the positive tests came "immediately" after the players arrived at the host hotel in Florida on June 27, while another four players tested positive within the last two days.
"Every member of the FC Dallas traveling party had tested negative for COVID-19 through an MLS-mandated testing service prior to the club's departure on Saturday morning," the team said.
"FC Dallas took proactive steps to isolate the newly-affected players as well as all FC Dallas players and staff in Orlando out of an abundance of caution."
The 54-match MLS is Back Tournament at the ESPN Wide World of Sports Complex kicks off on July 8, while Dallas are scheduled to play on July 9 against Vancouver.
It was not immediately clear whether the positive tests would impact that schedule.
"All members of the club delegation are following MLS health and safety protocols and will remain quarantined in their hotel rooms pending the results of further COVID-19 testing," the team said.
A group of 392 players, coaches and other league and team staff members were tested in the last two days, and the league previously said 20 players and six staff members had tested positive for COVID-19.
Teams began arriving in Orlando last week for the relaunch of the league's 25th season, which was abruptly put on hold in March amid the coronavirus outbreak.
UEFA says no Plan B for Europa League final eight
UEFA says it has no Plan B for this season's Europa League which is due to finish with an eight-team mini-tournament in Germany in August.
During a video conference on Wednesday, UEFA and the German Football Federation (DFB) reaffirmed their commitment to staging the event in Germany, European soccer's ruling body said in a statement. The Europa League was suspended in March due to the novel coronavirus.
"Both parties stressed their strong belief that all measures will be taken to ensure that the matches will be hosted in a safe and secure manner," it said.
UEFA president Aleksander Ceferin added: "As with the UEFA Champions League Final Eight in Portugal, there is no need for a Plan B for this tournament in Germany."
The quarter-finals, semi-finals and final will be played as a straight knockout tournament in Cologne, Duisburg, Duesseldorf and Gelsenkirchen, from Aug. 10-21, with the final in Cologne.
The remaining round of 16, second-leg ties will take place on Aug. 5 and 6, either at the originally scheduled venues or in Germany.
UEFA said the two ties in which the first leg was also called off — Inter Milan v Getafe and Sevilla v AS Roma -- will be reduced to one leg, played on Aug 5 or 6 at two of the German venues.