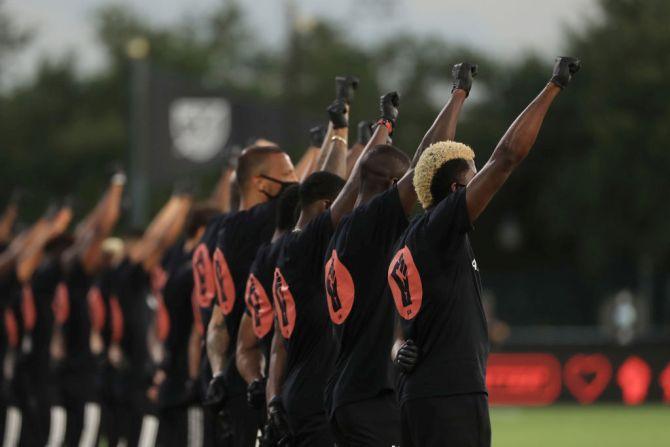 Players raised gloved right fists and took a knee before Major League Soccer's first match in four months on Wednesday in a show of solidarity with the 'Black Lives Matter' social justice movement.
Some players wore t-shirts over their jerseys with the words "Black and Proud" and "Silence is Violence" before the match, and the Orlando City and Inter Miami starting line-ups took a knee just before the 'MLS is Back' tournament kicked off.
The demonstration lasted eight minutes and 46 seconds, the amount of time Minneapolis police officer Derek Chauvin knelt on the neck of George Floyd, the 46-year-old Black man whose death in late May sparked nationwide protests.
Toronto FC's Justin Morrow, executive director of the Black Players for Change organization, said MLS players wanted to add their voices to the movement.
"This is a chance for us to take our place with them, stand up against racial inequality, fight that battle and make sure our voices in Major League Soccer are heard," he said at halftime.
"What you saw tonight was a special moment that was driven by the players, and Major League Soccer collaborated with us to make that happen."
The kneeling protest was popularized by San Francisco 49ers quarterback Colin Kaepernick in 2016 while the raised fists mirrors the protest against racial inequality by Americans John Carlos and Tommie Smith at the 1968 Mexico Olympics.
Kaepernick's protest came during the playing of the national anthem, which will not be played during the tournament because the games are being staged in empty stadiums, a measure to slow the spread of the novel coronavirus.
Wednesday's MLS match, held inside a bio-secure "bubble" at the Disney Wide World of Sports Complex, marked the first North American professional men's league to return to action since the pandemic upended the sports calendar in mid-March.
Champions League, Europa League last-16 second legs to be played at home venues
The Champions League and Europa League last-16 second legs which were postponed due to the COVID-19 pandemic will be played at the respective home clubs' stadiums, European soccer's governing body UEFA said on Thursday.
UEFA added that the two Europa League ties in which the first leg was not played -- Inter Milan v Getafe and Sevilla v AS Roma -- will be played as a single leg in Germany.
The Champions League last-16 matches are set to take place on Aug. 7-8 while the Europa League single leg ties will be played on Aug. 5-6.
Spurs boss Mourinho criticises FA over Dier ban
Tottenham Hotspur manager Jose Mourinho has criticised the Football Association's decision to ban Eric Dier for four games over a confrontation with a fan in March.
Video footage of the incident during Tottenham's defeat by Norwich City in the FA Cup fifth round showed the England international climbing over seats to confront a home supporter before being restrained by security guards and other fans.
The FA banned Dier and fined him 40,000 pounds ($50,460) on Wednesday.
"My feeling is that, in the majority of the cases, football is not protected by the people that is powerful and doesn't belong to this world," Mourinho said ahead of Tottenham's trip to Bournemouth later on Thursday.
"They don't have the know-how and it's very, very difficult to lead something when you don't have a clue about the world that you are leading."
Dier told the FA he jumped into the crowd to protect his younger brother, who was involved in an altercation with the fan, but the FA did not accept that was the player's sole intention, saying his actions were "clearly threatening".
Mourinho added that the fan had apologised to Dier.
"I want fans back very, very much," the Portuguese said.
"Even that specific fan, especially because the fan had the opportunity to meet the player, to apologise to the player, to understand that we are very well paid but we are not robots.
"It was a good opportunity for that fan to turn his profile and become a different fan."
Australia top flight boss takes blame for botched Melbourne evacuation
Football Federation Australia's Head of Leagues Greg O'Rourke has taken responsibility for failed attempts to get A-League teams out of Victoria state amid a COVID-19 outbreak that has endangered the July 16 restart of the competition.
Melbourne Victory, Melbourne City and Western United went to the airport two nights in succession on Monday and Tuesday hoping to fly to neighbouring New South Wales state before the border was closed.
However, they had to return home both times, prompting criticism from the players' union.
Fog in Canberra foiled their flight on Monday but their second attempt was cancelled due to a change in quarantine restrictions in the Australian Capital Territory.
"This is just like the normal sporting world -- it doesn't matter how good your plan is, you get beat six-nil then the general public wants to know why it happened and why you didn't do better," O'Rourke told local radio station SEN on Thursday.
"We understand that and that's my responsibility, and I'm not going to shirk that at all. What I need to do, like any other coach and any other leader, is come out and make sure we win the next game."
Rival football codes have also had to move their teams out of Victoria.
The Australian Rules top flight ensured 10 Victoria-based teams were out of the state last week as COVID-19 infections accelerated, while rugby union side Melbourne Rebels also headed to Canberra a week earlier than planned for their match against ACT Brumbies over the weekend.
O'Rourke conceded the FFA was caught off guard when NSW closed its border with Victoria this week.
"All the conversations we were having were that the NSW-Victorian border was not going to close, and they were over last weekend ... And we know what happened," he said.
The A-League is now pinning its hopes on the three teams being granted exemptions by NSW health authorities to enter the state.
O'Rourke hoped the exemptions would be approved later on Thursday.
"If we were to receive the exemption, we would move within 24 hours," he said.
Dutch league to allow some fans to return in September
League football in the Netherlands will resume in September with 15 to 35 percent of the stadium available for spectators but with no away supporters allowed, the Dutch football association (KNVB) said on Thursday.
The KNVB issued an 80-page document detailing protocols for a return to action, after the previous season was called off because of the novel coronavirus health crisis.
Spectators will have to stay 1.5 metres apart, bring masks and buy and drink from roving sellers rather than queuing at kiosks.
"To create the necessary space for this, only a limited part of the seats in a stadium can be used," the KNVB said.
"The good news, however, is that playing with a limited audience is a first step towards playing with packed stadiums. It is therefore only a stopover.
"The intention is, of course, that as soon as possible we will be able to play again in full stadiums. Nothing is more beautiful than when both teams are encouraged by their supporters. Unfortunately, this is not yet possible."
Dutch football was shut down due to the COVID-19 crisis in March with football initially banned until September but this was lifted last month by the government.
Dutch Prime Minister Mark Rutte announced a ban on singing or chanting by fans at the end of last month, yet mayors of various Dutch cities have warned it would be difficult to enforce.
The KNVB said on Thursday they would only be able to provide clarity on stadium singing just before the start of the new season in September.