News of all that's transpired on and off the football field.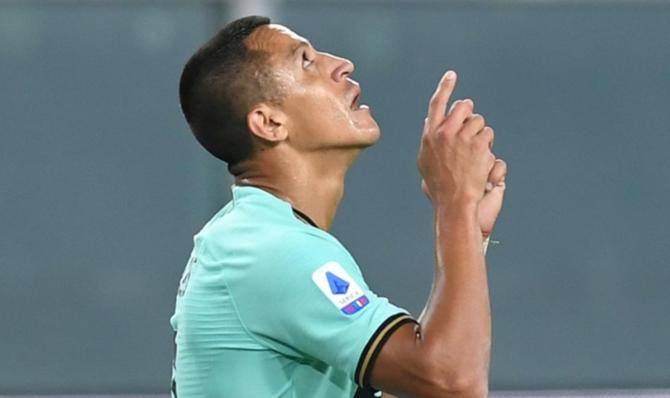 Serie A club Inter Milan have signed forward Alexis Sanchez on a permanent three-year deal from Manchester United, both clubs confirmed on Thursday.
British media reported that United had cut their losses and terminated the Chilean's contract to get him off their books.
Sanchez had signed with Inter on loan at the start of the 2019-20 season following a disappointing spell at United where he scored only five goals in 45 matches.
"Everyone at Manchester United wishes Alexis Sanchez all the best in his future career as he joins Inter Milan on a permanent transfer," United said in a statement.
United had been looking to offload the 31-year-old who earns around 390,000 pounds a week according to British media, with Inter agreeing to pay less than half his wages when they signed him on loan.
United had signed the Chile international in January 2018 after he netted 80 goals in 3-1/2 years at Arsenal, but he failed to reach those heights at Old Trafford under both Jose Mourinho and Ole Gunnar Solskjaer.
The former Barcelona man had said last year that he had no regrets about joining United but wished he had played more minutes, even as fans were left frustrated by his performances and lack of goals.
While he did not return to his prolific best at Inter, scoring only four Serie A goals this season, he did turn provider to top the club's charts with eight assists as they finished runners-up behind Juventus.
United are already working towards signing Sanchez's replacement, with the club being linked with Borussia Dortmund's promising 20-year-old forward Jadon Sancho who could cost the Premier League side around 100 million pounds.
City defender Garcia rejects contract offer amid Barca links
Manchester City's 19-year-old Spanish defender Eric Garcia, a reported Barcelona transfer target, has turned down a new deal with the Premier League club, manager Pep Guardiola said on Thursday.
Central defender Garcia, who was born in Barcelona and came through the club's La Masia academy, joined City in 2017 and broke into the first team this season.
"He announced to us that he doesn't want to extend his contract with Manchester City. He has one more year and after that, he doesn't want to extend.
"We want it but he doesn't want to extend it, so I imagine he wants to play in other places," Guardiola said in his news conference ahead of Friday's Champions League match with Real Madrid.
City are unlikely to want Garcia to run down his contract and leave on a free transfer. His time at the Etihad Stadium, therefore, may have come to a close with Spanish media reports suggesting Barcelona may make an offer for the player.
City announced on Wednesday that they have signed Dutch central defender Nathan Ake from relegated Bournemouth for a fee reported by British media to be 40 million pounds.
The club had already lost another player from their squad with Germany winger Leroy Sane rejecting a chance to stay with City in order to join Bayern Munich.
Manchester Utd's Rashford, Groenen recognised by PFA for community work
Manchester United players Marcus Rashford and Jackie Groenen have won the PFA's Community Champion award for their social welfare activities and contribution to the club's foundation this season, the Premier League side announced on Thursday.
Striker Rashford earned widespread praise after the British government bowed to pressure from his campaign to ensure school food vouchers would be available for struggling families in England during the holidays.
The 22-year-old recalled how the vouchers helped his family when he was young and, through the Fareshare UK charity, he helped raise around 20 million pounds to supply meals to struggling families during the COVID-19 pandemic.
"I'm thrilled to have won the PFA Community Champion award in what has been a very important season for me, both on and off the pitch," said Rashford, who also received an honorary doctorate from the University of Manchester for his campaign.
"Building on those childhood experiences is a big reason why I've been so passionate about the campaign this year to try and tackle child poverty."
Dutchwoman Groenen, the first overseas player in the women's team, frequently visited the Girls' Regional Talent Club to coach young women footballers and also became an ambassador for the Johan Cruyff Foundation earlier this year.
"It's an honour to win this award in my first year at Manchester United," the 25-year-old midfielder said.
"As players, it's so important to give back and to be a good role model for young people. I'm just really happy I could be involved and do my bit to help inspire the next generation."
Spurs appoint former defender King as a first team assistant
Tottenham Hotspur have appointed former captain and defender Ledley King as a first team assistant in manager Jose Mourinho's backroom staff, the Premier League club said on Thursday.
King, who came through the youth system at Spurs, made his senior debut in 1999 and spent his entire career at the north London club, making over 300 appearances until his retirement in 2012.
"I am extremely pleased to be welcoming Ledley into the first team group as we continue our preparations for the new season," Mourinho said.
"He has tremendous affinity with this club. Fans appreciate how much he accomplished as a true Spurs man on and off the pitch. We have developed a good relationship and we hope to use his experience and insight."
King, 39, replaces former assistant coach and tactical analyst Ricardo Formosinho who left the club at the end of the season.
The new Premier League season kicks off on Sept. 12.
US billionaire Friedkin signs deal to buy Italy's AS Roma
US billionaire Dan Friedkin has signed a deal worth more than $700 million to purchase the Italian Serie A soccer club AS Roma, the club said on Thursday.
Roma said in statement that formal contracts with the Houston, Texas-based Friedkin Group were signed on Wednesday for a transaction valued at 591 million euros.
"We look forward to closing the purchase as soon as possible and immersing ourselves in the AS Roma family," Friedkin said in a statement on the club website.
Current president James Pallotta said the two sides would work to complete the process over the coming days. The transaction is anticipated to close by the of the month.
"Over the last month, Dan and Ryan Friedkin have demonstrated their total commitment to finalizing this deal and taking the club forward in a positive way. I am sure they will be great future owners for AS Roma," said Pallotta
It is the first involvement in a major sports club for the Friedkin group which encompasses a consortium of automotive, hospitality, entertainment, golf and adventure companies.
These include Imperative Entertainment, described by the Friedkin Group as an "innovative entertainment studio" based in California. Dan Friedkin himself made his debut as a director last year with the film Lyrebird.
A group of U.S. investors led by Pallotta bought AS Roma in 2012.
Pallotta, a businessman of Italian descent, employed eight different coaches as he struggled to revive the fortunes of the club, which won the last of its three Serie A titles in 2001.
Roma finished runners-up three times under his leadership without seriously challenging the dominance of Juventus, who have won Serie A for the last nine seasons. They also reached the Champions League semi-finals in 2017-18.
He also saw his plans to build a new stadium for the club, which currently shares the Stadio Olimpico with neighbours Lazio, frustrated by planning issues. ($1 = 0.8421 euros)
Man City sign Bournemouth defender Ake
Manchester City have signed defender Nathan Ake from Bournemouth on a five-year deal, the Premier League club announced on Wednesday.
Financial details of the transfer were not disclosed but British media reported City paid Bournemouth 40 million pounds ($52 million) to sign the 25-year-old with an additional 1 million pounds to be paid in add-ons.
"City have been the best side in England over the course of the last decade," Ake said in a statement here "Coming here is a dream for me. This is a top side full of world class players.
"Pep (Guardiola) is a manager admired across the world – what he's done in the game speaks for itself. The success he's had is unbelievable and the style of football he plays really appeals to me."
Bournemouth were relegated from the Premier League on the final day of the season and Ake is one of their players who was expected to leave to continue playing in the top flight.
The Netherlands international, who has also played as a left back, came through Chelsea's youth system and was initially loaned out to Bournemouth before he signed permanently for the south coast club in June 2017.
Ake had loan spells at Watford and Reading before making 121 appearances for Bournemouth across all competitions, scoring 11 times and playing more minutes in the Premier League than any other player at the club.
City, who finished runners-up in the Premier League to Liverpool, are looking to strengthen their central defence as Guardiola aims to improve his squad for a title challenge next season.
Ake is City's second recruit in the off season after the club signed Spanish winger Ferran Torres from Valencia on a five-year contract on Tuesday in a deal reported by British media to be worth 23 million euros ($27 million).