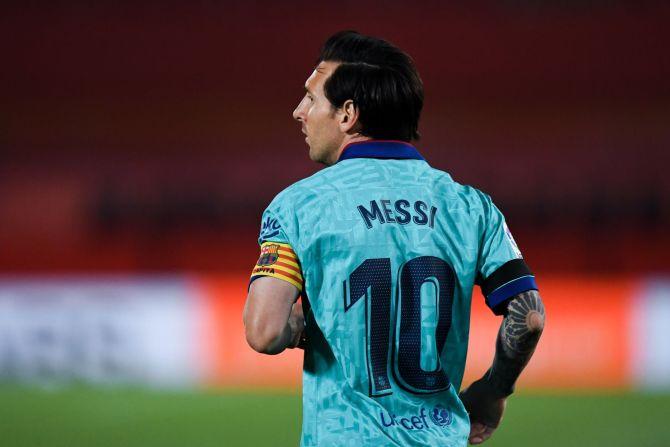 Barcelona President Josep Maria Bartomeu says he has 'no doubt' that captain Lionel Messi will sign a new contract with the La Liga club.
Messi, whose deal expires in 2021, had called his side 'weak' and 'inconsistent' after they lost the league title to Real Madrid.
"Messi has said many times that he wants to retire here and I have no doubt that he will re-sign," Bartomeu told Mundo Deportivo.
Paris St Germain forward Neymar has been linked with a return to Camp Nou but Bartomeu said the only way for Barcelona to sign the Brazilian would be through a player exchange.
"Now we are making decisions and the players, if they do not come as part of a player exchange, it is very difficult for them to come," Bartomeu added.
PSG's Mbappe to miss Champions League quarter-final due to ankle injury
Paris St Germain forward Kylian Mbappe has been ruled out for three weeks after he suffered an ankle injury in Friday's French Cup final win over St Etienne, the Ligue 1 champions said.
It means Mbappe will miss PSG's Champions League quarter-final against Italian side Atalanta in Lisbon on Aug. 12.
"The results of today's scan confirmed an ankle sprain with damage to the external ligament. The player is expected to be sidelined for approximately three weeks," PSG said in a statement.
A rough tackle from Loic Perrin saw the St Etienne defender catch Mbappe on the ankle and the 21-year-old collapsed on the pitch in pain before being substituted.
Perrin was sent off for the challenge as PSG won 1-0.
Manchester United's Solskjaer says criticism made him stronger
Manchester United manager Ole Gunnar Solskjaer has said the criticism he faced at the start of the Premier League campaign only made him more determined to succeed.
Solskjaer oversaw the club's worst start to a top-flight campaign in 30 years but United finished the season strongly, sealing third place with Sunday's 2-0 win at Leicester City.
"I don't think many were predicting it, the predictions were for us to finish sixth or seventh," Solskjaer, whose side went unbeaten in their last 14 league games, told reporters.
"I've always been made that way. If I'm getting criticised that makes me stronger in what I'm doing.
"We all have different ideas of management and I do it my way."
Former United defender Gary Neville said the win to take third spot demonstrated progress but the club still needed to invest wisely in the transfer market.
"They need more players in their squad," Neville told Sky Sports. "The last time they finished in the top four was under Jose Mourinho and they spent 170 million pounds ($218 million) in that summer and didn't invest it wisely."
Frank Lampard confirms Pedro exit from Chelsea
Chelsea's Spanish winger Pedro is leaving the Premier League club, manager Frank Lampard said after his team secured a place in next season's Champions League with a 2-0 win over Wolverhampton Wanderers on Sunday.
The former Barcelona player has been with Chelsea for four seasons and was part of the Premier League title winning side in 2017. The 32-year-old also won an FA Cup and Europa League title.
"Pedro has played his last game for the club. The lads have just pretty much serenaded him in the changing room and rightly so because of the career he has had generally and for this club," said Lampard.
"It was his last Premier League game, but the impact he has had here is huge. I want to say a big thanks to Peds and wish him well as he goes forward. He is here for the remainder of games, but a big player of the club leaves and the spirit of the club I saw afterwards was pretty special," he added.
Chelsea face Arsenal in the FA Cup final on Saturday and then have the second-leg of their Champions League tie against Bayern Munich, in which they trail 3-0.
Lampard said qualification for Europe's top club competition will help him to attract new players to strengthen his squad.
"In brutal honesty I would say yes. (That is) not to say exactly where that will go, because that's not a conversation today off the back of the game straight away," he said.
"We know that the economics of the Champions League are big, we know that. We know the prestige, top players want to play in the Champions League.
"But if we're looking to recruit in certain areas then I think it may help... We'll try to better ourselves in any way possible," he added.
He also said that Chelsea cannot get carried away with a top-four finish in the Premier League if they are to bridge the gap with Manchester City and Liverpool next season.
"I suppose at Chelsea we have to be careful getting excited by top-four finishes, but coming into the job, I don't think a lot of people put us in that bracket," Lampard told Sky Sports.
"We know where we are at, it is a progress and can we get better and now we've secured top four can we look to improve to close that gap?
"The gap is there for a reason and there because Manchester City and Liverpool have taken it to different levels."
Chelsea play Arsenal in the FA Cup final on August 1 before taking on Bayern Munich in the second leg of their Champions League last-16 tie on August 8.
Liverpool defender Lovren completes Zenit move
Zenit St Petersburg have signed centre back Dejan Lovren from Liverpool on a three-year contract, the Russian champions announced.
Lovren, who joined Liverpool from Southampton in 2014, leaves Anfield after making 185 appearances in all competitions, scoring eight goals.
No financial details were disclosed but British media reported Liverpool have agreed a deal worth around 11 million pounds ($14.03 million) with Zenit for Lovren.
Lovren was part of the squad that won the Champions League last season, and the Super Cup and Club World Cup in addition to the Premier League crown in 2019-20, which ended Liverpool's 30-year top-flight title drought.
The Croatia international was limited to 15 club appearances across all competitions this season after Joe Gomez and Virgil van Dijk emerged as Juergen Klopp's first-choice pairing in the central defence.
"In the first part of the season until he got injured he was in the team and had super games. Absolutely super games," Klopp told the club's website.
"Really good, in the air a machine, and I really liked working together with him. It will be interesting to follow Zenit St. Petersburg now."
Capped 57 times by Croatia, Lovren was part of the team that finished as runners-up in the 2018 World Cup, losing 4-2 to France in the final.
Zenit successfully defended their Russian Premier League this season, winning the competition for the sixth time.