News of all that transpired on and off the football field.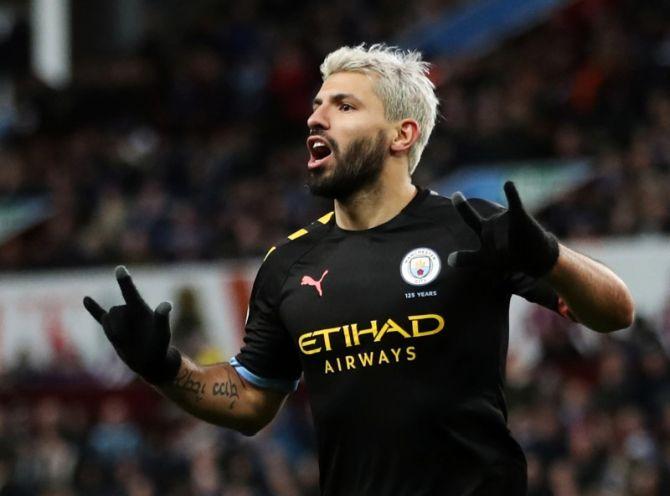 For Manchester City manager Pep Guardiola, Argentine striker Sergio Aguero is the gift that keeps giving.
Aguero became the most prolific overseas goal scorer in the Premier League era when he netted a lethal hat-trick in a 6-1 victory at Aston Villa on Sunday.
He had begun the game one behind Frenchman Thierry Henry who scored 175 times for Arsenal but ended it with 177 goals, joint fourth on the all-time list with Frank Lampard.
It was Aguero's 12th Premier League hat-trick, taking him past Alan Shearer with whom he had shared that record.
Aguero's goals have helped City claim four Premier League titles since he arrived in 2011, two under Guardiola.
While Aguero was modest about his achievements, Guardiola was generous in his praise.
"He has scored a lot of goals, he is happy to be here, he is a legend, he has passed another legend in Thierry Henry," the Spaniard said.
"Everyone has a talent and this is his. He has a gift when the ball's at his feet, he's amazing.
"We congratulated him in the dressing room. He's been doing this over a long, long time."
Only three players -- Shearer (260), Wayne Rooney (208) and Andrew Cole (187) have scored more Premier League goals than Aguero but his goals per game ratio surpasses them.
In his 255 Premier League games he has scored at a rate of 0.69 goals per game. Shearer's ratio is 0.59, Rooney's 0.42 and Cole's is 0.45. Henry was almost as efficient at 0.68.
The silver-haired Aguero thumped home in the first half to equal the record and then slotted in again in the 57th minute to go past Henry and put City 5-0 ahead at Villa Park.
The 31-year-old, who joined City in 2011, completed his hat-trick in the 81st minute to match Lampard.
"I'm so happy for the record," Aguero told Sky Sports.
"I want to keep scoring more goals but it all depends on my team mates passing to me! It's too far to Shearer but I will try."
Manchester United's Maguire expects Rashford scoring spree to continue
Manchester United defender Harry Maguire says Marcus Rashford is fast maturing into a clinical striker and is confident his scoring spree will continue in 2020.
Rashford scored twice in United's 4-0 Premier League win over Norwich City on Saturday, taking his tally to 19 in his past 23 games for club and country.
"I'm pleased for him this year that he is starting to get the goals he deserves, and hopefully he has not stopped yet," Maguire told British media.
"He has a few more in the tank from now until the end of the season.
"I can remember one of the first sessions when I went to train with England, he really stood out to me there -- his ability on the ball, his technique. He has everything to go and have a career at the highest level."
The win at Old Trafford was United's third in five league matches and lifted them to fifth spot. Maguire said they must cut out the poor performances if they are to finish in the top four and secure Champions League qualification.
"We have played two good games and one bad game, and it has not been good enough in terms of that," he added.
"If we put a few wins together on the bounce, we will have every chance."
Arteta wants Arsenal forwards to step up during Aubameyang ban
Arsenal manager Mikel Arteta has challenged other attackers in his squad to shoulder the goalscoring responsibilities in the absence of suspended captain Pierre-Emerick Aubameyang.
Aubameyang, who has netted 14 Premier League goals this season, will serve a three-match ban for a rash tackle on Crystal Palace midfielder Max Meyer in Saturday's 1-1 draw at Selhurst Park.
Only Leicester City's Jamie Vardy (17) has more league goals than Aubameyang and Arteta said the Gabon international would be difficult to replace.
"Losing probably the most important player is never nice," Arteta told British media.
"We have other players that can play in that position.
"They now have to make a step forward now he is not able to contribute to the team with goals. Someone else has to do it and I want to see that reaction too."
Aubameyang will miss league games against Sheffield United and Chelsea as well as the FA Cup trip to Bournemouth.
Andrew Robertson feels Liverpool has become 'a lot more mature'
Liverpool's Andrew Robertson feels that his club has become 'a lot more mature'.
"As a team as a whole we've become a lot more mature in terms of keeping the ball and maybe taking it to the corner, frustrating them, which maybe two or three years ago we didn't quite do and sometimes we lost goals and threw away leads. Now I think we're a lot more mature to deal with one-goal leads," Goal.com quoted Robertson as saying.
Liverpool secured a 1-0 win over Tottenham on Saturday in Premier League. The club top the Premier League table with 61 points, 14 points ahead of the second-placed Manchester City.
Robertson said as a footballer, you have to invest your life in the game.
"All the lads in there are no different. As footballers you invest everything, you invest your life into football," he said.
"It's a short career and nobody likes being in the treatment room, not being fit to play the game. For me, I put everything into it to ensure I can play the game or be available," Robertson added.