News of all that's transpired on and off the football field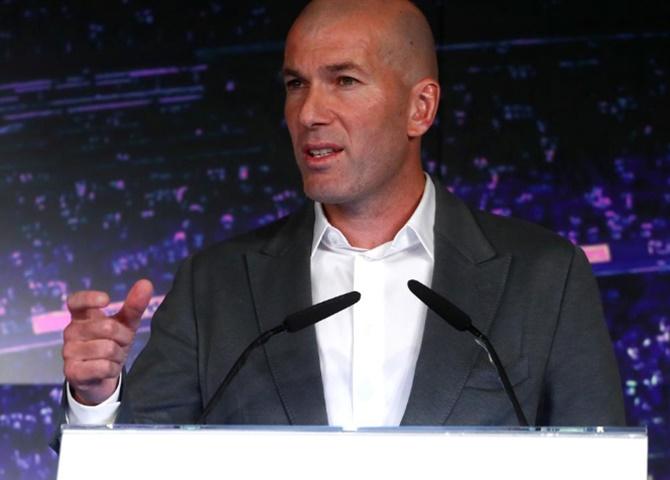 Zinedine Zidane takes charge of his first game since making an astonishing return to Real Madrid, on Saturday, against Celta Vigo which is set to be a de facto audition for next season for many of the team's underperforming players.
Having sacked Julen Lopetegui and Santiago Solari for a series of embarrassing results, Real have decided to turn again to the former midfield great who won an unprecedented three Champions League titles in a row before resigning last May.
But Zidane made it clear in his presentation that sweeping changes must be made for his second coming to be a success, meaning many in his squad will be playing for their futures against Celta and in the other 10 remaining league games.
With Real out of the Champions League and Copa del Rey and sitting third in La Liga, 12 points behind leaders Barcelona, the only purpose for the remainder of the season is for Zidane to assess which players he wants to keep as he plots the team's comeback in the next campaign.
Veteran defender Marcelo and Wales forward Gareth Bale are the most high profile names whose futures look uncertain under Zidane, while Dani Ceballos, Marco Asensio and Toni Kroos all have points to prove to their returning coach.
One player who could benefit from Zidane's comeback is Isco, who was outcast from the team by Solari, repeatedly left out of the Argentine's squad for games even when the team was suffering from an injury crisis, as they will be against Celta.
Zidane will be without old favourites Casemiro, Dani Carvajal and Lucas Vazquez against Celta as well as new kid on the block Vinicius Jr, who has become the club's great hope but is not expected to return from injury until May.
He also faces an intriguing choice in goal, as the Frenchman frequently fought the corner of Costa Rican Keylor Navas, his keeper for each of the three Champions League triumphs who has since been usurped by Thibaut Courtois, who arrived at the club after Zidane had left.
Atletico Madrid meanwhile must shake off the gloom of their chastening Champions League elimination to Juventus when they visit Athletic Bilbao hoping to keep up their chase of Barcelona, who they trail by seven points.
Barca, the only Spanish team left in the Champions League, are in action on Sunday away to Real Betis, who pulled of a shock 4-3 win at the Nou Camp in November and are the last team to beat the Catalans in the league.
Bayern eye domestic double as Premier League trumps Bundesliga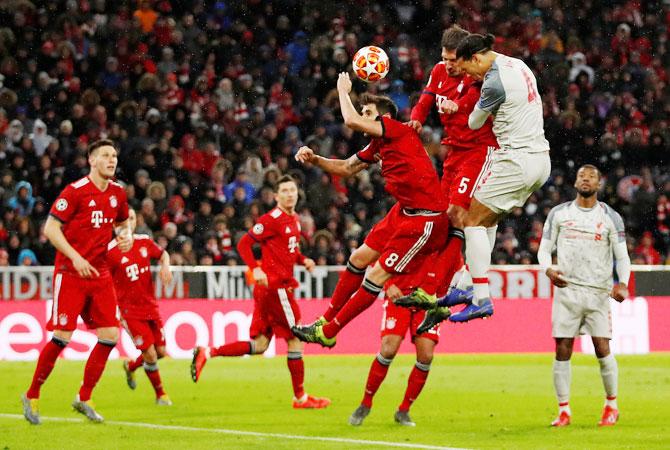 Champions Bayern Munich are desperate for a domestic league and Cup double to rescue their season after becoming the third Bundesliga club to lose to an English side in the Champions League Round of 16.
The Bavarians were beaten 3-1 at home by Liverpool on Wednesday to see their hopes of European glory dashed, and followed Borussia Dortmund and Schalke 04 out of the competition after they were eliminated by Tottenham Hotspur and Manchester City respectively.
In total the three Bundesliga clubs scored a mere three goals over the three two-legged ties against their English opponents, letting in 17 in the process as German football conceded defeat to the Premier League.
While the direct comparison has prompted questions on German football's international standing following also their shock first round World Cup exit last year, Bayern coach Niko Kovac will only occupy himself with how his team can win the domestic silverware on offer.
Bayern, who have won 12 of their last 13 league games, host Mainz 05 on Sunday, having taken over the top on goal difference from Borussia Dortmund, who only weeks ago were leading by seven points.
"There are still two titles up for grabs," Kovac said. "We are leading in the Bundesliga and are still in the mix in the German Cup."
For Kovac a domestic double would be a personal success in a turbulent first season at Bayern as they chase a record-extending seventh consecutive league title.
With little transfer investment in the summer and none in the winter, Kovac was forced to make do with an ageing Bayern squad, the oldest in the league, which was screaming for an overhaul.
"Our aim is to win both competitions. We have every right to be disappointed by our Champions League exit but we have to clear our heads by Sunday and look ahead," Kovac said.
With Mats Hummels, Jerome Boateng and Thomas Muller dropped from the Germany squad for next week's internationals and out to prove their worth, there is enough motivation going round for the champions.
Dortmund, who suffered their own 4-0 aggregate loss to Tottenham in Europe, travel to Hertha Berlin hoping to build on last week's victory over VfB Stuttgart and end their erratic run.
The last time Dortmund won two league matches in a row was back in January.
Third-placed RB Leipzig, 11 points behind on 46, will look to hold on to their spot when they take on embattled Schalke 04, fresh from their 7-0 demolition -- 10-2 on aggregate -- by Manchester City on Tuesday.
Champions League may 'mess' with England: Southgate
England's preparations for their Nations League semi-final against the Netherlands on June 6 could be thrown into disarray if two Premier League teams reach the Champions League final, national team manager Gareth Southgate has said.
The Champions League final will be held in Madrid on June 1, with England set to play their semi-final in Portugal five days later, leaving Southgate little time to work with his players.
"It could be a mess," the 48-year-old told reporters on Wednesday. "Let's say if two of our teams made it to the Champions League final then we wouldn't see them, at best, until the Monday before we play on the Thursday.
"And with the emotion of (the Champions League final), can those players even realistically play on the Thursday night for us?"
Manchester United, Tottenham Hotspur, Manchester City and Liverpool are in the quarter-finals of the Champions League, the first time since 2009 that four teams from England's top flight have reached the competition's last-eight.
Southgate's squad for this month's European Championship qualifiers has 13 players from the four clubs, including Spurs striker Harry Kane, Liverpool captain Jordan Henderson and City winger Raheem Sterling.
"They would all need a period where they would need to psychologically switch off," Southgate added. "We'd have to look at Champions League final players when we get to it."
"It will be a little bit like the World Cup in that players will finish at different times."
England face the Czech Republic at Wembley on March 22 followed by a trip to Montenegro three days later.
Chelsea's Sarri unhappy with sorry state of Kiev pitch
Chelsea Maurizio Sarri has expressed unhappiness with the pitch at Kiev's NSC Olympic Stadium ahead of his team's Europa League last-16 second leg tie later on Thursday.
Chelsea, who won last week's first leg in London 3-0, trained at the stadium on Wednesday.
"The pitch is not good and I think that it's really dangerous to play any football here. It's really very dangerous for injuries," Sarri told reporters.
"I don't know the reason, probably winter, because I played here two years ago and the pitch was wonderful (but it is now) very, very dangerous."
The NSC Olympic Stadium hosted last season's Champions League final between Real Madrid and Liverpool, which the Spanish side won 3-1.
Sarri, who was in charge of Napoli when the Italian side beat Dynamo 2-1 at the stadium during the 2016-17 Champions League group stages, also criticised UEFA for not paying more attention to player welfare.
"I don't understand why UEFA gives so much attention to everything like the players' list... and then we have to play in such a bad pitch," the 60-year-old said. "It's a problem for us but also for our opponents."
Striker Gonzalo Higuain has not travelled due to illness while teenage winger Callum Hudson-Odoi is likely to start, the manager added.
2020 Copa America to be held in Argentina and Colombia
The South American Football Confederation (CONMEBOL) has rejected a proposal from the United States and awarded the 2020 Copa America tournament to Argentina and Colombia.
CONMEBOL officials meeting in Miami on Wednesday said the joint bid was accepted as a way of "bringing South American football to the fans" and would be subject to a more detailed presentation by both countries.
The next edition of the tournament, usually played by all 10 South American nations and at least two invited guests, is due to be held in Brazil in June.
CONMEBOL want to hold another Copa America the following year and thereafter host it every four years, to bring it into line with its equivalent in Europe, the European Championship.
The tournament organisation has been haphazard in recent times and a 2020 tournament would be the fourth Copa America in six years after Chile (2015), a special centenary edition in the United States in 2016, and Brazil (2019).
The United States had offered to host the tournament again in 2020 as part of an Americas-wide competition featuring not just teams from South America but also North America and the Caribbean.
CONMEBOL, however, rejected the idea, opting to preserve the historic integrity of the tournament, the oldest in international football.
It "rejected expressions of interest and proposals received by the United States, Australia, and commercial agencies Dentsu and IMG," it said in a statement.
A source told Reuters that CONMEBOL would still extend invitations for the 2020 tournament to Mexico and the United States.
The tournament is likely to have 16 participants, with two groups of four in both Colombia and Argentina. Each nation would host one semi-final and the final would be played in Argentina.
Argentina last held the tournament in 2011, while Colombia were hosts most recently in 2001.
FIFA backs away from vote on Nations League, wants Club World Cup 'pilot'
FIFA has backed away from a vote on a planned new 'Worldwide Nations League' tournament after the governing body's task force reported that it was unable to find consensus on a format for the potential money-spinner.
FIFA's ruling Council had been expected to decide in Miami this week whether to introduce the tournament, but the task force's report, which has been seen by Reuters, concluded that a vote should not take place.
The decision is the latest blow to FIFA president Gianni Infantino's hopes of quickly bringing in new revenue streams through additional competitions.
The FIFA Council will, however, vote on Friday on whether to hold a 'pilot' edition of a 24-team Club World Cup in 2021.
That plan is opposed by European soccer body UEFA and Europe's professional leagues, who do not want to start any new competition until 2025 at the earliest.
Infantino's plans for the two new tournaments were first put forward at a FIFA meeting in Bogota over a year ago and were based on an offer from a consortium willing to invest $25 billion over a 12-year cycle in return for a 49 percent stake in the competitions.
The potential investors were not named publicly by Infantino, who cited a non-disclosure agreement. FIFA suggested earlier this month that other bids would also be invited once it had decided on the competition format.
The task force said they had looked at various models for a Nations League competition, which is based on UEFA's new tournament.
The original idea was for a worldwide qualifying system, based on regional confederations, with a 'Final Eight' tournament every two years to find the winner.
Yet after consulting with FA's and regional confederations, the task force was unable to find agreement on a structure and also hit problems with those bodies' existing commercial contracts, the report said.
Instead of putting a plan to a vote in Miami on Friday, the report said the task force had concluded that more work needed to be done in the next few months "before it will be able to come to conclusions and potentially make concrete proposals to the FIFA Council."
A vote, however, will be held on the plans to overhaul the Club World Cup from its current annual, seven-team event.
The task force will ask FIFA's Council to organise a pilot of a revamped Club World Cup with 24 teams in 2021 in the slot reserved on the international match calendar for the Confederations Cup.
The plan has already won the backing of the German FA although global players union FIFPro has expressed opposition.
The Council meeting will also discuss plans for expanding the 2022 World Cup in Qatar to 48 teams with possible additional hosts.
Barcelona rule injured Dembele out for up to four weeks
Barcelona have ruled French forward Ousmane Dembele out of playing for a month with a hamstring injury, endangering his chances of featuring in the Champions League quarter-finals and much of the final stretch of Barca's bid to win La Liga.
"Tests have confirmed that Ousmane Dembele has torn his left hamstring. The expected time out is between three and four weeks," the La Liga leaders said in a statement on Thursday.
Dembele came off the bench to score Barca's final goal in Wednesday's 5-1 thrashing of Olympique Lyonnais which sent the Catalan team into the quarter-finals of Europe's top competition.
Barca will find out their next opponents in the Champions League in Friday's draw, with the first leg games taking place on April 9 and 10 and the return matches on April 16 and 17.
The forward, who cost Barca 105 million euros ($119 million)when they signed him from Borussia Dortmund in August 2017, had been a doubt for the game with Lyon after sustaining a slight hamstring strain during a win over Rayo Vallecano last week.
The France international, 21, missed most of his first campaign at Barca after damaging ligaments in his hamstring which required surgery and has since had repeated setbacks.
Real Madrid to sign Porto's Militao in 50 million euros deal
Real Madrid will sign Porto's Brazil international defender Eder Militao at the end of the season for 50 million euros, the Portuguese club said on Thursday.
The 21-year-old has agreed a six-year contract with Madrid and will become coach Zinedine Zidane's first signing after his return to the Santiago Bernabeu this week, while the transfer fee is a record for a Portuguese club.
Militao, who joined Porto last year from Sao Paulo, made his Brazil debut last September in a 5-0 friendly win over El Salvador.
He will add competition to a Madrid defence that continues to depend on an ageing Sergio Ramos, who was suspended as they crashed out of the Champions League with a 4-1 home defeat to Ajax Amsterdam earlier this month.
Manchester United could have Champions League fixtures reversed - UEFA
Manchester City and Manchester United will not play their home games in next month's Champions League quarter-finals on the same or consecutive nights following a decision by local authorities, UEFA said on Thursday.
Ahead of Friday's draw, European soccer's governing body said it would amend the scheduling if both Manchester clubs are drawn to play their home games in the same week.
UEFA said United, who finished below champions City in the Premier League last season, would have their fixture reversed.
The quarter-final first-legs will be played on April 9/10 with the return legs scheduled for April 16/17.
"Following a decision made by relevant local authorities, Manchester City and Manchester United cannot play at home on the same night, nor on consecutive nights," UEFA said.
"Should both clubs be drawn within the same sequence (home or away), the team having finished lower in the domestic league the previous season – in this case United - will be reversed in accordance with the UEFA Club Competitions Committee principles.
"In accordance with paragraph 21.01(b) of the UEFA Champions League regulations, the UEFA administration will determine which matches will be played on Tuesday, which matches on Wednesday."
UEFA said that the same rule would apply should both teams advance to the semi-finals.
There is also the possibility that derby rivals United and City could face each other in the quarter-finals or take on fellow Premier League sides Liverpool and Tottenham Hotspur.