News of all that's transpired on and off the football field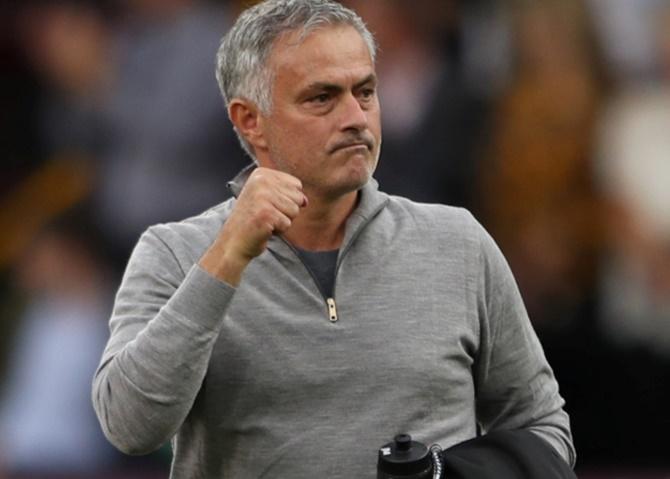 Former Manchester United manager Jose Mourinho is to get his own show on Russian state television channel RT, the station said on Monday.
The fortnightly programme titled On the touchline with Jose Mourinho will provide coverage of the UEFA Champions League from March 7 with the 56-year-old Portuguese analysing the matches.
"I'm going to talk about football on RT. What else did you think I was going to do?," Mourinho says in a promotional video filmed at an ice hockey rink posted on Twitter by RT Sports.
Mourinho also appeared at a hockey rink in Moscow's suburbs this month, slipping on the ice and taking a nasty tumble while performing a ceremonial puck drop.
The former Porto, Chelsea and Real Madrid manager, who was sacked by Manchester United in December, worked as a pundit for RT during last year's World Cup.
RT, which broadcasts news in English, Arabic and Spanish, says it aims to offer an alternative view to what it describes as mainstream western media and to acquaint viewers with Russia's perspective on current affairs.
Critics of the channel, formerly known as Russia Today, accuse it of pro-Kremlin propaganda.
Thailand releases Bahraini player after extradition bid dropped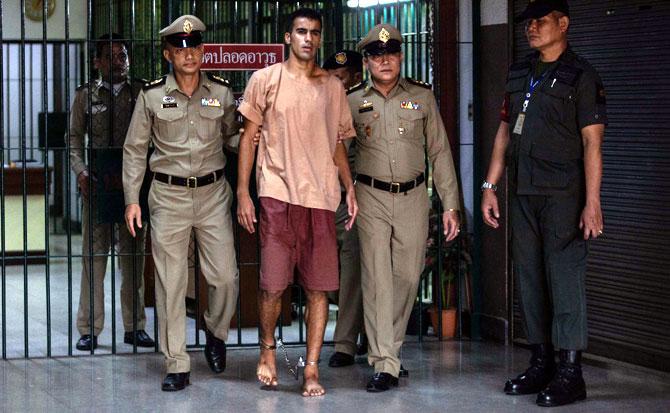 Thailand on Monday freed a jailed refugee Bahraini footballer with residency status in Australia, after Bahrain abandoned its bid to seek his extradition, and immigration officials said he was immediately driven to the airport.
Hakeem Al Araibi, 25, who fled Bahrain in 2014 and received refugee status in Australia, was arrested in November last year at a Bangkok airport while on a honeymoon trip, following an Interpol notice issued at Bahrain's request.
However, the Middle East nation has withdrawn the request, prompting a Thai court to approve a motion by prosecutors to drop the case against the footballer, Thai officials said.
"There are no grounds to hold him anymore. It is his right to decide where he will go next. He is a free man," said Chatchom Akapin, an official in the Thai Attorney-General's office.
A Reuters witness said Araibi was seen leaving the Bangkok remand prison in a car and immigration officials said he was heading for the main international airport in the Thai capital.
Rights group Amnesty International, which lobbied for his release, later said Araibi had arrived at the airport.
It was not immediately clear when or why Bahrain withdrew its request.
Authorities in Bahrain, which has accused Araibi of crimes committed during the Arab Spring protests of 2011, said the country reaffirmed its right to pursue legal action against him, however.
In a statement, Bahrain's foreign ministry said it had noted the halt of legal proceedings and the verdict against the footballer remained in place.
Thailand's Ministry of Foreign Affairs said it had no comment on the case.
The detention of Araibi, who appeared with his feet in shackles at a court hearing last week, drew international criticism, with Australian authorities and fellow footballers urging Thailand to release him. He says he faces torture if returned to Bahrain.
In the Australian capital of Canberra, Prime Minister Scott Morrison welcomed the decision of the Thai government.
"We greatly respect the process that they have had to work through and we greatly appreciate their listening to the issues that have been raised by our government and many others," he told a news conference.
On social network Twitter, former Australia soccer captain Craig Foster, who had helped lobby officials at world governing body FIFA, said, "My thanks go to the wonderful people of Thailand for your support and to the Thai government for upholding international law."
Araibi has said he wants to return to Australia, where he has lived since 2014 and plays for a Melbourne football club.
He was convicted of vandalising a police station during 2011 anti-government protests in Bahrain and sentenced in absentia after he fled. Araibi denies the charges, saying he was playing in a televised soccer match at the time of the police station attack.
New York-based Human Rights Watch has said Araibi was tortured by Bahraini authorities because of his brother's political activities during the 2011 protests.
Bahraini authorities deny allegations of torture.
Why Bale has been a disappointment in Spain...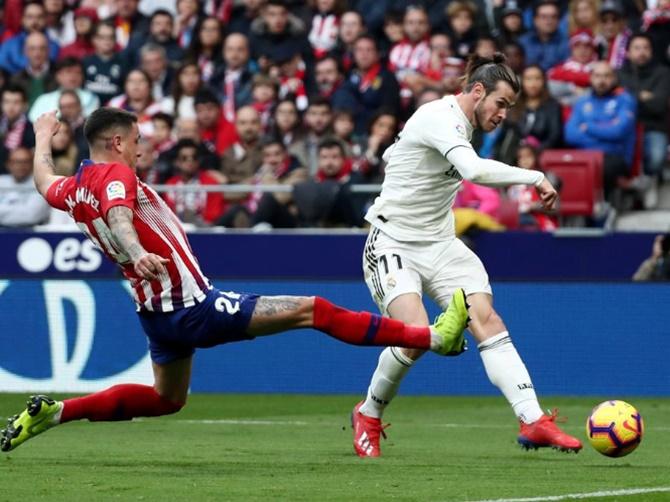 Gareth Bale struck his landmark 100th Real Madrid goal in Saturday's 3-1 win at Atletico Madrid but there is a sense that the club's record signing has been a disappointment in Spain despite a considerable haul of goals and trophies.
Bale's strike, coming in his 217th appearance for Real, took him into the club's all-time top 20 scorers, with an impressive ratio of 0.46 goals per game, more prolific than Santiago Bernabeu greats such as Raul Gonzalez and Emilio Butragueno.
He has also lifted 13 trophies since joining from Tottenham Hotspur in 2013 for a then world record fee of 101 million euros ($114.36 million), among them a staggering four Champions League crowns, one La Liga title and a Copa del Rey.
But his stock among Real fans and in the public eye is not as high as peers such as Sergio Ramos or Luka Modric due to a constant struggle with injuries and his failure to step into the void vacated by Cristiano Ronaldo's departure to Juventus.
Bale's apparent lack of influence in the dressing room, hindered by an inability to speak Spanish despite 5-1/2 years in the nation's capital, does not help his cause.
Not even decisive displays and goals in the 2014 and 2018 Champions League final triumphs over Atletico Madrid and Liverpool have cemented his place in the hearts of fans.
In an October survey in newspaper Marca, Bale was the player supporters blamed most for their poor start to the season.
Over 70 per cent of respondents to a poll in daily AS, meanwhile, said they would like to see the club sell him.
There is still admiration for the forward's immense physical qualities and his ability to produce magical moments like his overhead kick against Liverpool in Kiev or his breathtaking solo goal to win the 2014 Copa del Rey against Barcelona.
But there is a widespread feeling that, given his transfer fee and the expectation that he would take the baton from Ronaldo as the team's galvanising figure, Bale has fallen short.
"We are always measuring Bale for his price, which gave us the fantasy that he was a world star," said Real and Argentina great Jorge Valdano last year.
"But the last five years do not match up to what Madrid paid for him. Still, every season he seems to score a contender for goal of the year, and we have to applaud him for that."
Real have made a remarkable recovery from their slump earlier in the season, barging their way into the title race after Saturday's win over Atletico, their fifth consecutive La Liga victory.
But Bale has had only a peripheral role in their revival, missing most of January with injury and not making the starting lineup against Atletico or in the Copa del Rey semi-final, first-leg clash with Barcelona, losing his place to thrilling Brazilian teenager Vinicius Jr.
Madrid coach Santiago Solari praised Bale for seeing off Atletico and said he was in "phenomenal shape," but the forward is far from certain to start away to Ajax Amsterdam in the Champions League last 16, first-leg tie on Wednesday.
"Vinicius has earned untouchable status for Solari, so now it is time for Bale, the 101 million euro man and the reason why (Paris St-Germain's) Kylian Mbappe did not come to Madrid, who must reinvent himself," said an article in AS.
Bale must consistently show he is capable of being more than a highlights player and a decisive substitute if he is not to be regarded as a player who just delivers spectacular moments.
Man United not a laughing stock any more, says Jones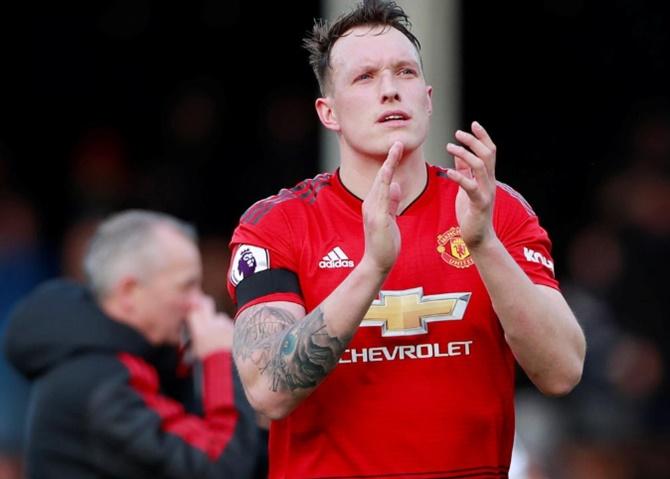 Manchester United were a 'laughing stock' at the start of the season but deserve to be taken seriously now after Saturday's win over Fulham lifted them into the Premier League's top four, defender Phil Jones has said.
Caretaker manager Ole Gunnar Solskjaer had brought a 'positivity' to the club after Jose Mourinho's departure and while United were not the finished article they were moving in the right direction, he added.
"It was tough for everyone involved, we might have been a bit of a laughing stock at the start of the season, but certainly not now," Jones told reporters after United's 3-0 win.
"We've proven that in the last 10 or 12 games. Everyone's got to take us seriously now."
United were 11 points off the top four when Solskjaer took charge in December and, having won eight of their last nine Premier League games, they moved back into the Champions League spots for the first time since the opening weekend.
The club are undefeated since Solskjaer's appointment, winning 10 of 11 games in all competitions, and Jones attributed the run to the different approach under the Norwegian.
"(There's) just a positivity about the place to grind results out when we're not playing well, to play forward, to play with intent and purpose," said Jones, who extended his contract until 2023 last week.
Families begin to bury Flamengo fire victims
The funerals of the teenagers who died in the fire that swept through Flamengo's training ground in Rio have started to take place on Sunday, while the club defended itself over the cause of the blaze in the unauthorised lodgings.
"How can a club as important as Flamengo allow for kids to sleep in containers," Johnny Vinicius, the uncle of 15-year Christian Esmerio, said during the goalkeeper's funeral service.
"It's absurd. Brazil has to do something to stop this so people stop dying with nobody being punished."
Esmerio was one of 10 boys aged between 14 and 16 who were killed on Friday morning when a fire that started in an air conditioning unit ripped through the makeshift dormitory at Flamengo's training ground on the edge of Rio de Janeiro.
Three others were injured, one of them seriously.
The city mayor said the club did not have permission to build lodgings but the club said the dormitories were comfortable and adequate.
The club issued a statement on Sunday saying the air conditioning units were checked by the operating company on Feb. 5. Flamengo did not respond to a request for comment about the observations made by Esmerio's uncle.
Friends and family, many of them wearing Flamengo shirts, cried and chanted as they laid Esmerio to rest.
Other fans laid flowers and messages at a makeshift memorial outside the training ground.
Sorry Brazil miss out on under-20 World Cup
Brazil beat Argentina 1-0 on the final day of the South American under-20 championship on Sunday but the result was no good for either side as Ecuador pipped Argentina to the title with Brazil ending outside the qualifying spots for this year's World Cup.
Uruguay and Colombia will join Ecuador, who won their maiden title, and Argentina in the finals of the biennial event that kicks off in Poland in May.
Brazil, who have won the South American championship more than any other nation, scored only six goals in nine games and finished fifth in the six-team final group.
They will miss the under-20 World Cup for the third time in the last four.
Though Brazil have been without some top players in the tournament with Real Madrid not releasing Vinicius Junior and Bayern Munich denying permission to winger Paulinho, they have also been hindered by disorganisation.
They played few warmup games before the tournament compared to some of their opponents while there has been continuous changes at the coach's office.
Current coach Carlos Amadeu took over only a year ago and the chopping and changing meant that Brazil, unlike rivals Uruguay or Argentina, have had no consistent game plan or style, with each new manager bringing his own ideas.
"We feel that in recent years the youth teams have had a lot of different leaders, with lots of changes," Ney Franco, a former under-20 coach, told O Estado web site.
A lack of interest in the tournament was also evident in coverage with Brazilian media devoting more space to Neymar's 27th birthday party than their youth team' defeat by Uruguay the same night.
The Brazilian Football Confederation has also provided no information on their website about the players who went to Chile other than their names.
The elimination might, however, not impact the players or the national team's future.
Barcelona's Malcom, Manchester United's Fred, Felipe Anderson of West Ham United and Everton striker Richarlison all played in disappointing campaigns in the past.
Scholes named Oldham manager
Former Manchester United midfielder Paul Scholes has been appointed Oldham Athletic manager on a one-and-a-half-year contract, the English League Two (fourth-tier) club said on Monday.
British media reported that Scholes was cleared to take up the position last week when the English Football League decided the 44-year-old's 10 percent stake in fifth-tier SalfordCity would not represent a conflict of interest.
Scholes, a lifelong Oldham fan who spent his entire playing career at United, won 11 Premier League titles, three FA Cups and two Champions League crowns before hanging up his boots in 2013.
"Paul has won everything there is to win in football," Oldham owner Abdallah Lemsagam said in a statement.
"He is a man who will bring a lot of footballing knowledge and his hunger to succeed in management will be there for everyone to see.
"It's no secret how much he has wanted this job in the past and how much he loves this club, so I'm very happy to bring him into our family at Oldham Athletic."
SalfordCity said Scholes would resign as a club director, but will retain his shareholding alongside former United team mates Gary and Phil Neville, Ryan Giggs, Nicky Butt, David Beckham and businessman Peter Lim.
"Although Paul was never operational in SalfordCity he will resign as a director of the football club, allowing him to focus completely on his new role at Oldham," the National League club said in a statement.
"From the start we have always said that each of the 'Class of 92' would offer different levels of commitment dependant on their individual roles."
Scholes has limited coaching experience, including four matches alongside Ryan Giggs when his former team mate took caretaker charge of United following David Moyes's sacking in 2014.
The former England international has worked as a television pundit for BT Sport in recent years.
Oldham sacked Frankie Bunn in December and academy coach Pete Wild was put in temporary charge of the team.
A 3-0 victory at CrawleyTown on Saturday was Oldham's first in the league since New Year's Day and they are 14th in the table - nine points off the playoff spots.
Nepal ride on Sabitra's brace to beat India in Hero Gold Cup
Sabitra Bhandari struck two early goals as India slumped to a 1-2 defeat against Nepal in their second game of the Hero Gold Cup women's football tournament at the Kalinga Stadium in Bhubaneswar on Monday.
Sabitra (4th, 6th minutes) scored early for Nepal before India found a late consolation goal through Ratanbala Devi (83rd) as the home suffered its first defeat in the four-nation championship.
After the second game day, Myanmar stay firmly seated at the top of the table with 6 points from 2 games whereas India and Nepal are locked in second place with 3 points each. Iran are yet to open their account having played an equal number of games.
India will face Myanmar in the final game of the group stage at the same venue on Wednesday.