News of all that's transpired on and off the football field
Forward Alex Morgan reached a personal milestone with her 100th international goal as the United States beat Australia 5-3 in a friendly in Colorado on Thursday.
In opening the scoring in the 15th minute with a superb solo run capped by a precise finish, Morgan became the seventh American woman -- 17th from any country -- to reach the century mark.
It was far from smooth sailing for the reigning World Cup champions, who fell behind Australia early in the second half in front of a sellout crowd in suburban Denver.
The home team, however, scored three times in 14 minutes to regain the lead for good in an entertaining encounter between two of the favourites heading into World Cup in France in June.
Local favourite Mallory Pugh made it 4-2 by scoring less than a minute after coming on, before adding a second with a deft dink over the keeper in the final minute of stoppage time to seal the result.
Earlier, Australia equalised on the half hour when pacy veteran winger Lisa De Vanna fired home.
Caitlin Foord gave Australia the lead early in the second half, before Tobin Heath and Megan Rapinoe put the US ahead again.
Samantha Kerr scored with a thumping header in the 82nd minute to give Australia some hope, but the visitors could not find an equaliser.
"We can't let that many goals in ... but they're a great attacking team so you've got to give them credit," said veteran Rapinoe after her 150th appearance for the US
The Americans continue their World Cup preparation with another friendly against Belgium in California on Sunday.
England footballer Rose has had enough of racism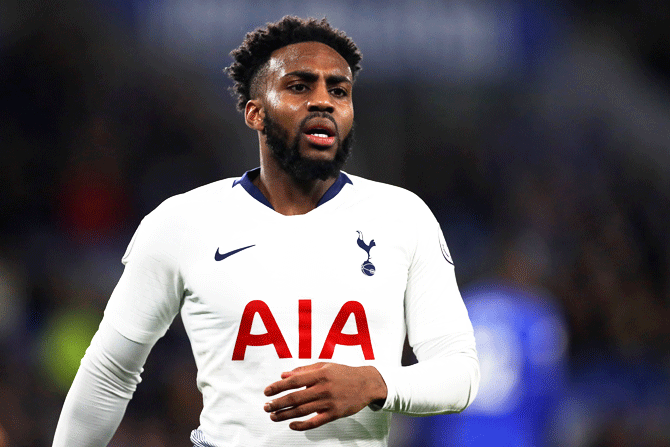 England defender Danny Rose has had enough of racism in the game and said he cannot wait to get out of football amid frustration over the response of the authorities to the abuse.
Tottenham Hotspur full back Rose was among the players who were victims of offensive chanting when they played for England in Montenegro last month in a Euro 2020 qualifier.
"I've had enough," Rose, 28, was quoted as saying by The Guardian on Thursday-
- Racism rising like 'epidemic' in football
"At the minute, how I programme myself is that I just think: 'I've got five or six more years left in football and I just can't wait to see the back of it'.
"Seeing how things are done in the game at the minute, I just want to get out of it."
Rose feels not enough action is being taken and the disparity in the punishment highlights its ineffectiveness.
"Obviously, it is a bit sad (to feel like this) but when countries only get fined what I'd probably spend on a night out in London, what do you expect?" he added.
"You see my manager get banned for two games for just being confrontational against Mike Dean," he said of Spurs manager Mauricio Pochettino's two-match touchline ban for confronting the referee at the end of a 2-1 defeat at Burnley in February.
"But yet a country can only get fined a little bit of money for being racist. It's just a bit of a farce at the minute. So that's where we are at in football and until there's a harsh punishment, there's not much else we can expect."
Rose said he had expected the racist abuse dished out to him and his England team mates Raheem Sterling and Callum Hudson-Odoi during the match against Montenegro in Podgorica.
"I played in Serbia about eight years ago and it happened there. So I sort of thought it would be a possibility that it might happen again and it did.
"I looked up straight away in the first half and I know the exact time it happened in the first half.
"But it didn't affect my game. I'm a big boy now and I know that three points are obviously not the most important thing when you're going through something like that, but I just wanted the team to get three points so that we could move on and get out of Montenegro as quickly as possible," Rose said.
England are top of 2020 European Championship qualifying Group A with a maximum six points after their 5-1 win in Montenegro and a 5-0 home victory over the Czech Republic.
Swedish female soccer players call for unity to tackle inequality
With 30,000 tickets sold for their friendly against Germany in Stockholm on Saturday, Sweden's female players have called for unity to tackle inequalities between men and women in soccer, especially when it comes to money.
Huge crowds have attended women's games in England, Italy and Spain recently and defender Nilla Fischer told Reuters that fans, players, sponsors and governing bodies would all have to work together to ensure better pay for female players.
"I know that if I'd played in the (German men's) Bundesliga for six years, I wouldn't have any financial worries," Fischer said at the team hotel in Stockholm.
"In terms of percentages, you can't really compare. What they maybe make in an hour, I make in a year," the 34-year-old VfL Wolfsburg player added.
The comments come after the U.S. women's team, the world champions, launched a lawsuit against their own federation last month alleging gender discrimination, which includes complaints about wages.
Goalkeeper Hedvig Lindahl, who plays for English club Chelsea, said players campaigning for equality in the women's game would continue to do so once they've hung up their boots.
"When we one day quit, we will fill places in these (soccer) organisations and keep the fight going forward. I do think it needs to be a kind of a public pressure, that we don't accept the way it is now," Lindahl told Reuters after a training session at the Friends Arena.
"I do however see the difficulties with these big organisations, FIFA especially, because it's their members that vote. I think we have to tackle big issues on the world stage in order for it to really change," she added.
Fischer, who gave a fiery speech on the issue when receiving the Diamond Ball as Sweden's best female player in 2018, added that everyone in the game has a role to play.
"I think it's about the whole - I don't think it's about one organisation or one clique or one part that is responsible," she said.
Sweden are one of the 24 teams set to compete at the Women's World Cup in France from June 7-July 7.
Italy coach Mancini slams 'intolerable' Kean abuse
Italy coach Roberto Mancini has described the racist abuse suffered by Juventus forward Moise Kean in a Serie A match against Cagliari as intolerable and said it was time to put a stop to such incidents.
Kean, who had been jeered throughout the game, stood in front of the Cagliari fans behind the goal and opened his arms after scoring Juve's second goal in a 2-0 win on Tuesday.
In response, Cagliari's supporters made the noise which is described in Italy as "buu" and is regarded as a racist insult.
"The behaviour towards Kean was intolerable, but it happens often," Mancini said during an event in Rome.
"The racist 'buu' has to be stigmatised, it can't go on. It needs action and it needs to be tough.
"The problems are those related to racism and that's where you have to start doing something."
Mancini disagreed with suggestions that 19-year-old Kean, who scored in both of Italy's Euro 2020 qualifiers he played in last month, brought it on himself with his defiant celebration.
"Kean's a golden lad," said Mancini.
"Maybe next time he won't do it. I think he was distressed."
Juventus defender Leonardo Bonucci was among those to say that Kean was partly to blame for the incident although he later backtracked and said he was too hasty with his comments.
"It seems that Bonucci's words were misunderstood and he later explained that himself," said Mancini.