News of all that's transpired on and off the football field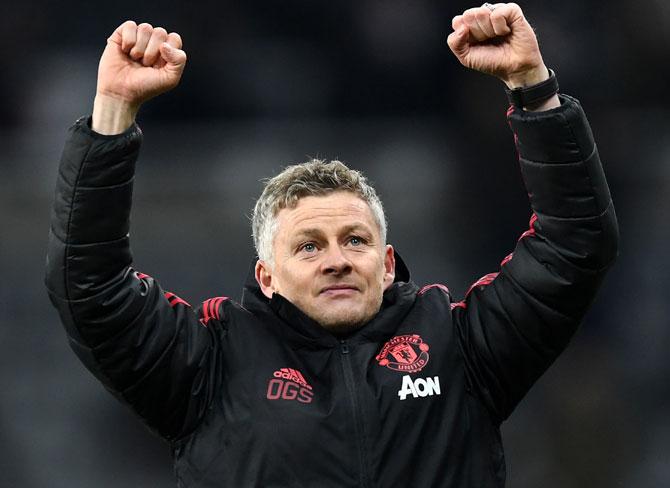 Manchester United caretaker manager Ole Gunnar Solskjaer said he will not be satisfied with a top-four finish in the Premier League as he targets success in two cup competitions in the second half of the season.
Sixth-placed United have won all six league games since Solskjaer replaced Jose Mourinho to close the gap on fourth-placed Chelsea from 11 points to three, while they are still in the FA Cup and Champions League contentions.
"For Man Utd you should always aim to win the league," he told reporters ahead of Tuesday's league clash against Burnley.
"We can't do that this year, but we have to get back to the challenge. We've got the Champions League, we've got the FA Cup, we can't just say we've got top four and that is it."
United's last trophy -- the Europa League -- came in 2017 but they have not won the Premier League since former coach Alex Ferguson's final season at Old Trafford in 2012-13.
Although Solskjaer admits a league title challenge is unrealistic this season, he backs the squad to catch Tottenham Hotspur, who are seven points ahead in third place.
"We are sixth at the moment, so we are a way off the top teams. We are challenging to be top three at the moment," the Norwegian added.
"It's about re-organising and just starting next season to be ready to challenge and get more points."
United will play defending champions Chelsea in the FA Cup fifth round on Feb. 16, four days after they take on French champions Paris Saint-Germain in the first leg of the Champions League last 16.
Morata delighted to join Atletico on loan from Chelsea
Chelsea's Spain forward Alvaro Morata said on Tuesday he was delighted to return to his boyhood club Atletico Madrid after sealing an 18-month loan deal.
Morata, 26, has endured a torrid lat 12 months at Stamford Bridge, having joined the Premier League club from Atleti's city rivals Real Madrid in 2017, scoring 16 goals in 47 league games.
He has often looked devoid of confidence in front of goal in England, losing the faith of both former Chelsea coach Antonio Conte and current Blues boss Maurizio Sarri.
"I'm absolutely made up and so proud to be here," he told a news conference after signing his deal.
"There were other offers but all that stopped when Atletico came into the equation. I'm here and it's brilliant. I can't wait to train with my new team mates."
A boyhood Atletico fan, Morata spent four years in the club's academy before joining Getafe's youth setup in 2007 and later Real Madrid's.
He spent four years with the Real first team between 2010 and 2014, moving to Juventus for two years before returning to the Spanish capital. He then joined Chelsea in 2017.
"It means a lot for me to be here, with people who know me and I can only give my thanks," he added.
"I didn't need convincing (by coach Diego Simeone) to join. He knew that destiny was calling me here. I can't wait to get started and to play for him."
Morata could make his debut on Sunday's at Real Betis, with the intriguing prospect of a Madrid derby against Real a week later, before his other former club Juventus, visit in their Champions League last 16 first leg next month.
Villarreal sack coach Luis Garcia after nine games
Struggling La Liga side Villarreal have sacked coach Luis Garcia Plaza after nine games in charge, the club said on Tuesday.
Garcia was only appointed by Villarreal, who have not won in La Liga since November 25, last month after Javi Calleja was sacked.
However the 46-year-old managed one win in his nine games -- a 2-0 Europa League victory over Spartak Moscow.
Copa del Rey elimination by Espanyol followed, while no wins in the last six Liga games has seen the 2006 Champions League semi-finalists slip to 19th, four points from the safety zone.
The club have not yet announced who will take over but their third coach this season faces an uphill struggle to keep Villarreal in the top division, while they face a tricky tie against Sporting in the Europa League last 32 next month.
Kompany's Man City future uncertain, says Guardiola
Manchester City captain Vincent Kompany has not played enough games in the past few seasons to warrant a new contract despite his invaluable contributions to the Premier League club's success, manager Pep Guardiola has said.
Kompany, whose contract ends this season, has missed numerous games due to muscle injuries in the past few seasons and Guardiola said a contract extension is something the club will have to discuss with the player and his agent.
"He's incredible, but the reality is in the last five years he's played few, really few," Guardiola told reporters ahead of Tuesday's league trip to Newcastle United.
"We don't have any doubts about his quality, we miss him when he is not able to play. He's important, he is our captain and on the field he gives us extra that few central defenders around the world can give us.
"That is the situation we have to put on the table and the club will discuss it with his agent and make the best decision for both."
Kompany has been at the club since 2008 and has won seven major trophies, including three league titles, but Guardiola said any decision to extend the Belgium defender's contract should not be made on sentiment alone.
"The club knows the sentimental issue is so important," Guardiola added.
"It's not important for making decisions, but they have to feel, especially for the players who have been here a long time and helped us to build what we are right now.
"At the same time, there is a moment when it's over for everybody."
Australia PM urges Thailand not to extradite Bahraini player
Australia's Prime Minister Scott Morrison and Asian soccer chiefs called on the Thai government to release footballer Hakeem Al Araibi as prosecutors in Bangkok on Tuesday acknowledged receipt of an extradition request from Bahrain.
Bahraini Araibi, who fled to Australia from his homeland in 2014 and was later granted asylum, was arrested in November in Bangkok on an Interpol notice issued at Bahrain's request.
The Australian Prime Minister's office confirmed that Morrison had written a letter to his Thai counterpart Prayuth Chan-ocha asking that Araibi be allowed to return home.
"The PM reminded the Thai prime minister that he is a refugee that has been given permanent residency, he should be released," one source familiar with the details of the letter told Reuters.
The Asian Football Confederation (AFC) also wrote to the Thai Prime Minister, a significant move because the regional governing body, which had been criticised for its silence on the case, is run by a leading Bahraini, Sheikh Salman bin Ebrahim al-Khalifa.
Araibi was a vocal critic of Sheikh Salman, a member of Bahrain's ruling family and a cousin of the king, when the AFC President contested the FIFA presidential election in 2015.
The AFC said on Saturday that Sheikh Salman had been recused from matters relating to West Asia 18 months ago to ensure there were no accusations of a conflict of interest and that Vice President Praful Patel would oversee the Araibi case.
"I hereby respectfully request Your Excellency to take the necessary steps to ensure that Mr AI Araibi is returned safely to Australia, where he has been granted refugee status, at the earliest possible opportunity," Patel wrote to Prayuth.
Araibi was convicted of vandalising a police station in Bahrain and sentenced to 10 years in prison in absentia. He denies wrongdoing.
Thailand's Foreign Ministry have been consistent in saying the case was a matter for their justice system to decide and on Tuesday reiterated that stance.
Chatchom Akapin, Director-General at the International Affairs Department, Office of Attorney General of Thailand told Reuters that an extradition request had been received from the Bahrain government.
"We have to see whether the Bahrain request falls in line with Thailand's Extradition Act of 2008," he said. "If it matches then we will make the request to the criminal court. It is the court who decides whether to sent Mr. Hakeem to Bahrain or not."
Chatchom said that if the request did not fall in line with Thai extradition law then no request would be made to the court and Araibi would be released when his 60-day detention order expires on Feb. 5.
"The Extradition Act of 2008 stated clearly that for a country with no extradition treaty with Thailand, like Bahrain, we have to see various factors including their government request to determine whether it falls in line with our laws," Chatchom said.
Bahrain has criticised "external interference" in Manama's internal affairs and said Araibi can return to appeal against the sentence, noting that others arrested with Araibi who have done so have been acquitted.
Soccer's world governing body FIFA also released a statement on Tuesday in which Secretary General Fatma Samoura called on the Thai and Bahraini authorities to ensure Araibi could "go back safely to Australia as a matter of urgency".
Uruguay defender Caceres joins Juventus for third time
Italian champions Juventus have welcomed Jose Martin Caceres Silva back to their ranks after signing the Urugay defender on loan from Serie A rivals Lazio, the clubs said on Tuesday.
The 31-year-old Caceres, capped 84 times, will join the Turin side for the third time in his career for a loan fee of 600,000 euros ($685,320.00).
"El Pelado is a defender with great technique, dynamism and flexibility, being able to play both in a central position and on the flanks, with an enviable eye for goal" Juve said on their website https://www.juventus.com/en/news/news/2019/welcome-back-martin-caceres.php
Caceres previously played for Juventus on a one-year loan from Barcelona in 2009 and then for over four years when he joined the Italian club from Sevilla in 2012.
He spent the second half of the 2016-17 season at Southampton, making one appearance, and last term at Verona, who were relegated. He has played eight times for Lazio since joining them in the close season.
Juve, who are 11 points clear of second-placed Napoli in the standings, visit Atalanta in the Italian Cup quarter-finals on Wednesday and host mid-table Parma in Serie A on Saturday.
PSG sign Argentina midfielder Paredes from Zenit
Big-spending Paris Saint-Germain have signed Argentina midfielder Leandro Paredes from Zenit St Petersburg on a four-and-a-half year deal, the French Ligue 1 club announced on Tuesday.
Financial details of the deal were not disclosed but French media had reported earlier that PSG would pay 45 million euros ($51.48 million) for the 24-year-old, who has been capped nine times by Argentina.
"I'm very proud to be joining Paris Saint-Germain," Paredes told PSG's official website. "I now have this fantastic opportunity, not only to discover a new league, but... to wear one the most prestigious club jerseys in the world."
PSG chairman Nasser Al-Khelaifi said Paredes would bring guile and strength to the club's midfield.
"Leandro brings with him the traditional strengths of Argentinian football, a fighting spirit and excellent technical skills," he said. "I am sure he will fit quickly into our coach's well-organised and ambitious team."
The French champions, who have a 13-point lead at the top of Ligue 1, travel to third-placed Lyon on Sunday.
Italian coach banned for five months for head-butting rival
The coach of Italian Serie C team Lucchese has been given a five-month ban for head-butting a member of the opposing team's staff and telling a player to break an opponent's legs.
Footage of the match showed the shaven-headed Giancarlo Favarin head-butting Gaetano Mancino, assistant coach of rivals Alessandria, during a brawl at the end of a 2-2 draw between their teams on Sunday.
Mancino was caught off-balance and knocked to the ground by the blow.
Serie C's disciplinary tribunal said in a statement that Favarin made "blasphemous remarks" during the match and "invited his own player to 'break the legs' of an opponent."
He also "began a slanging match with a member of the opposing team's staff at the peak of which he hit the latter with a violent head butt, making him fall to the ground ".
Mancino, meanwhile, was given a two-match ban for "offensive and provocative behaviour towards the coach of the rival team during the match."