News of all that's transpired on and off the football field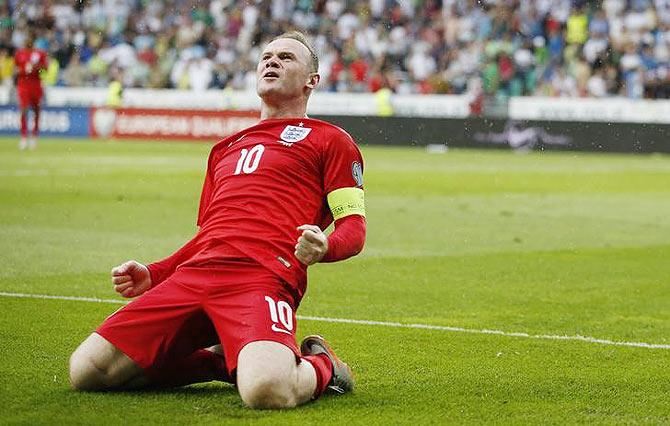 Wayne Rooney will wear the number 10 shirt and captain's armband when he comes on for his final England appearance in Thursday's friendly with the United States, manager Gareth Southgate said.
"The players are very keen that Wayne wears the number 10 and we believe that is a fitting tribute," Southgate told a news conference on Wednesday.
"All of our group have huge respect for Wayne and they feel that it is fitting that his last game should in the number 10," added the England manager.
Rooney, who now plays in Major League Soccer for D.C United, will start on the bench before entering the field for his 120th and final cap in the international at Wembley Stadium.
Southgate did not want to fix a time in the game when Rooney would come on but said he had discussed it with the 33-year-old.
"We will give him enough so that I think it is fitting... but we also want to make sure we get the balance of looking at younger players, giving them the right amount of time and making sure our preparation for Sunday is right is another priority."
England face Croatia in a Nations League match on Sunday.
"But I have to say it's very important for all of us as a group that he gets a good send off," added Southgate who said Rooney had looked sharp in training.
"He is in good form, we knew he was in good form with his club coming into this. In training, he has fitted in perfectly."
ManchesterCity's Fabian Delph will captain England against the US but will give the armband to Rooney when he enters.
"When I first came into the England set-up, Wayne was captain, he welcomed me and put his arm around me and made me feel at home. As soon as he comes on I will give him the armband back," said the midfielder.
"We're going to be giving him a guard of honour. It is going to be a huge night for Wayne and it is important we honour him for all of his achievements throughout his career."
The decision to make the friendly a tribute night for Rooney has divided opinion with some pundits saying recalling a player who has retired from the national team devalues an England cap.
Southgate was saddened that Rooney had faced such questions.
"It's been disappointing to see him (Wayne) almost have to defend his inclusion. But that is where we are. The most important thing is that within the England group we value what he has done and what he has given," he said.
"We are delighted to have him with us. Hopefully he has felt that warmth from all of us and I know the reaction of the supporters will be very special to him," added Southgate.
Chelsea says cooperating with FIFA over youth transfers probe
English Premier League club Chelsea has said it is cooperating with a FIFA investigation into possible violations of the global soccer governing body's rules regarding the signing of foreign players under the age of 18.
Chelsea and four other unidentified Premier League clubs are under investigation by FIFA for the alleged violations and could face transfer bans if found guilty, according to multiple reports in the British media.
French investigative website Mediapart reported on Wednesday that FIFA's Integrity and Compliance unit would seek to impose a two-year transfer ban on the clubs as well as a fine of 500,000 Swiss francs ($497,364).
Mediapart is one of several media outlets publishing documents obtained by Football Leaks.
The Football Leaks documents were obtained by German publication Der Spiegel and reviewed by Reuters in partnership with European Investigative Collaborations, a network of international media.
Chelsea said in a statement on Wednesday that "the club has fully cooperated with FIFA and has provided comprehensive evidence demonstrating its compliance with the applicable FIFA regulations".
FIFA's rules prohibit international transfers of players under the age of 18 unless their parents have emigrated for reasons unconnected to football or both player and club are based within 50 km of a national border.
Spanish clubs Real Madrid, Barcelona and Atletico Madrid have fallen foul of the rules in the past, with all three serving transfer bans for violations.
FIFA opened its investigation into the English clubs in September last year and said in a statement on Wednesday that it had not yet reached a decision.
"As communicated in September 2017, investigations were opened concerning Chelsea FC as well as other English clubs in relation to potential breaches of the regulations on the status and transfer of players," FIFA said.
"The proceedings are ongoing and, to date, no decision has been passed by the FIFA judicial bodies. Thus, the clubs are to be presumed innocent unless decided otherwise. No further information can be provided as the cases are ongoing."
British media, including the Daily Telegraph, the Guardian and the Times, reported that Chelsea broke transfer rules governing players under the age of 18 when they signed Burkina Faso forward Bertrand Traore in 2014.
The reports added that Chelsea were also under investigation for signing 14 under-18 players since the signing of Traore.
VAR to make 2019 Asian Cup debut from quarter-finals
The Video Assistant Referee (VAR) system will be used from the quarter-finals of next year's Asian Cup, the Asian Football Confederation (AFC) said on Thursday.
The regional governing body, which had initially announced its plans to introduce the system in September, confirmed that it would be employed at seven matches at the 2019 Asian Cup from the quarter-finals on.
Top flight leagues in Spain, Italy and Germany are already using VAR, which allows key incidents to be reviewed with the use of video replays, and the technology was used at the World Cup in Russia this year.
The extended 2019 Asian Cup will see 24 teams taking part for the first time, up from the 16 that competed in the last four editions.